Dropbox is a well-known cloud storage provider and document management system, typically used by small teams and professionals. As a DMS, it offers secure file sharing and a few collaborative features so teams can store and share files under one hub.
However, many large or growing teams find that Dropbox, along with other DMS, don't offer all the necessary features to completely manage content within the system. You can store files, share content with other users, and track sharing (to a degree), but there might be limits on the file types or sizes you can upload, and the features to manage files are pretty surface-level.
On top of that, these tools aren't very scalable because they don't have features to maintain control over high volumes of content (even though they try to appeal to enterprise users with "unlimited storage space"). File libraries eventually become disorganized; you run into duplicate content, can't track where content is shared, and have trouble monitoring brand consistency.
Plus, because DMS solutions focus on file storage and sharing, other processes, like optimizing content and publishing content online, have to be done in other systems. It all becomes a mess.
That's why businesses looking for Dropbox alternatives normally want to upgrade solutions — and the natural next step is digital asset management software. As the name suggests, DAMs let you effectively manage (all of your brand's) digital content through the entire lifecycle; you can oversee asset production, storage, distribution, usage, and more.
You can read more about digital asset management vs. document management here — but in this guide, we'll review the top Dropbox alternatives in both categories, so businesses can explore the top DAM software and smaller teams can compare DMS.
Brandfolder is consistently voted the #1 digital asset management software because we tailor our solution to unique customer needs: you choose cloud storage space, add user seats (we allow unlimited guests), and build out the software with features and integrations to support your users. (Plus, you only pay for what you need.) To learn more about Brandfolder's solution, schedule a free demo with our customer support team.
---
Brandfolder DAM System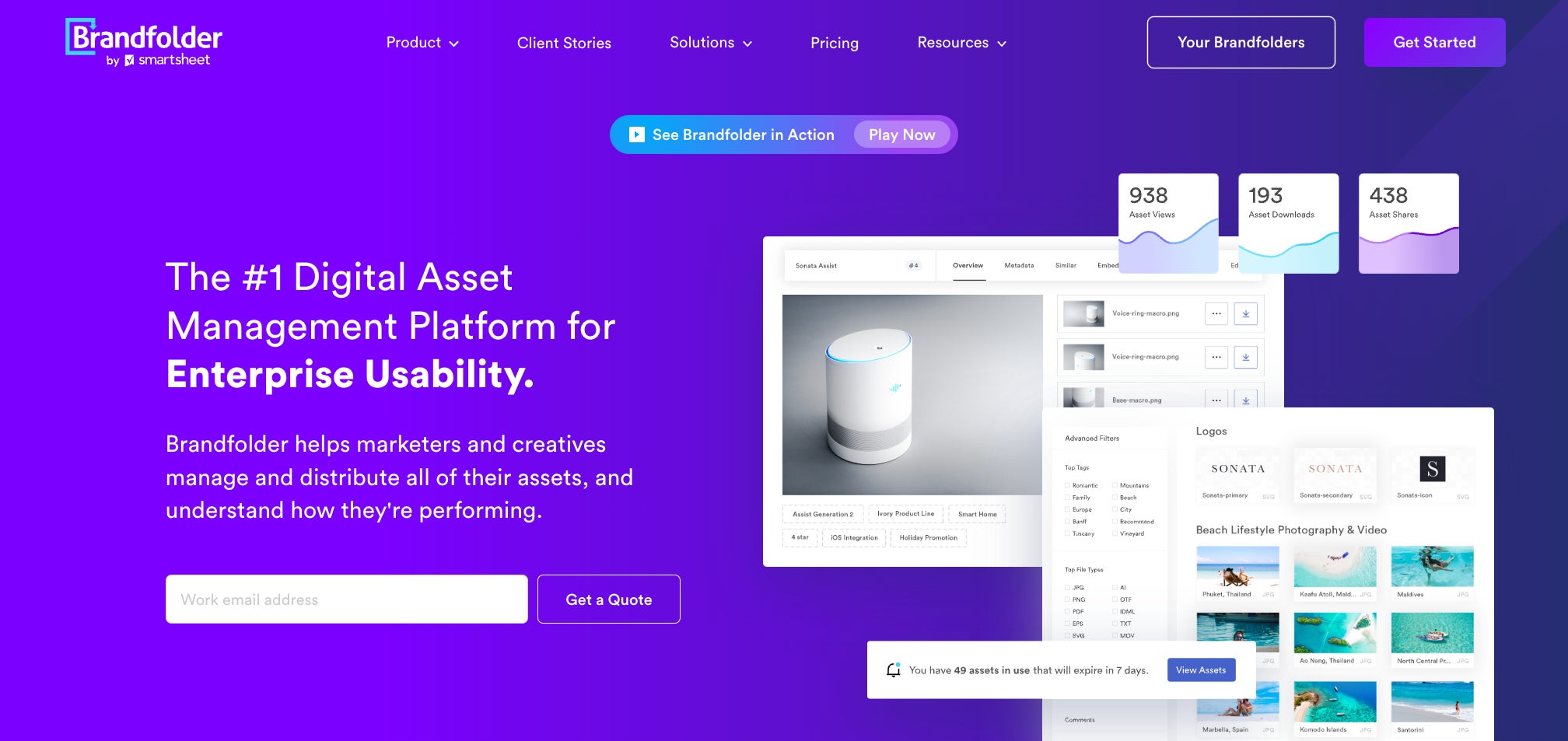 Digital asset management software like Brandfolder expands upon file storage and file sharing and is designed to bring all aspects of file management under one platform. Not only can you store and share content, but you have tools to use content — you can repurpose content, push content to other systems, monitor team members' projects, reference brand guidelines and asset usage details, and more.
Upgrading to DAM is beneficial for teams that regularly work with their brand assets and have a lot of moving parts because it's a more "well-rounded" cloud storage solution that can support other processes.
Brandfolder offers customization from day one. We provide access to our basic features, and then you choose the storage space, add-ons, and integrations you want. Our software is user-friendly, but before you make the switch, our customer experience team will walk you through everything to ensure a successful transition.
Then, once you're set up in our DAM, Brandfolder can scale with your organization. You can modify storage space, add or remove users (we allow unlimited guest user seats), or connect new integrations (we also have an API to create custom integrations).
You can adjust the platform anytime, and our team can help along the way. Our solution can work for many businesses, and customers see on average a 273% return on investment (ROI).
Let's talk about how Brandfolder's features expand upon the functionality of cloud storage drives like Dropbox.
1. Design Your Asset Library in a Way That Makes Sense for Your Teams
First, Brandfolder has a flexible taxonomy so you can easily organize assets in the most logical way for you and your team. We'll even help you map your asset library before you begin migrating content.
By mapping your assets strategically, you can ensure your library suits your needs, which improves the user experience, simplifies sharing, and improves accessibility. Brandfolder has a beautifully visual, gallery-style user interface so you can see your content and quickly find files as you search.
Note: Our DAM accepts hundreds of file types and formats, including documents, PDFs, spreadsheets, brochures, business cards, images, design files, templates, videos, and audio files — you name it. It also accepts large file sizes, so you can easily work with long-form video content like webinars. This flexibility lets you store all of your brand assets in one spot instead of using different storage drives for different types of content.
Here's how the layout works:
Brandfolders house all of the assets related to a specific brand. Many teams have one Brandfolder, but marketing agencies or retailers with digital assets for multiple brands can create separate Brandfolders for each brand they manage.
Collections are a subset of assets in your Brandfolder curated for specific audiences, both internally and externally. You can create Collections to represent product lines or services, types of collateral, seasonal campaigns, etc.
Brand Portals let you store files and resources for specific teams or partners. You can create Portals for specific departments, distributors, agencies, or other groups you partner with — which benefits eCommerce and retail brands, enterprise teams, and global organizations. With Portals, users can access all of the assets and resources for their roles or projects on one page.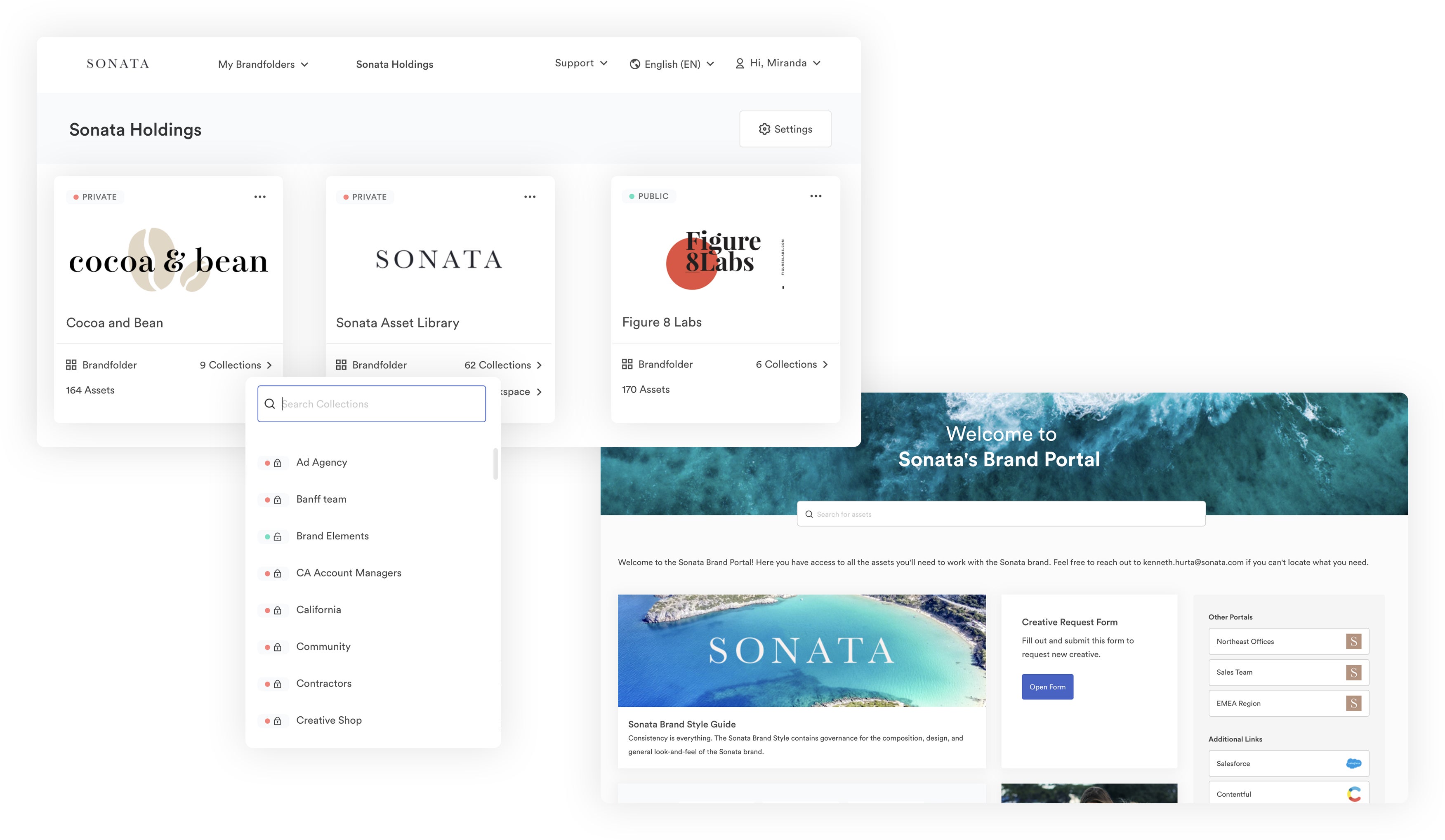 On top of establishing an organized asset library, Brandfolder also has tools to maintain that organization... even as your library grows and hundreds of users interact with your assets.
Duplicate asset detection prevents users from uploading dupe files and allows teams to merge similar assets for quick reference; this way, you don't have multiple versions of content cluttering your library or causing confusion.
Real-time collaboration tools empower teams to work on asset updates directly in Brandfolder, so you always have immediate access to your asset's most recent versions.
The Brandfolder admin can approve and review new assets before they're available to other users, preventing content from slipping through the cracks.
Thanks to our advanced search function, locating the asset you need in your library is a breeze. That means no more digging through folders and subfolders or racking your brain for file names.
2. Improve the Search & Discovery of Your Assets
Brandfolder's search functionality is extremely convenient and time-saving:
It searches your entire library — at least all of the assets you have access to — instead of limiting your search to specific folders.
It's powered by our proprietary AI technology, Brand Intelligence, so it can analyze the content of your assets — identifying objects, colors, dialogue, etc. — and pull everything relevant to your search term.
So instead of trying to remember exactly where a file is saved or its specific file name, you can search by term and find what you need (even if you only remember a small detail about a file).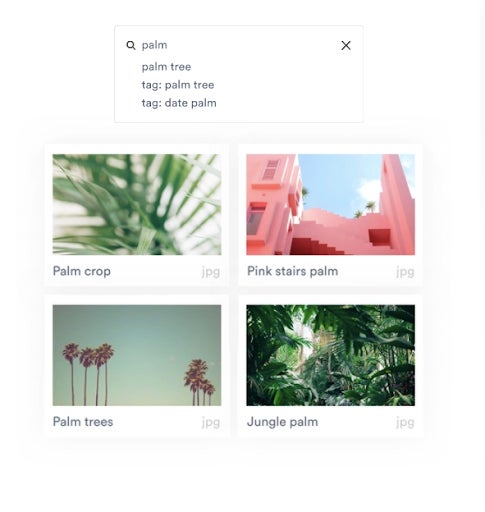 Note: Brand Intelligence AI also comes into play during uploading — it analyzes assets upon ingestion to automatically add all of the appropriate metadata and tags. This data also improves the search and discovery of assets.
Your design team works hard to create amazing collateral, so when other team members can quickly find and use those assets related to their projects, everyone wins.
3. Have Greater Control Over Asset Sharing (& Asset Usage)
Brandfolder improves upon the basic sharing methods in cloud storage platforms, so you can fully control and monitor how/when/where assets are shared and with whom.
There are two ways to share digital assets in Brandfolder:
You can share assets with other team members by adding them to the Brandfolder, Collection, or Portal you want to share. When you add team members with user permissions, you can control how they interact with your asset library (and individual assets). You can also add team members to singular assets or groups of selected assets to get more granular with sharing.
Use custom share links to send assets (such as documents, images, or videos) to anyone, regardless of whether they have a Brandfolder account. We allow an unlimited number of free guest seats and never restrict sharing.
DAM share links are similar to what you're familiar with in other cloud storage solutions: you select content, add recipients, and adjust user access. However, they're more convenient because they give you greater control over sharing once content has been sent.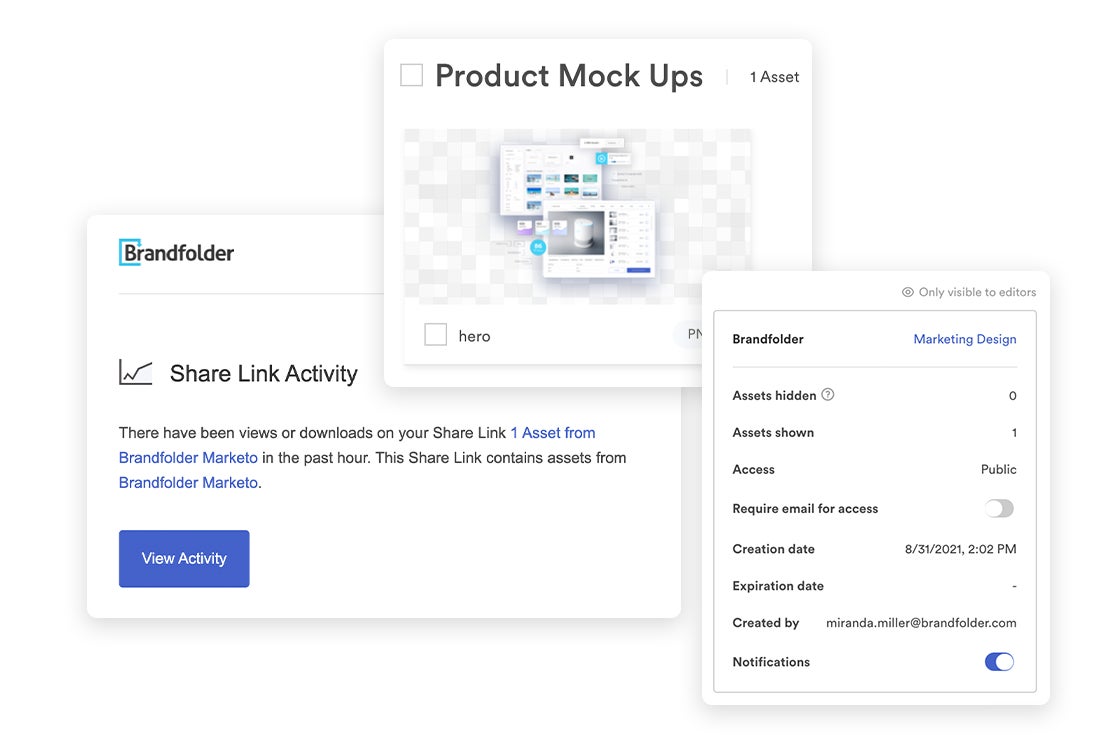 With custom share links, you can:
Require users to submit their email address to open the link and access the assets within.
Set the link to expire.
Watermark assets or disable downloading for end-users.
Add, remove, or update shared assets.
Track active share links — see the shared content, and who it's shared with — and monitor share link activity.
In Brandfolder, you can view all share links (active and expired), and you can change settings on active links with just a few clicks.
4. Brandfolder Offers Creative Workflow Tools & a Collaborative Dashboard to Use Brand Content Effectively
Here's what really sets Brandfolder apart from Dropbox — we give you the tools to use brand content (not just store and find it). Our features let you manage all stages of content:
Use Workspaces to assign tasks and collaborate with designers to make new, approved content.
Make edits to existing content and track all of the changes.
Use optimization and transformation tools to convert, crop, and resize files for different mediums.
Use Content Automation to create new collateral from approved templates and reduce the number of requests teams submit to designers.
Create and share brand guidelines so other users can quickly reference the "Dos and Don'ts" of using brand content.
Users can easily find (approved) content and repurpose it for their particular use case, without going off-brand or waiting around for a designer's help; DAMs improve the accessibility and usability of brand content.
Read more: Creative Asset Management in Brandfolder: Reclaim Your Time
5. Use Brandfolder as a Single Source of Truth to Power All of Your Projects
DAMs are also more beneficial than regular cloud storage solutions because they function as a single source of truth — meaning, you can use Brandfolder to deliver content to other systems, power online publishing, and push assets directly to print.
Think about it like a hub and spokes — DAM is the hub where you store all of your brand content, and the spokes are other software and platforms in your workflows. Integrating outside solutions with DAM lets you feed content and data between systems.
Let's talk more about how all of this works.
Brandfolder is built with native integrations, an easy-to-use API, and a content delivery network (CDN).
Our integrations and API allow you to sync Brandfolder with tools in team workflows and access brand content while working on projects in other systems. For example, you could connect Brandfolder to your Shopify dashboard and add images to product pages, or integrate Brandfolder with your CMS and upload content to pages and posts.
Integrations allow teams to work more efficiently and guarantee everyone always uses the right versions of assets. Some of the solutions we integrate with include:
Content creation apps like Adobe Creative Cloud, Figma, and Canva
Content management systems like WordPress
Sales enablement software and CRMs like Seismic and Salesforce
Project management tools like Smartsheet
Product information management systems like Salsify
eCommerce sites like Shopify
Workplace collaboration tools and messengers like Slack and Google Workspace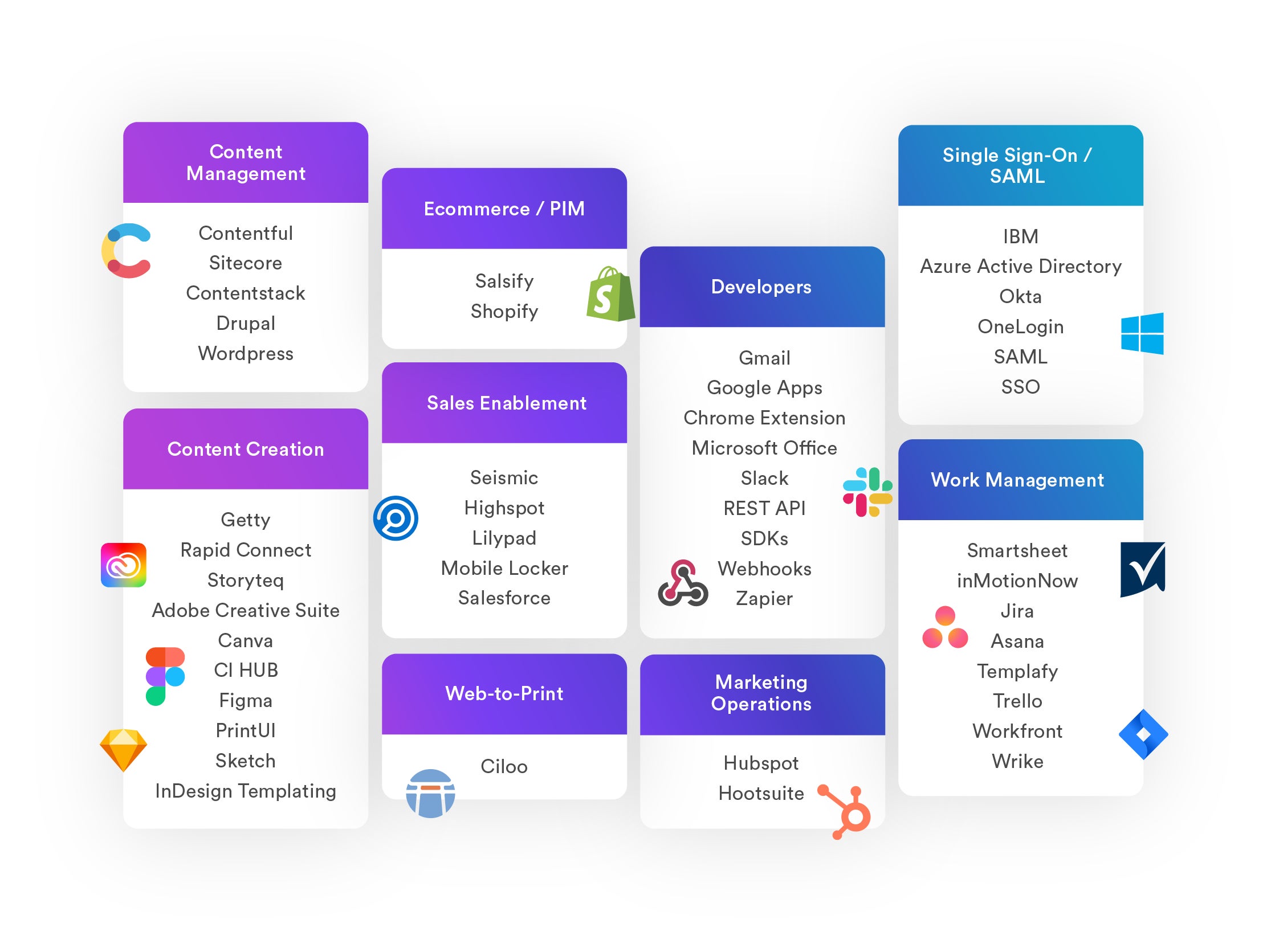 Read more: Top 8 Must-Have Digital Asset Management Integrations
Our CDN system lets you publish content online and manage online publishing from the DAM. You can embed an asset's CDN link across the web (e.g., on your website, email marketing campaigns, blog content, etc.) to host files online.
You can view all active CDN links in Brandfolder reporting, or see where a specific file is published by looking at the individual usage analytics. Brandfolder's CDN improves brand consistency by keeping published content current: all updates made at the Brandfolder level are automatically reflected everywhere the asset's CDN link is embedded.
To learn more about how Brandfolder keeps you and your teams on-brand, check out our brand consistency checklist.
6. Leverage Asset Insights to Monitor How Your Branded Content Performs
Brandfolder outdoes Dropbox and other cloud storage options with its reporting capabilities.
Dropbox only offers limited reporting with its premium plans and some advanced features are only available for enterprise users who pay for the more expensive packages.
Brandfolder's powerful reporting tools are fully customizable to track asset usage data over flexible time frames, so you can look at how users interact with your assets and see which content performs the best with target audiences.
For example, you can use our reporting tools to see:
How many times an asset has been viewed, downloaded, or shared.
An asset's "Event Feed," which shows a detailed history of when an asset was downloaded or shared over time.
Which users have viewed, downloaded, or shared your assets.
Top-performing assets and most active users.
Where assets are shared or published online.
And more.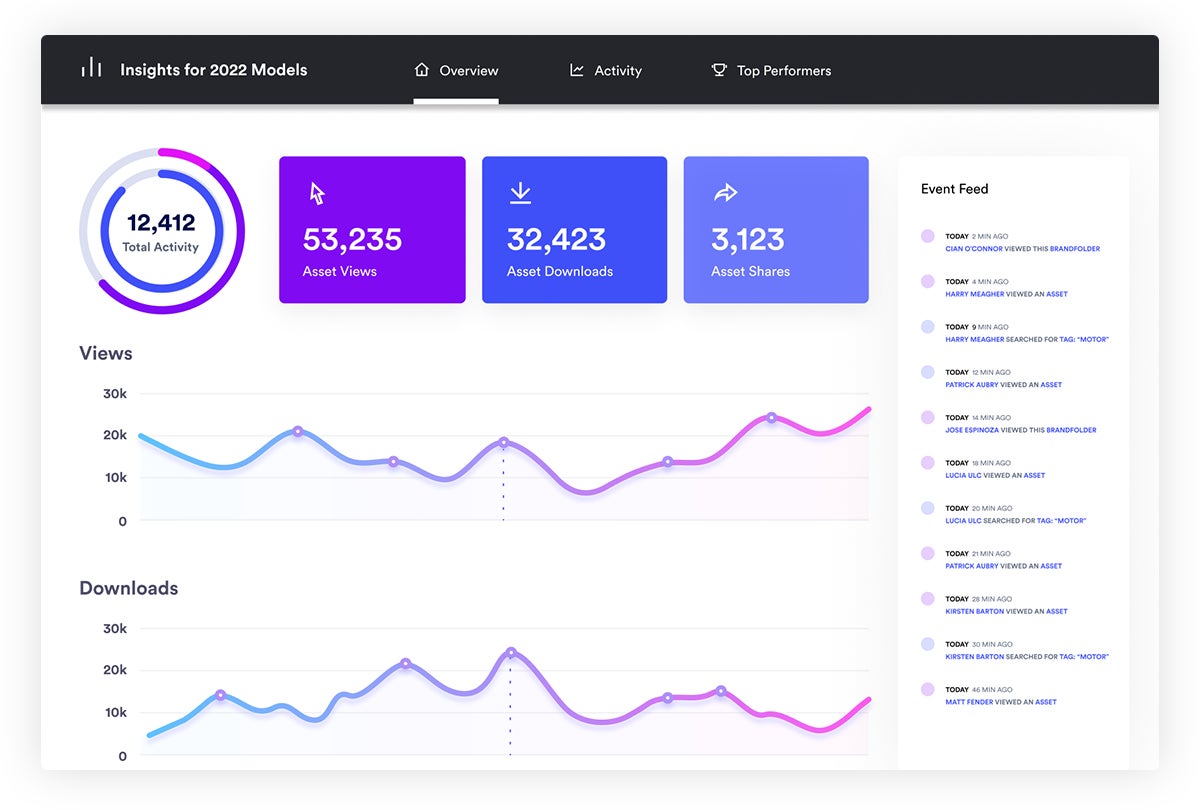 These insights and analytics help you refine business and marketing strategies, plan new creative content, and maintain control of your brand image.
7. Brandfolder Has Enhanced Security Features to Lock Down Content & Prevent Data Breaches
A common concern with Dropbox is that it doesn't have the most robust security features — they've recently implemented end-to-end encryption (also called zero-knowledge encryption), but some users still voice concerns.
Brandfolder, on the other hand, has dozens of security features and a dedicated team to run regular risk assessments to keep your content secure. Our platform is SOC 2 Type 2 compliant and hosted via Google Cloud Service (GCS). We also have data centers around the globe, two-factor authentication to verify users upon login, and disaster recovery protocols to prevent data loss.
Interested in learning more about digital asset management and how it differs from Dropbox? Schedule a free demo to explore DAM features and see how we can set up our solution to support your teams.
You can also check out our guides:
---
Other Digital Asset Management Software Options
When researching top-rated digital asset management software, you'll also see Canto, Bynder, and Widen. While these DAMs are high-quality and well-reviewed, they're all designed for different end-users.
Canto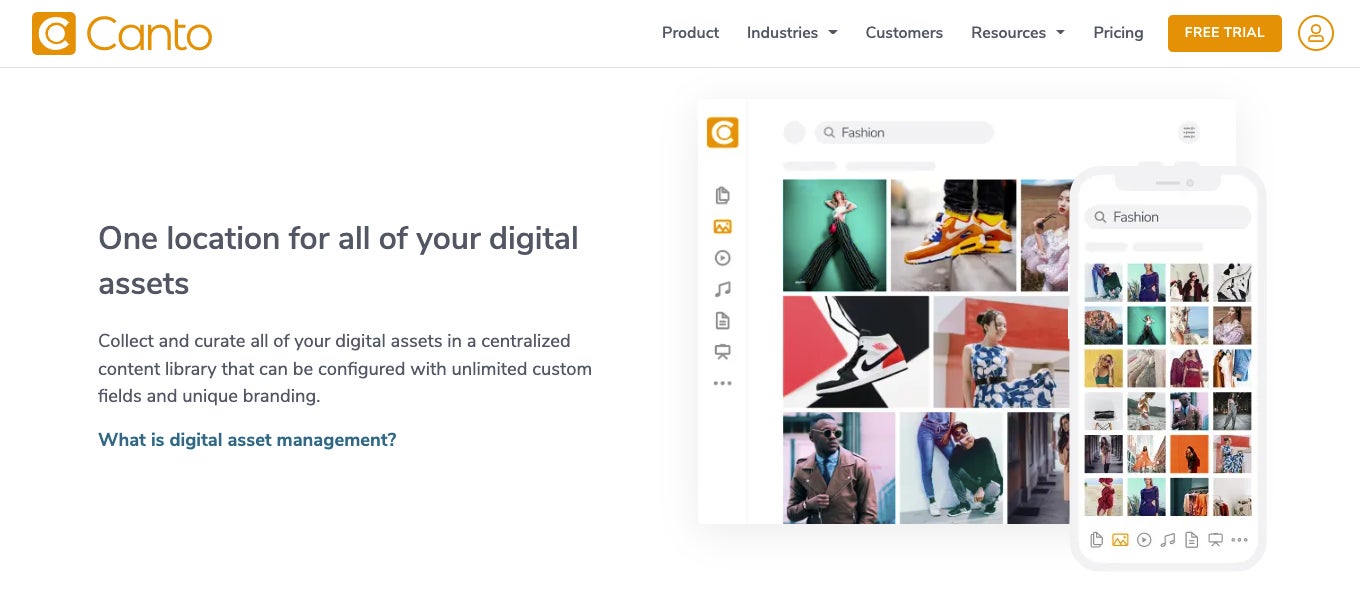 Canto is a well-known digital asset management brand because they were one of the first names in the space and appeal to smaller teams looking to upgrade solutions. The platform has all of the essential DAM features and is easy to use, and Canto offers plans at affordable prices.
Canto offers:
Secure cloud storage
Gallery-style asset library
Smart search
Transformation tools and video editing
Integrations and CDN
However, with that being the case, many teams outgrow Canto and reach a point where they need a more advanced DAM. Canto has updated the platform with more enterprise-grade offerings, but this solution is not as cost-effective as you grow and require more from the software.
Canto is a cloud-based solution — with an iOS mobile app for iPhone users — but it's worth noting that they also have some hybrid hosting options for teams with particular needs regarding data storage.
Read more: Canto Software vs. Brandfolder: Compare Two Top-Rated DAMs
Bynder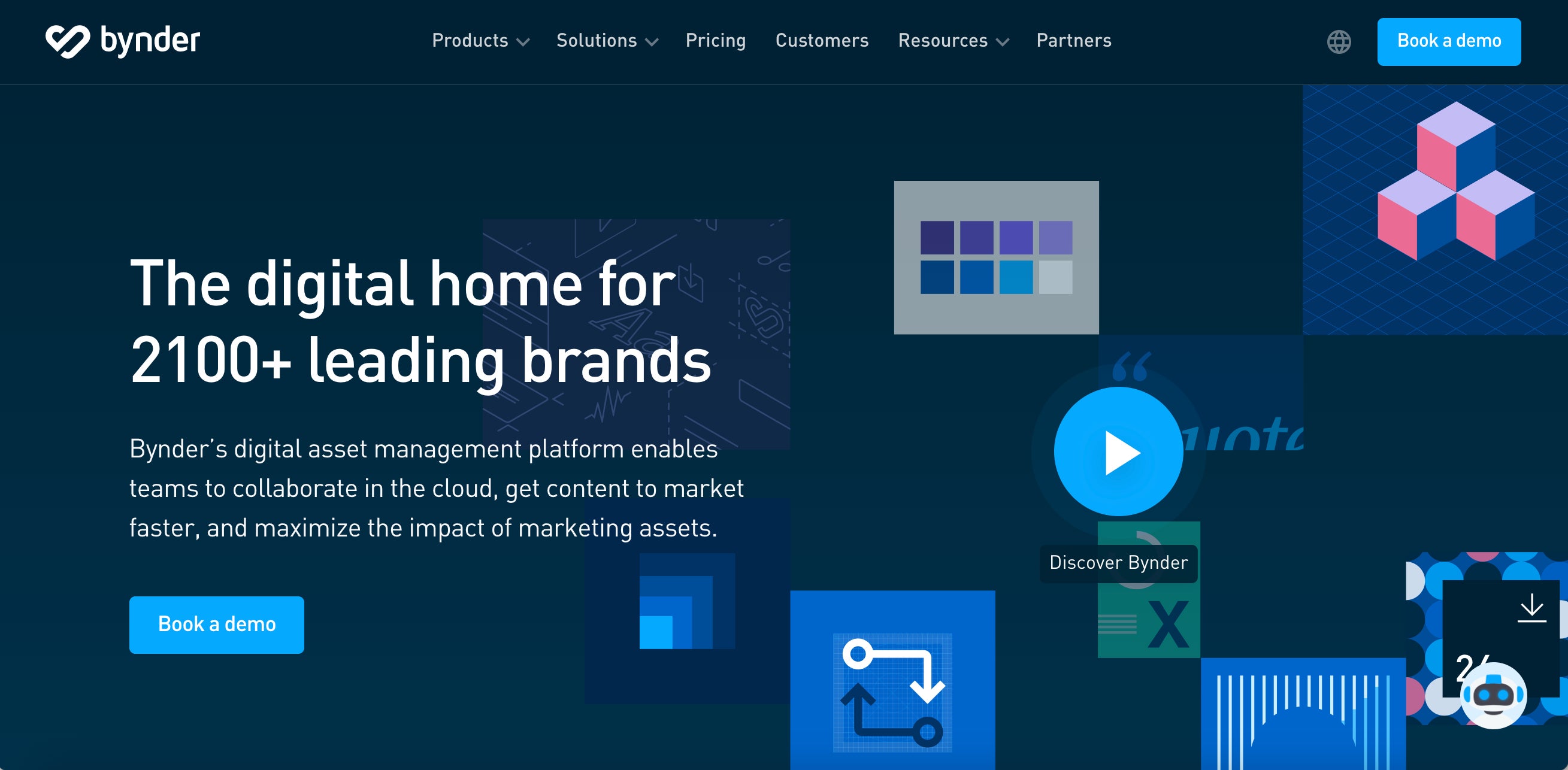 Instead, mid-size and enterprise businesses should consider Bynder.
Bynder, like Brandfolder, is another versatile DAM that works for various business needs — even small businesses can get started in Bynder and upgrade as they go.
The platform offers several advanced features — dashboards to manage creative content production, templates, dynamic transformation tools, brand guidelines, and CDN. Bynder also integrates with 50+ other tools to help you use and distribute content.
You can do a lot with Bynder's platform, but it's not the most user-friendly solution — for example, Brandfolder outscores Bynder in the ease of use and a number of other categories across user reviews. They have an onboarding team, but keeping up with the software and training new users can pose challenges for businesses with fewer resources.
Read more: 6 Bynder Alternatives: How Brandfolder & Other Competitors Compare
Widen Collective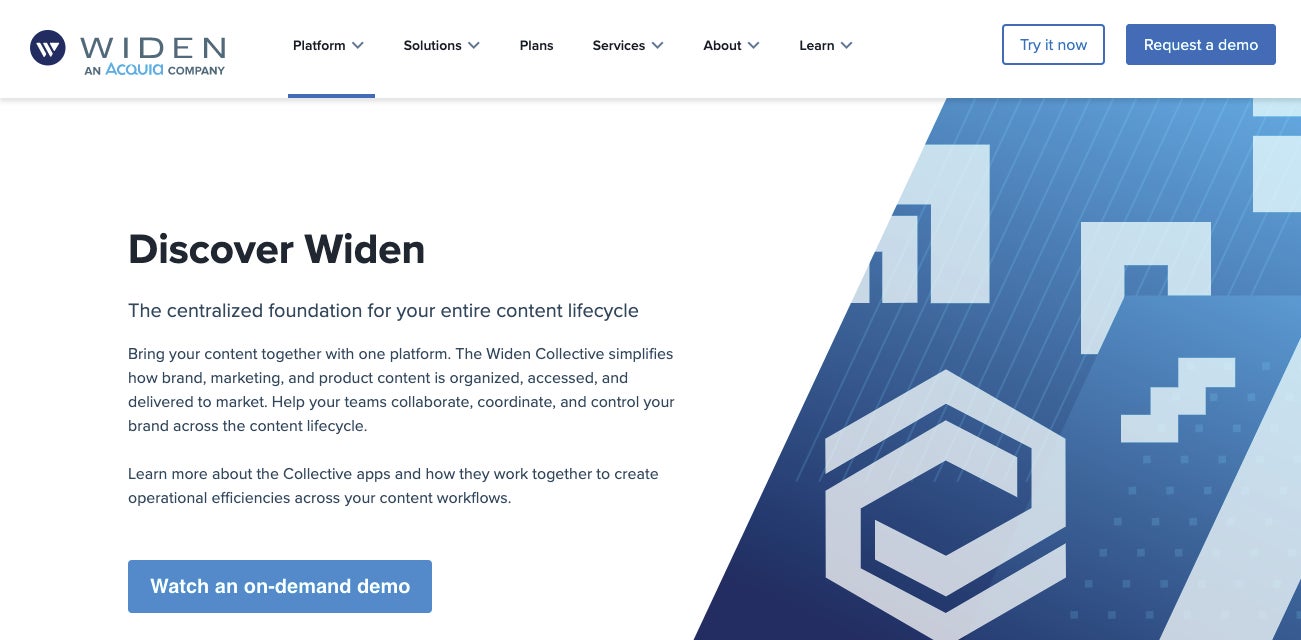 The last DAM on our list, Widen, is an enterprise DAM+PIM solution — it appeals to product-based brands that need product information management (PIM) to work in tandem with digital asset management software. DAM+PIM systems let you store digital assets and detailed product information, like SKU numbers, technical specifications, warranty guidelines, etc. in one platform.
Widen's DAM is one of the most advanced options available, but they offer custom quotes and a convenient "Widen University" to help you make the switch and learn their solution. However, take note that training teams to use the software can take a few weeks, as it's one of the more complicated DAM solutions.
Overall, Widen is great for teams that need comprehensive product information management with their DAM solution. However, if you don't need the extra functionality, you don't need to invest in Widen (and are better off choosing a different DAM vendor).
Read more: 6 Best Alternatives to Widen Collective: Buyer's Guide
---
Alternative Cloud Storage Services to Use Instead of Dropbox
If you're not quite ready for digital asset management software, you might want to consider some of the cloud storage providers below.
Box, Sync.com, Icedrive, pCloud, and SpiderOak are often compared to Dropbox, but they don't have a ton of extra features, so they're still easy to use and relatively inexpensive.
Note: If you're shopping for personal cloud storage drives, consider Google Drive, Microsoft OneDrive, Apple iCloud, or Amazon Drive. These are some of the most popular cloud storage solutions because they offer up to 5GB of free storage space and require no training.
Box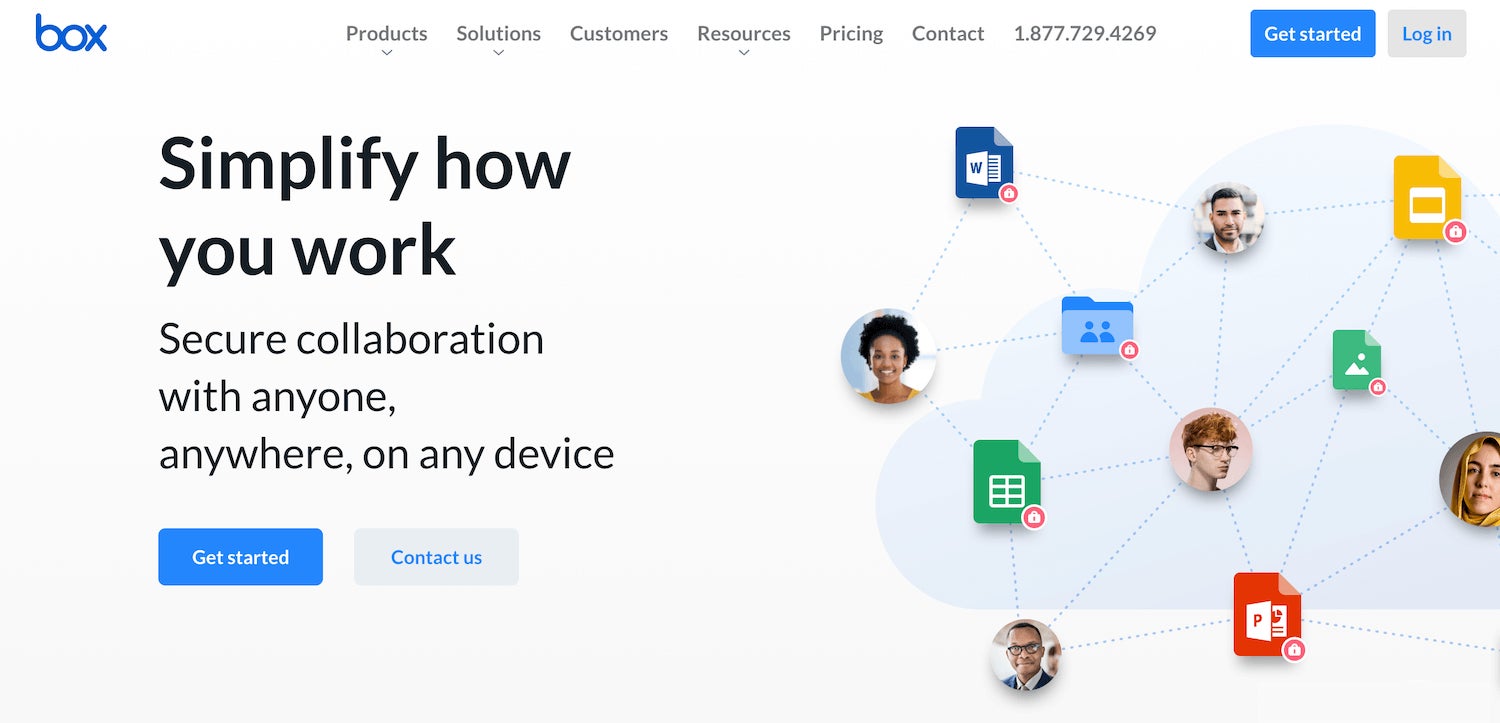 Box is a cloud storage and secure file sharing solution that lets users collaborate on digital files like sheets, docs, presentations, and other business collateral. It connects with various software to help your teams work more productively. (However, it doesn't support much beyond file storage, file sharing, and team communication, and it isn't the best solution to manage design files or creative projects.)
Box lets users start with a free account but offers paid packages to accommodate different teams. All paid plans are moderately priced; for example, the entry-level business plan is $5 per monthly user. However, some users don't like Box's tiered pricing model because they divvy the features amongst packages, requiring users to upgrade to a whole new package just to access a single feature or more storage space.
Box also sells extra products, like Box Sign, so users can send and receive electronic signatures on business proposals and contracts. They also have iOS and Android apps so you can access files on your mobile device anywhere you have an internet connection.
Read more: The Top Alternatives to Box: Pros, Cons & Customer Reviews
Sync.com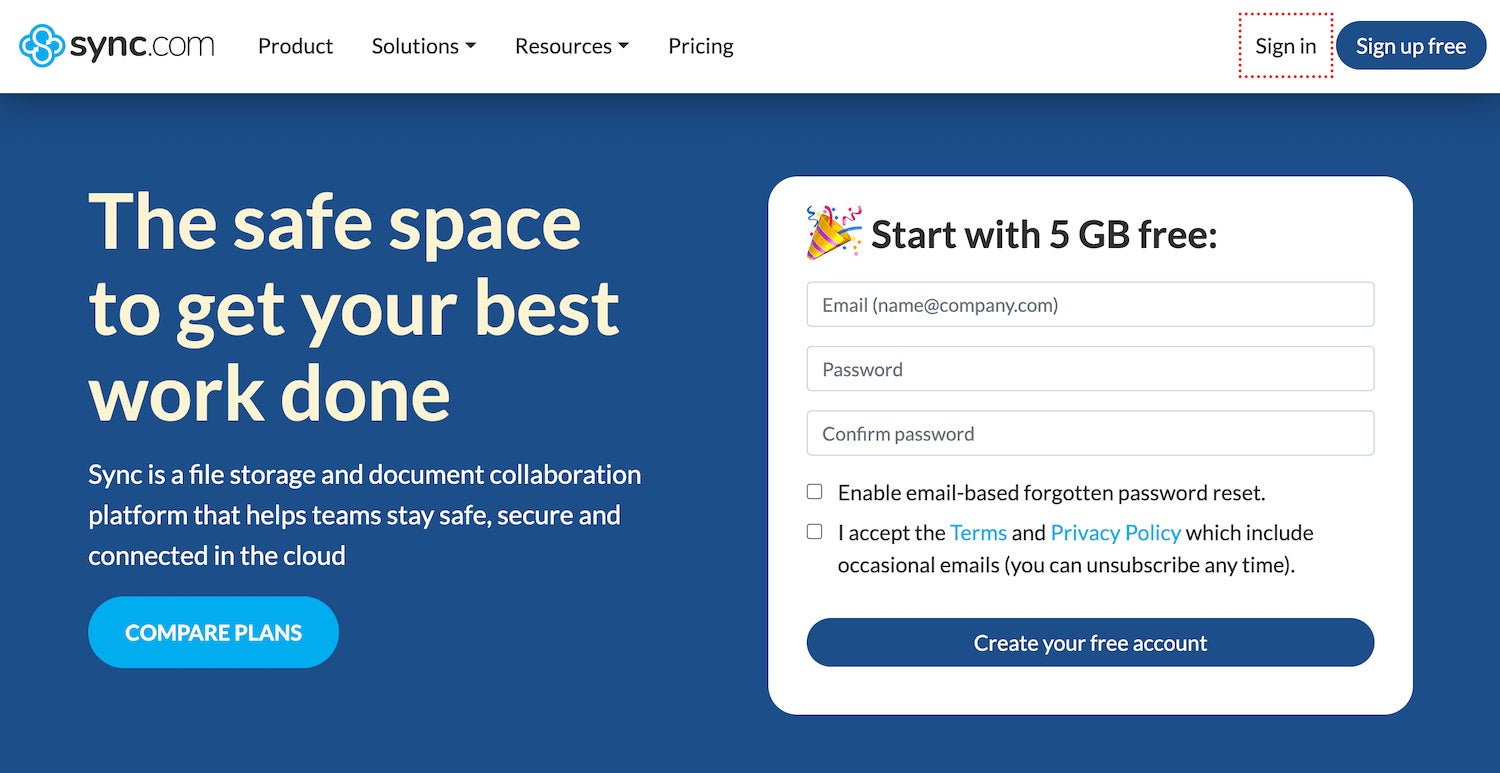 Sync.com is another popular cloud storage drive because it has a modern feel, intuitive interface, and it's easy to learn. Like Box above, they offer standard cloud storage, upgraded sharing features, and collaborative tools so teams can comment on files and work together on projects. They also have mobile apps and support offline access to work remotely. In addition, Sync stands out because they pride themselves on their security protocols — with end-to-end encryption and a real-time backup service (which was a concern for some Dropbox users).
Sync offers tiered packages for individuals and teams, including free plans (with up to 5GB of free cloud storage for new users), inexpensive basic plans, and customizable enterprise packages. Many teams praise Sync because they offer unlimited storage plans, so you can easily upgrade packages and work with large files.
You can get started with Sync by signing up on their website.
Icedrive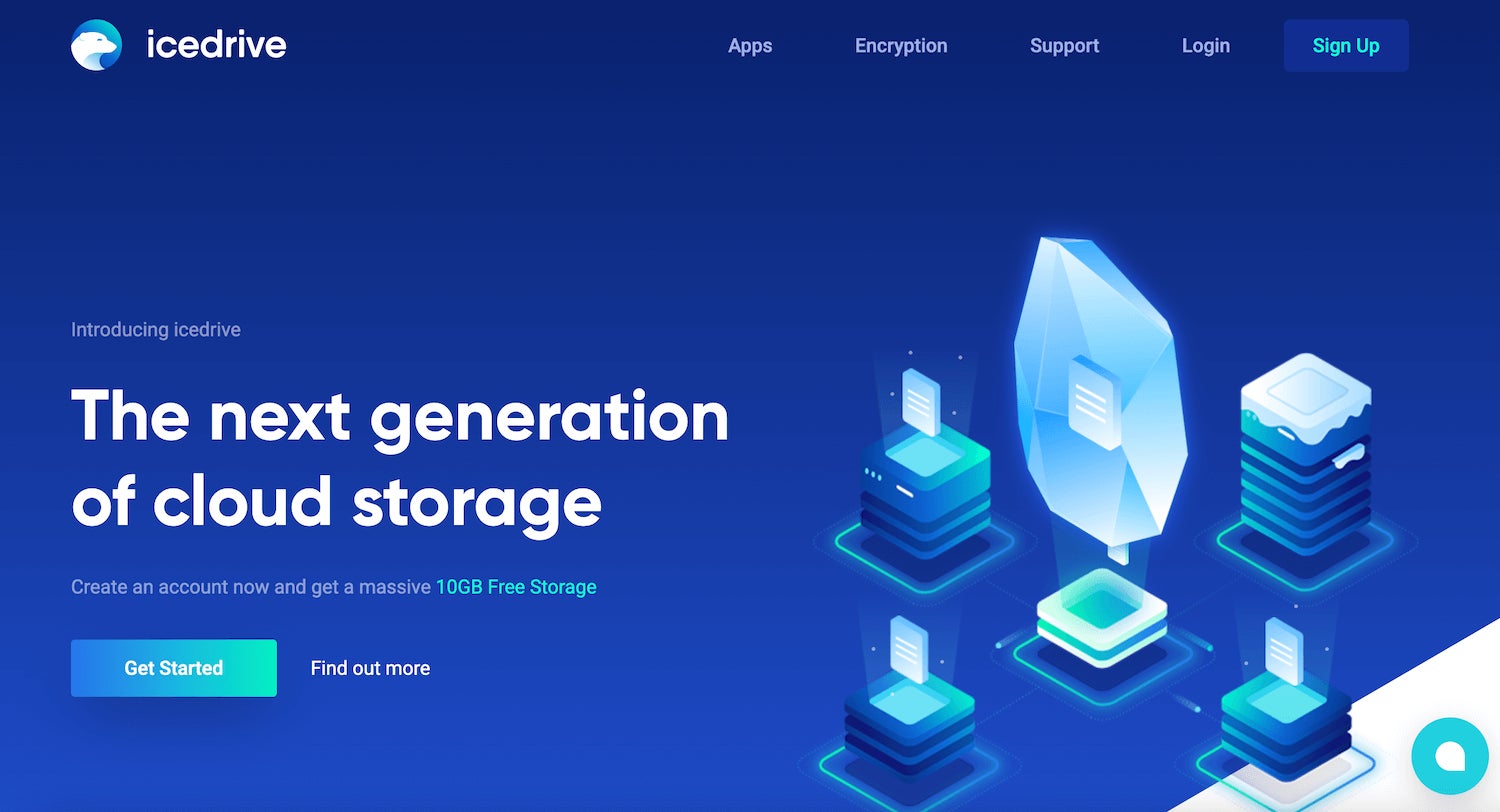 With a user-friendly interface, Icedrive is designed with privacy and security in mind.
In fact, it goes above and beyond to protect user data by being the only encrypted cloud storage solution to use the Twofish algorithm, which cryptographers consider to be more secure than the Advanced Encryption Standard (AES)/Rijndael.
Icedrive is a good choice for teams looking for an affordable and secure way to store and share their digital files. However, the platform is still new and lacks some features that other DAM software brands offer.
pCloud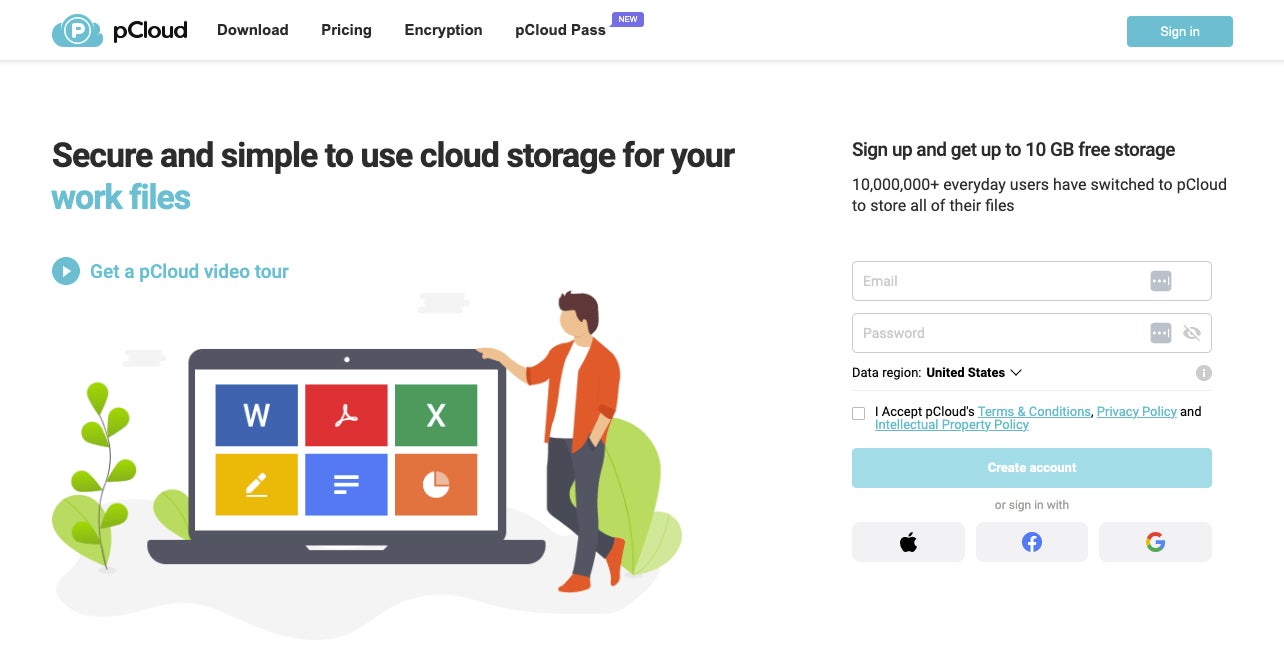 pCloud is a popular choice for businesses wanting an affordable, feature-rich cloud storage solution with easy-to-use tools designed to help control and optimize workflows.
The platform has a long list of features, including:
256-bit AES encryption for all files
A virtual hard drive that uses cloud storage instead of your hard drive
Enhanced search capabilities
Secure file-sharing
While pCloud offers zero-knowledge encryption, which means only you (not even the service provider) can access your data, this extra level of protection comes at an additional cost.
SpiderOak
The last option on our list, SpiderOak, is a cloud storage service provider designed exclusively for professionals who need highly-secure cloud storage — specifically, federal agencies, government contractors, healthcare professionals, etc.
Their platform is one of the most secure cloud storage solutions because they use blockchain technology to prevent outsiders from accessing your data and files. They also sell multiple versions of their software to meet different storage requirements.
SpiderOak is built with several collaboration tools to encourage better team communication. They offer secure:
Messaging and file sharing
Data storage & backups
Software development tools
Spacecraft communication (Yes, you read that right!)
SpiderOak can work for businesses of all sizes since they offer budget-friendly prices; however, considering the nature of SpiderOak's product, we only recommend it for businesses that need to store confidential data and cannot risk compromising that information.
---
Get Started with Brandfolder's DAM Solution
Dropbox is a popular, inexpensive, and easy-to-use cloud storage solution — and for some individuals and small teams, Dropbox may fit the bill. However, business users that need cloud storage solutions often turn to DAM software because it expands upon the traditional features and functionality and offers more to manage and use brand content.
If you think you're ready to make the switch, our team can answer your questions about DAM software and help you customize Brandfolder to match your requirements. Plus, we provide all of the onboarding and support services to get you successfully transferred over from your old platform. Get in touch with us for a free demo.