Shopping for digital asset management software and want to compare the most top-rated options? Our guide covers:
Brandfolder: Our digital asset management solution with customizable setup options to support a variety of business needs.

Canto: A high-quality digital asset management software for small and mid-size teams.

Bynder: A versatile, cloud-based DAM for mid-size and enterprise teams.

Adobe Experience Manager: Enterprise DAM solution for teams already using Adobe software.

Aprimo: Digital asset management vendor with cloud-based and on-premise options.

MediaValet: DAM solution with extra features to appeal to marketing, sales, and creative teams.

Widen Collective: A digital asset management + product information management (DAM + PIM) solution for large eComm, CPG, and manufacturing companies.
Scroll to one of the DAM solutions from the list above to learn more about the most popular digital asset management software for your use case. Or, you can schedule a free demo of Brandfolder to see our DAM features and talk about how to set up Brandfolder to check your specific boxes.
---
Brandfolder: Capterra's Emerging Favorite DAM (2022)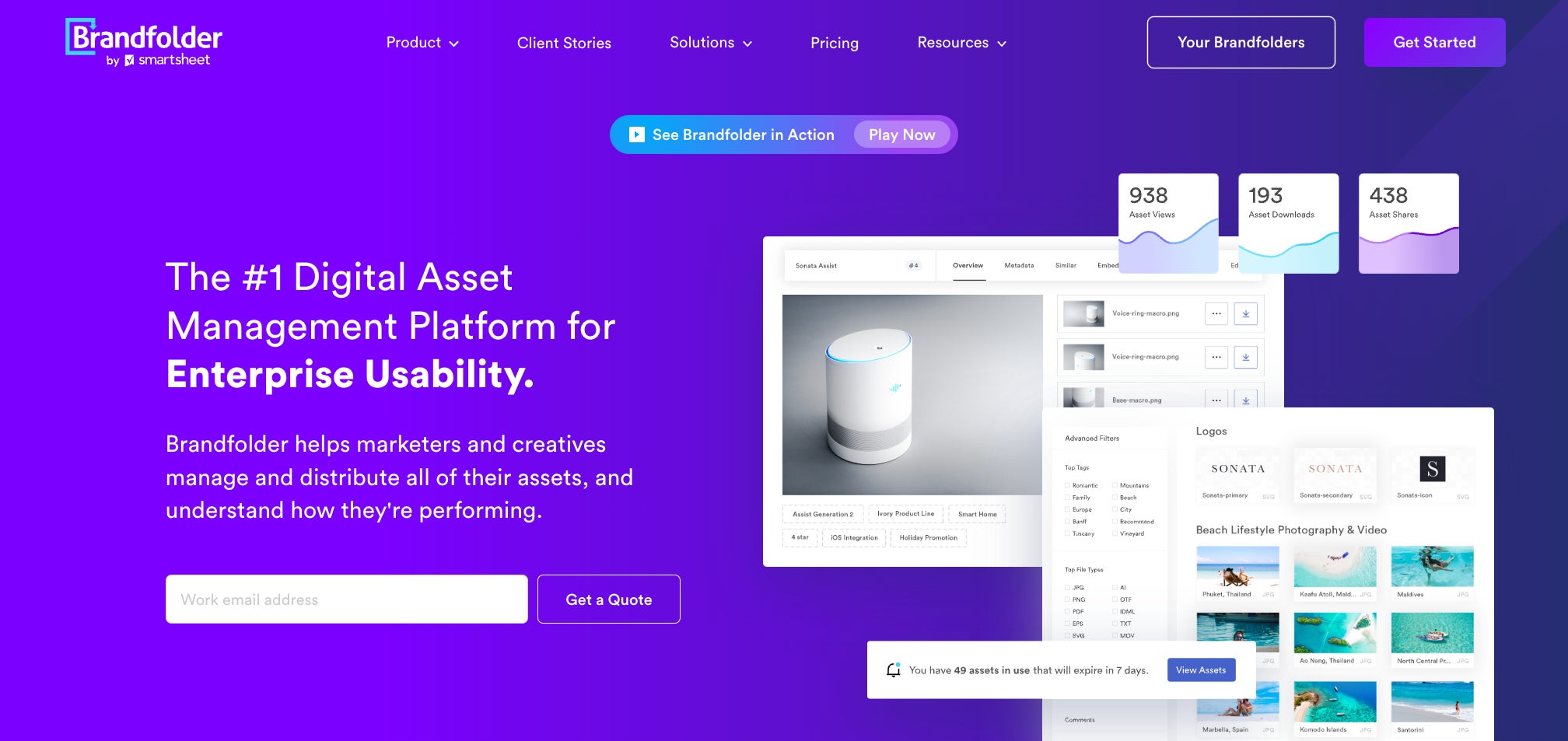 Brandfolder is one of Capterra's top-rated DAM software and we get consistently good reviews in categories like ease of use, features, customer service, value for money, and more — overall, Brandfolder has a 4.7-star rating from user reviews.
We're one of the most popular digital asset management tools because our platform is flexible and scalable. During the initial set-up, we configure the platform to your current needs (i.e., specify storage space, user seats, integrations, etc.), and then we adjust the DAM as you go. Our approach to DAM set-up allows us to work with various business sizes and industries: We can support smaller businesses that want to switch to DAM software but have fewer resources to do so, and we can create custom packages for global organizations with more specific needs.
The Brandfolder customer experience team guides you through every step of the migration and is available to make updates to your Brandfolder when you need them; you're never left to tackle setup or optimization on your own. This is another reason our DAM is popular for small and busy teams that don't want to set aside a ton of time to switch software — most teams are fully onboarded in ~six weeks.

You can also read more about how our team plans setup and onboarding in our guide: 10 Digital Asset Management Best Practices From DAM Experts
Now, let's review Brandfolder's top 10 features:
Cloud storage (for hundreds of file types and formats) & Advanced Search: Manage all brand assets from a central location and quickly retrieve any file you need just by typing a related word or phrase, our AI does the digging for you. We also have features to keep your asset library organized and improve version control.

Automated metadata tagging: Brandfolder automatically organizes assets and adds the appropriate metadata information, this saves you time and improves the DAM's search functionality.

User permissions: Share assets with other team members and control what they can do with the content. View and update permissions at any time.

Custom share links: Share files with stakeholders and users outside of your organization; edit and update share links; monitor all file sharing to keep track of who has access to your content. (You can even set real-time alerts to receive notifications when users open share links or download files.)

Guest upload links: Receive assets from outside collaborators (and send feedback when you need revisions) directly in the DAM.
Note: We support free unlimited guest seats so you can send and receive files as often as you need, which is super beneficial for enterprise businesses.
Creative tools like templating studio, Advanced Video, convert & resize, and custom crop: Edit assets on the fly and easily create new digital content for projects.

Reporting dashboard: Monitor user activity, asset usage, file sharing, and online publishing, and access reports on top-performing assets so you can strategically plan new creative projects.

Workspace: Brandfolder has a native project management suite so users can work together on digital projects. This feature is perfect for designers and marketing teams to collaborate on creative requests.

Brandguide: Publish brand guidelines in the DAM platform so users can access all of the necessary resources to use your brand's media assetswithout compromising brand consistency.

Integrations & open-source API: Connect Brandfolder with any other software in your workflows to seamlessly push digital files between systems. For example, our DAM integrates with content management systems like WordPress, creative applications like InDesign, eCommerce sites like Shopify, and workspace apps like Microsoft Office and Slack.
Despite Brandfolder's robust feature set, the platform is still rated as user-friendly because the features are intuitive enough to learn without a ton of training. Most users can learn Brandfolder on their own and get up and running quickly, but we also provide online tutorials to supplement training.
Online reviews of Brandfolder praise the clean interface, easy search function, online sharing options, and features like duplicate asset detection that allow them to maintain an organized DAM. However, some reviewers dislike that Brandfolder has no mobile app.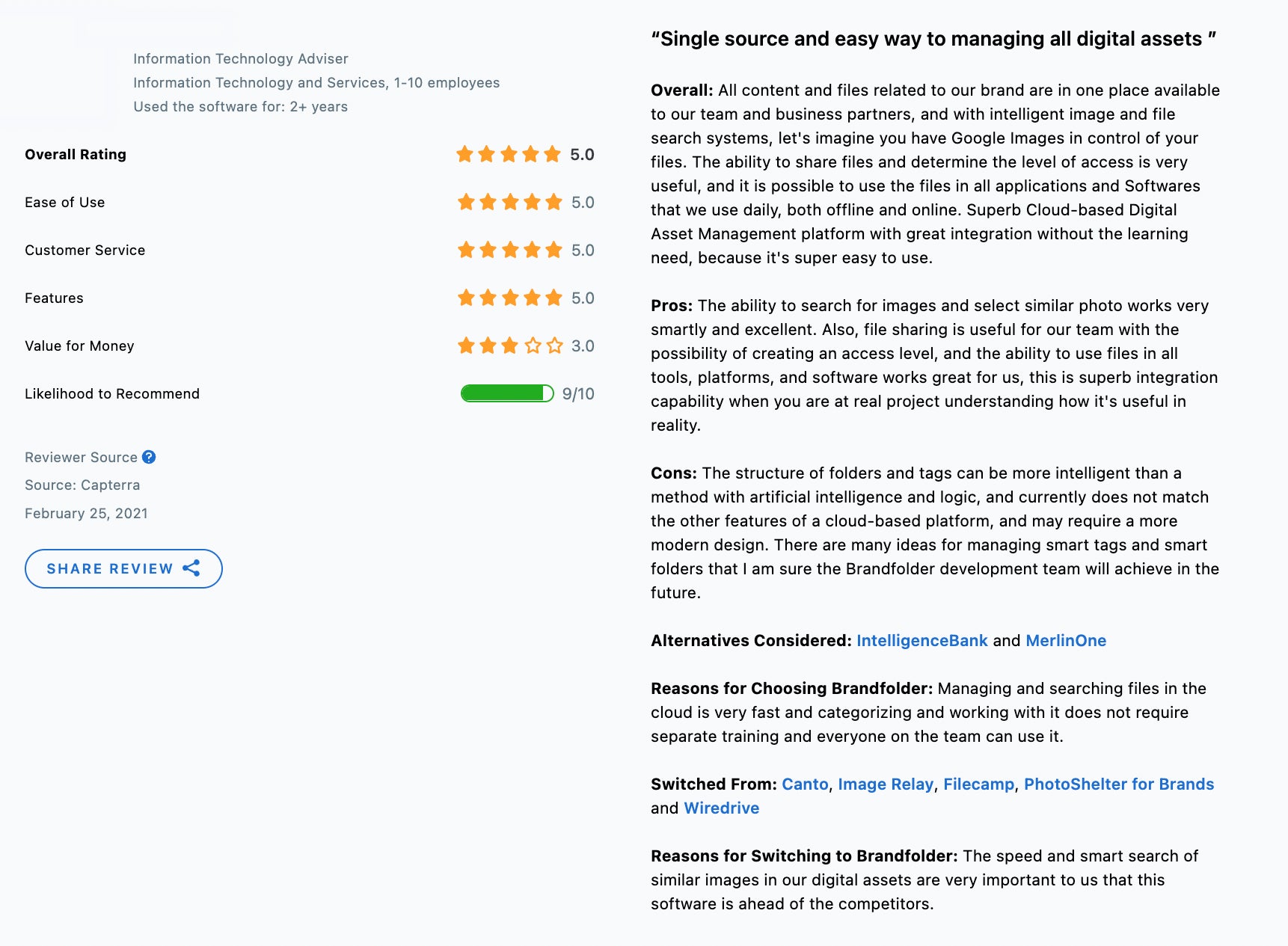 You can learn more about Brandfolder and our DAM features by scheduling a free demo with our team.
---
Canto: DAM System for Small Business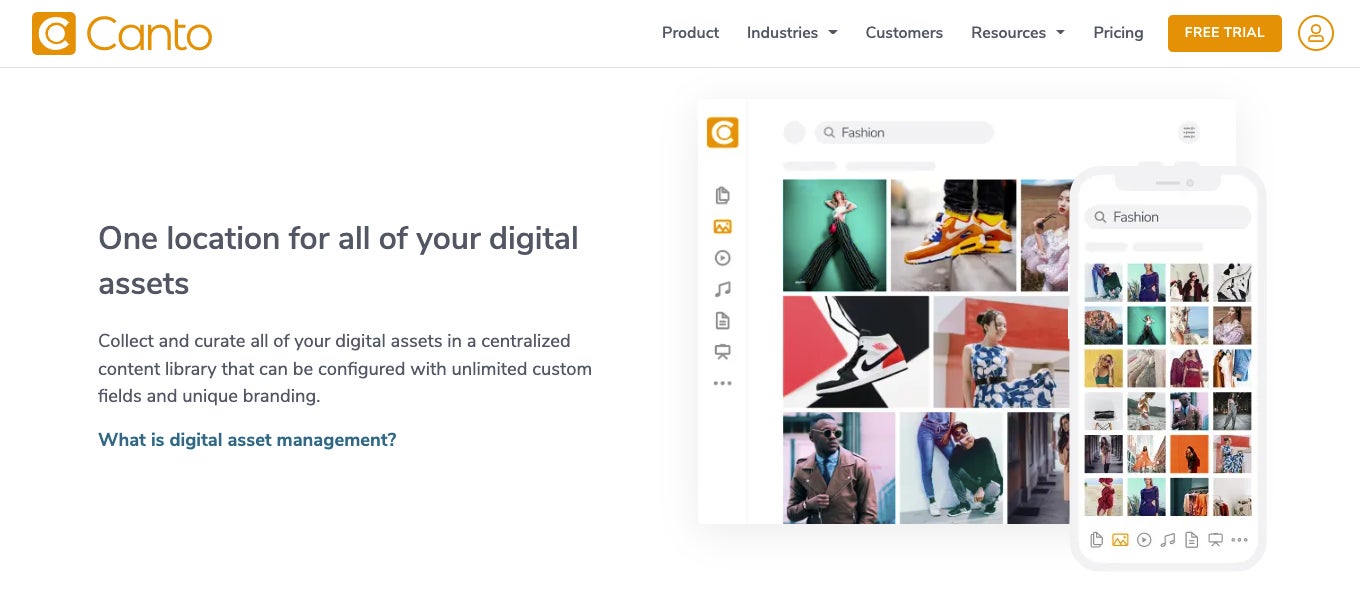 Canto's digital asset management software ranks #2 on Capterra's list (for 2022) and receives a 4.5-star rating from reviews. Canto is one of the earliest digital asset management vendors and earns Capterra's "Established Player" title.
Canto has always been a favorite DAM for small businesses because they have a simpler feature set, the platform is rated as easy to use, and they offer affordable pricing plans. It's often a comfortable step up for teams using Dropbox or another cloud storage provider because the platforms have similar looks and feels, and Canto doesn't require a ton of training to get started.
So if you're a smaller team, you might consider Canto. That said, Canto has made upgrades to the DAM so they can scale with larger businesses and accommodate more unique team needs (though these packages can get pricey).
Here are some of Canto's notable features:
Online cloud storage
AI-powered search functionality
Internal & external sharing options (though Canto charges for guest seats so sharing files outside of your organization costs extra)
Custom branding features
Project management portal
Reporting dashboard
Integrations
Overall, reviews of Canto are positive: Reviewers note that the platform is easy to onboard and the DAM features solve a lot of the problems they experienced in the storage drives they were using previously. They also note Canto's modern UI and say they enjoy using the software because it's visually appealing.
Negative reviews of Canto mention the software can be glitchy and crash — more often so for teams managing a larger asset library. We also noticed that several reviews say Canto's integrations are limited and need updates.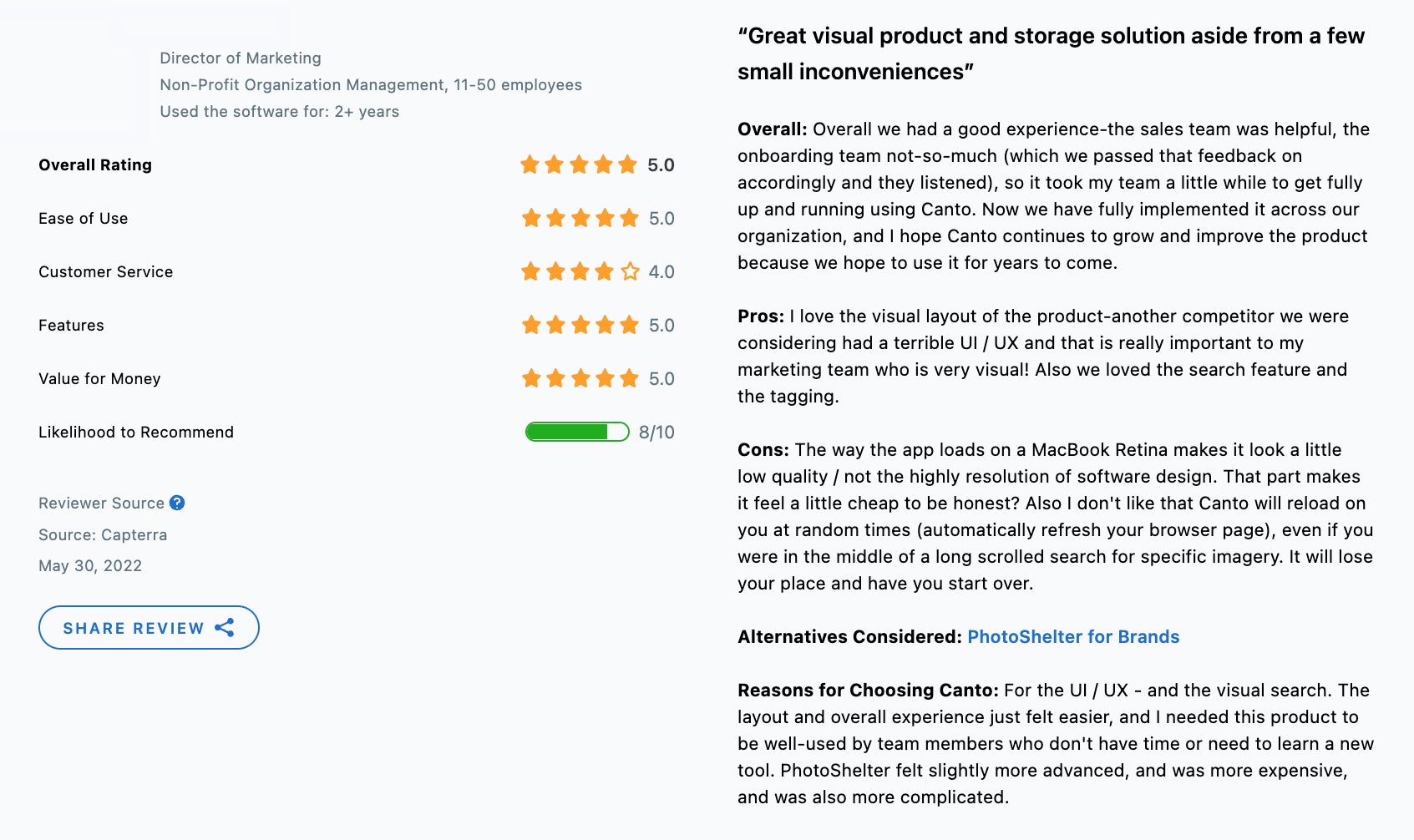 You can read more about Canto here: Canto Software vs. Brandfolder: Compare Two Top-Rated DAMs
---
Bynder: Top-Rated Cloud-Based Digital Asset Management Platform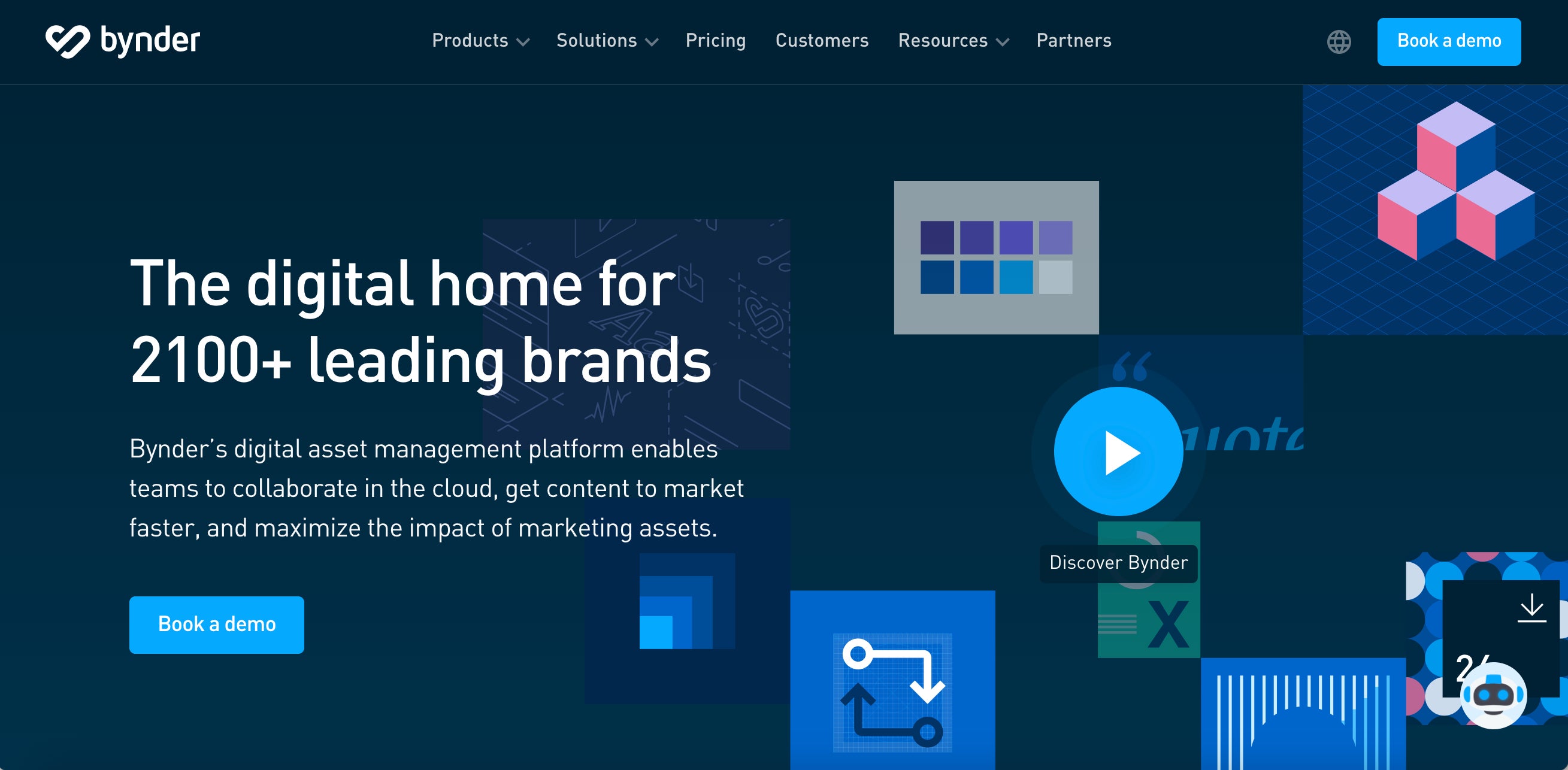 Bynder is another name we see in many best DAM lists because (like Brandfolder) Bynder has advanced features and flexible set-up options. They also provide onboarding services where they plan DAM migration and provide a guide for you to follow, which makes moving content and adding team members easier. Bynder can work for small, mid-size, and enterprise businesses because the DAM is so customizable — that said, it is noted as a more expensive DAM, so it's not always a practical option for smaller teams.
Note: Bynder also has separate software called WebDAM with project management features. Many teams use the two together (and reviews of Bynder recommend using both tools), but it's not part of Bynder's core package.
Bynder receives a 4.4-star rating from user reviews, and many reviewers praise Bynder's quality of support and clean, elegant interface. Some of Bynder's notable features include:
Cloud storage & advanced search
User permissions & share links
Automatic asset optimization to resize and transform assets
Project management dashboard (that can be used with WebDAM for more robust capabilities)
Brand guidelines
Creative tools like templates, video editing features, and cropping
Reporting
Integrations
Positive reviews of Bynder mention the customization options, vast feature set, and advanced DAM capabilities. However, those things can be both pros and cons, as some reviewers say that customizing the software is challenging, and learning how to use Bynder can be overwhelming (especially for users that aren't regularly using the DAM).
Reviews also mention that Bynder requires some periodic maintenance work to keep organized. This is another reason why Bynder is recommended primarily for larger teams with more resources for onboarding, training, and upkeep.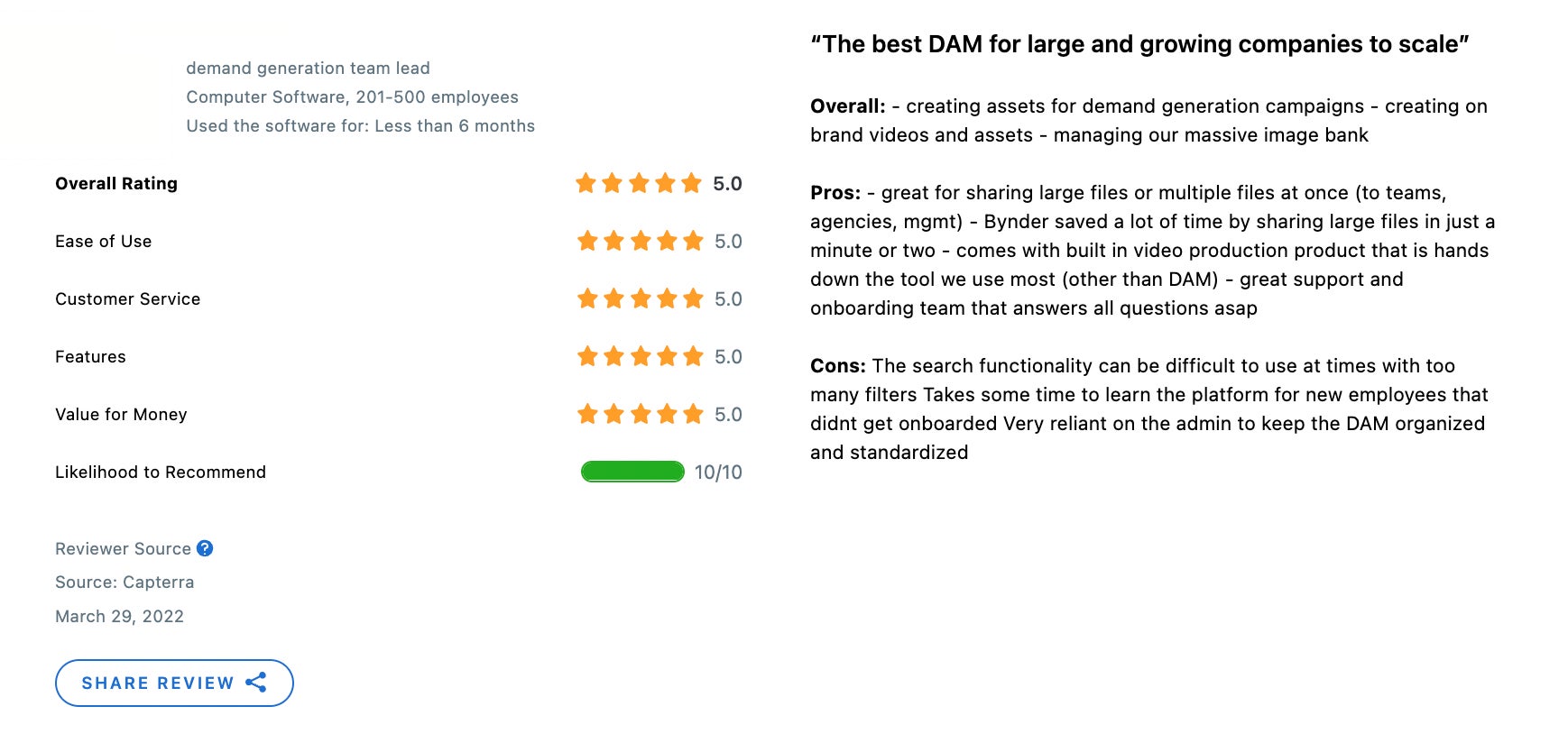 You can read more about Bynder here: 6 Bynder Alternatives: How Brandfolder & Other Competitors Compare
---
Adobe Experience Manager: DAM Solution for Enterprise Teams (Already Using Adobe Creative Cloud)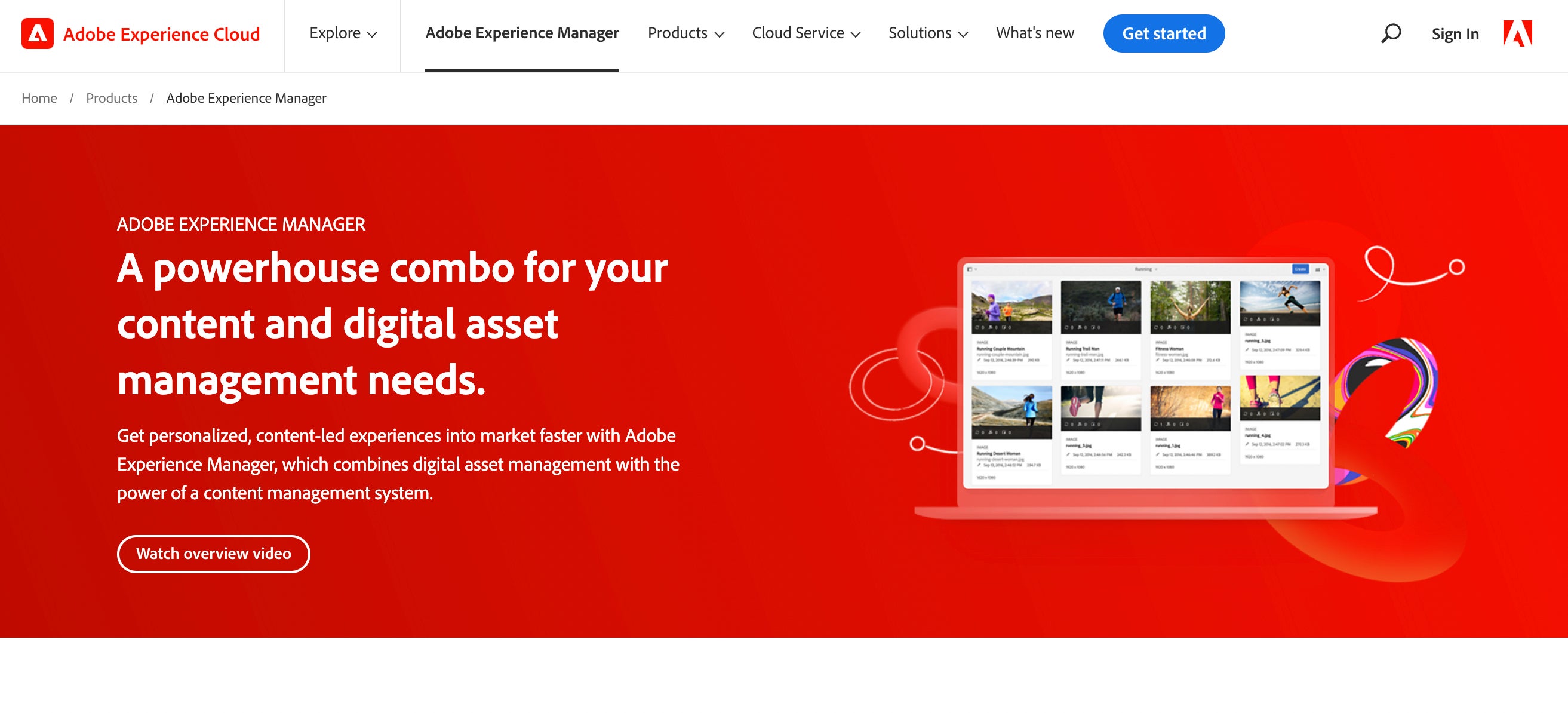 Adobe Experience Manager (AEM) is advertised as digital asset management and content management software. It's a popular solution for teams that already use Adobe software and want a DAM that integrates with their tech stack, or for creative agencies that manage a high volume of design files.
Apart from integrating with the Adobe Creative Cloud, Adobe's DAM is super customizable — arguably one of the most customizable on this list — and they can build integrations with any software you use.
However, all of that customization comes with a cost, as Adobe is also one of the most expensive options on this list, making it mostly unattainable to small and mid-sized teams. But many enterprise teams that need this type of "tailor-made" solution say that Adobe's AEM is worth the cost and onboarding time.
Some of the features you can expect in Adobe's DAM include:
Cloud-based storage & advanced search
AI-powered tagging
Automatic asset optimization
Brand templates
Rights management tools
Workflow suite with task management tools
Reporting
Integrations
In addition to the features above, you can select add-on features to supplement the core DAM capabilities.
Despite being a newer DAM solution, Adobe has quickly earned a "Top Performer" title from Capterra. They receive a 4.3-star rating from user reviews, but feedback is somewhat mixed. Although many users appreciate the flexibility and adaptability of the software, reviewers mention that the software can be intimidating, and onboarding takes a considerable amount of time. But once you learn how to fully use the software, it's a smooth experience.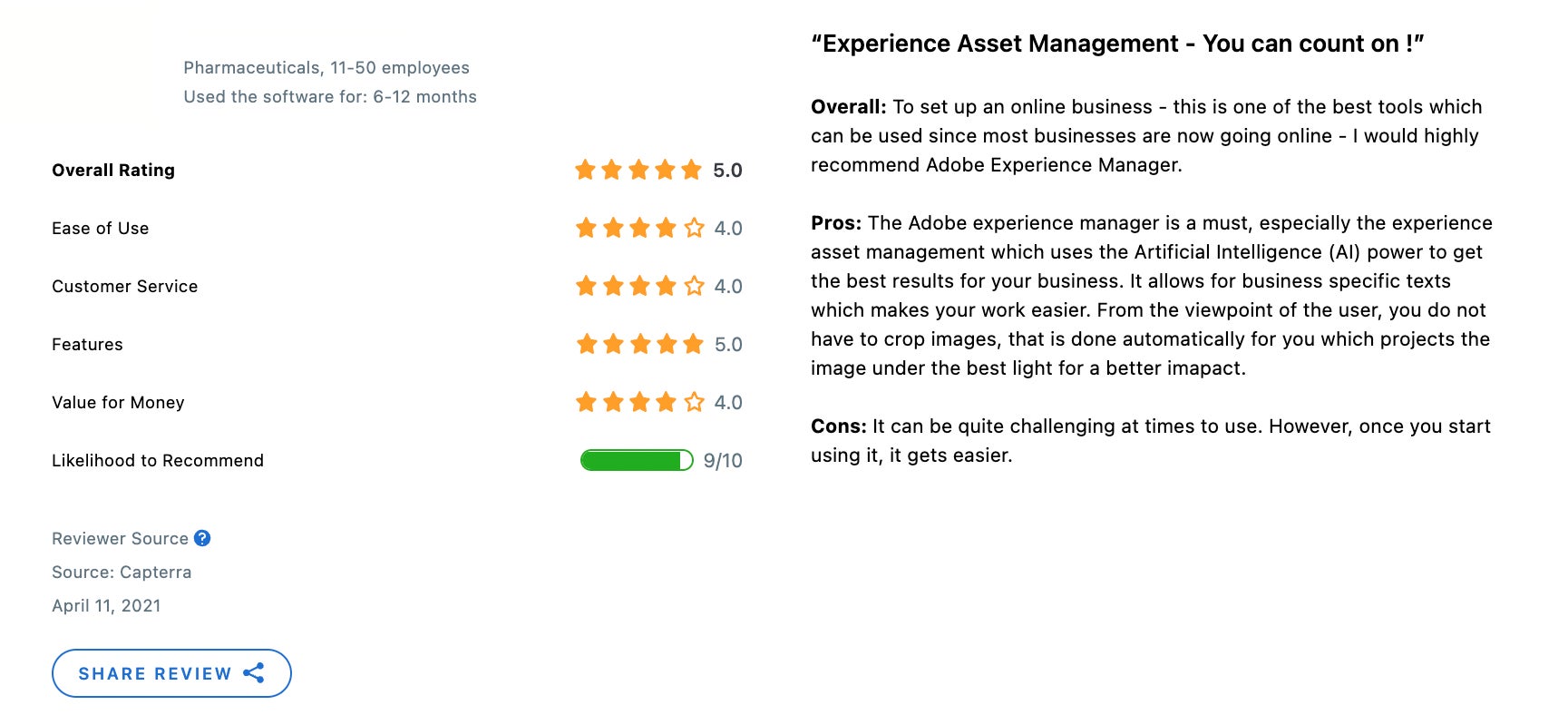 ---
Aprimo: Digital Asset Management System with On-Prem Options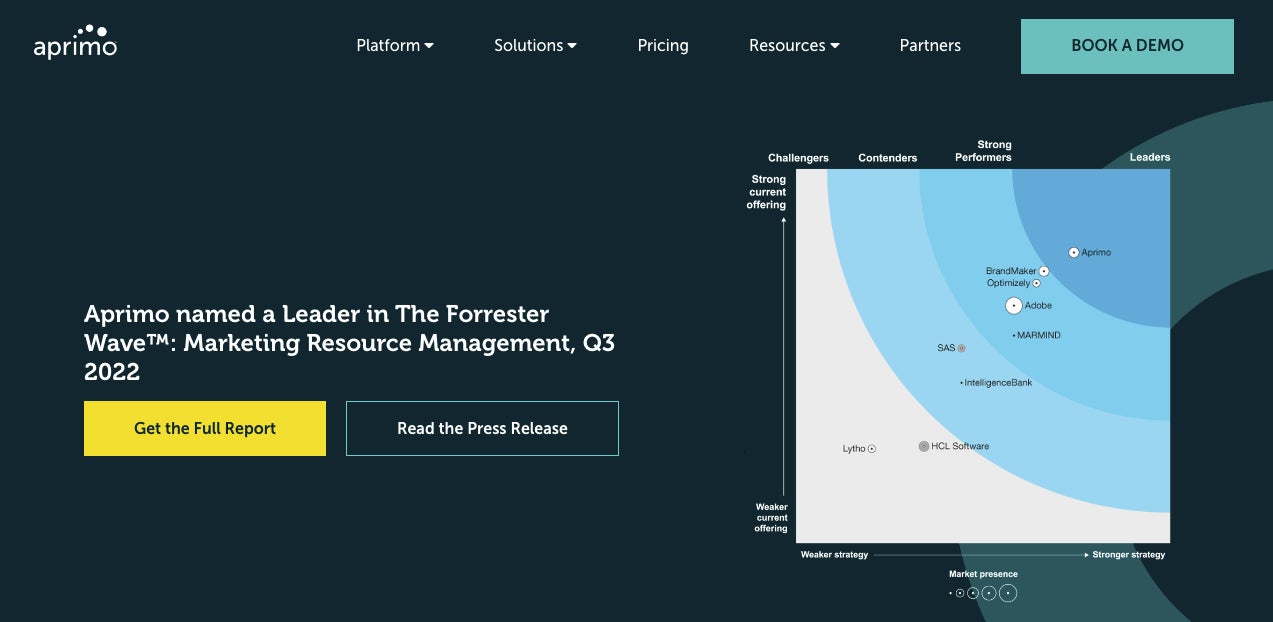 Aprimo is a Content Operations Platform that provides a balanced mix of DAM and project management features for teams to manage digital assets and projects in one hub. They offer their software solution in both cloud-based and on-premise versions — and it's worth noting they're one of the few DAM vendors that provide an on-premise option, so if you're seeking an on-prem DAM, Aprimo is a name to have at the top of your list.
Overall, Aprimo receives good user reviews and is rated 4.0 stars on Capterra.
For the most part, Aprimo appeals to enterprise and global teams because the platform has a wide feature set, advanced omnichannel distribution capabilities, dozens of integrations, and is highly scalable. However, Aprimo is fairly flexible in set-up and pricing so it can work for smaller teams that want to upgrade.
Some of Aprimo's features include:
Scalable storage packages for hundreds of file types & advanced search
Internal & external sharing options
Automated metadata tagging & metadata management
Rights management tools
AI-powered asset optimization
Native CDN system
Brand guidelines
Custom branding options
Reporting
Integrations
While Aprimo receives good customer feedback, some reviewers mention that 1) customer service can be lacking or hard to get ahold of, 2) setup can be laborious and time-consuming, and 3) learning the software is another hurdle. Reviews also mention that while the interface is clean and simple, it's also a bit outdated and the software can be glitchy.

Read more: 4 Best SaaS Digital Asset Management Tools
---
MediaValet: DAM Software for Marketing, Sales & Creative Teams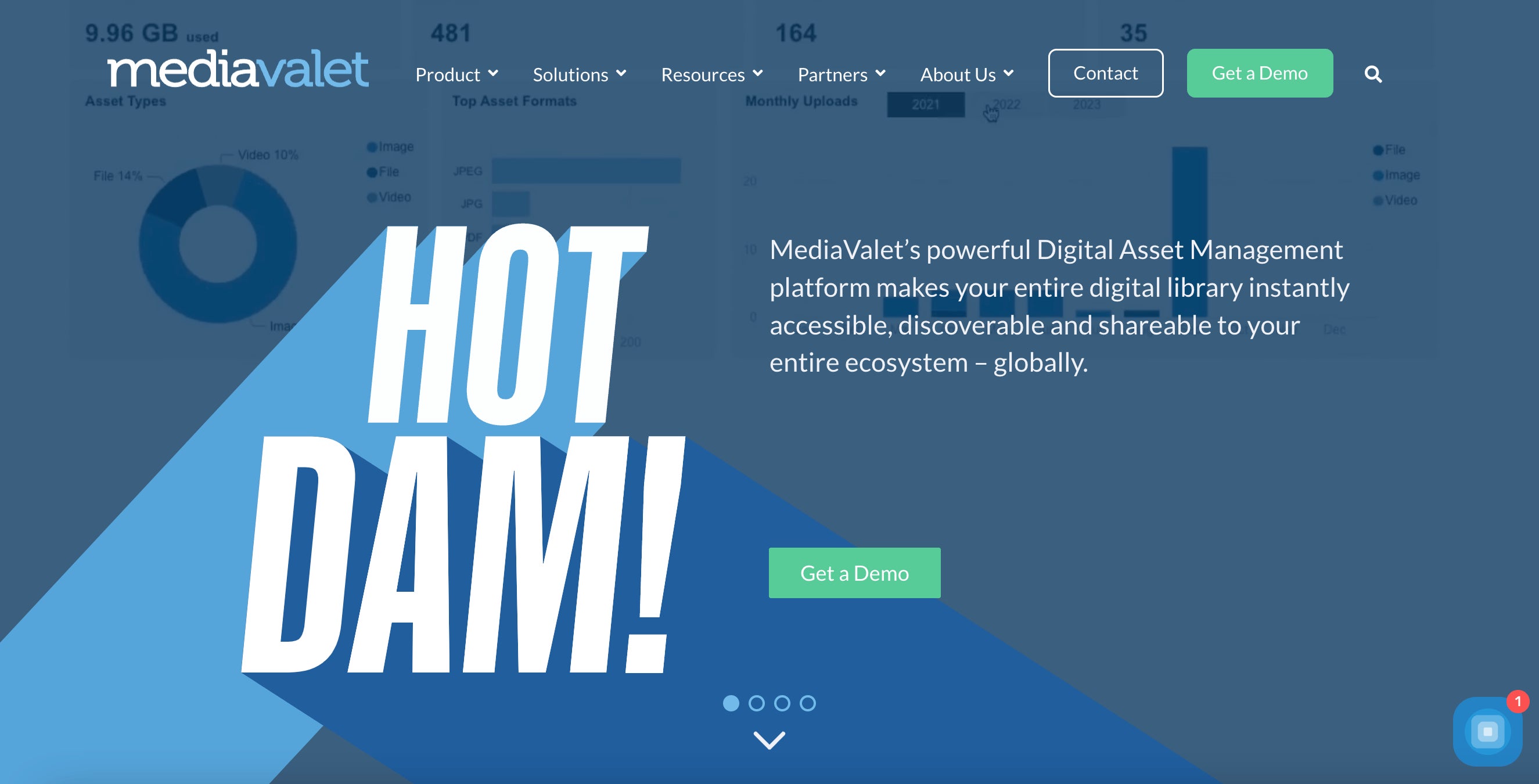 MediaValet's digital asset management software is a popular choice for marketing teams and creative agencies because they have a collaborative project management dashboard, brand management features, and native tools to repurpose rich media files like videos, audio files, and templates.
While MediaValet is a versatile option because the DAM can be configured to accommodate different team sizes, their DAM is a more common choice for large enterprise teams that often manage multiple projects at a time and send files to clients and others outside of their organization.
MediaValet earns good customer reviews for both their DAM product and their customer service — many reviews mention MediaValet's support team, saying they simplify migration and onboarding so you can switch software without significant downtime. (This is also why MediaValet is a suitable option for smaller teams.)
Overall, MediaValet receives a 4.7-star rating on Capterra.
Some of MediaValet's notable features include:
Cloud storage & AI-powered search
Automation rules to organize assets and assign metadata
Online sharing options like user permissions & share links
Brand (or client) portals to distribute assets to end user groups
Asset archive to manage the entire asset lifecycle and store expired content
Reporting
Custom branding options
Collaborative workflow features
Creative tools like templates & a video editing suite
Content management
Change management
Integrations
Positive reviews of MediaValet say the DAM is reliable, the features are user-friendly, it's easy to navigate around the platform, and MediaValet provides a multitude of ways to keep your brand's digital media organized. Many users mention a fast onboarding time, but some say the software does have a slight learning curve.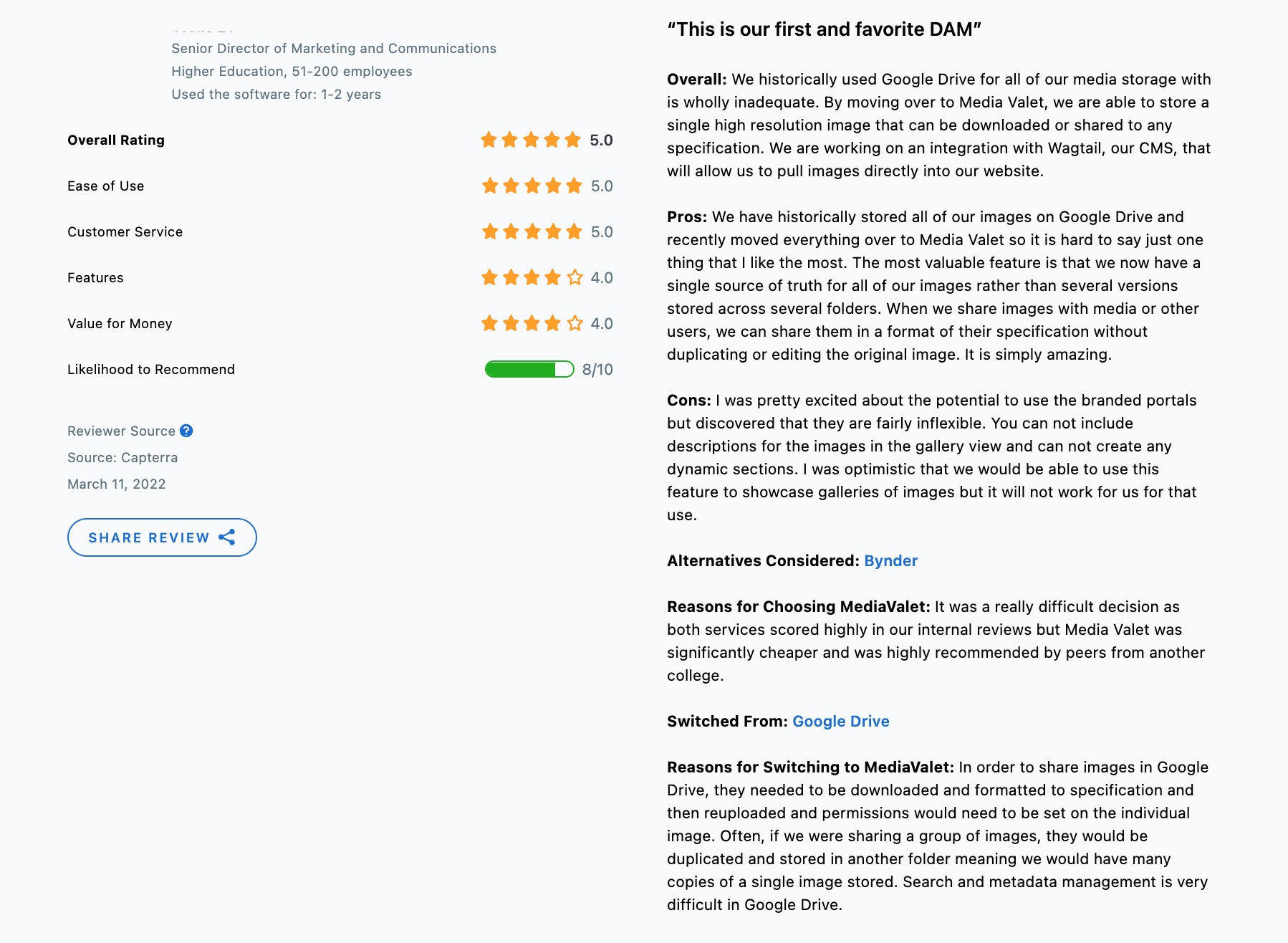 Read more:Best Marketing Asset Management Software
---
Widen Collective: DAM + PIM Software Solution for eComm, Retail, CPG, & Manufacturing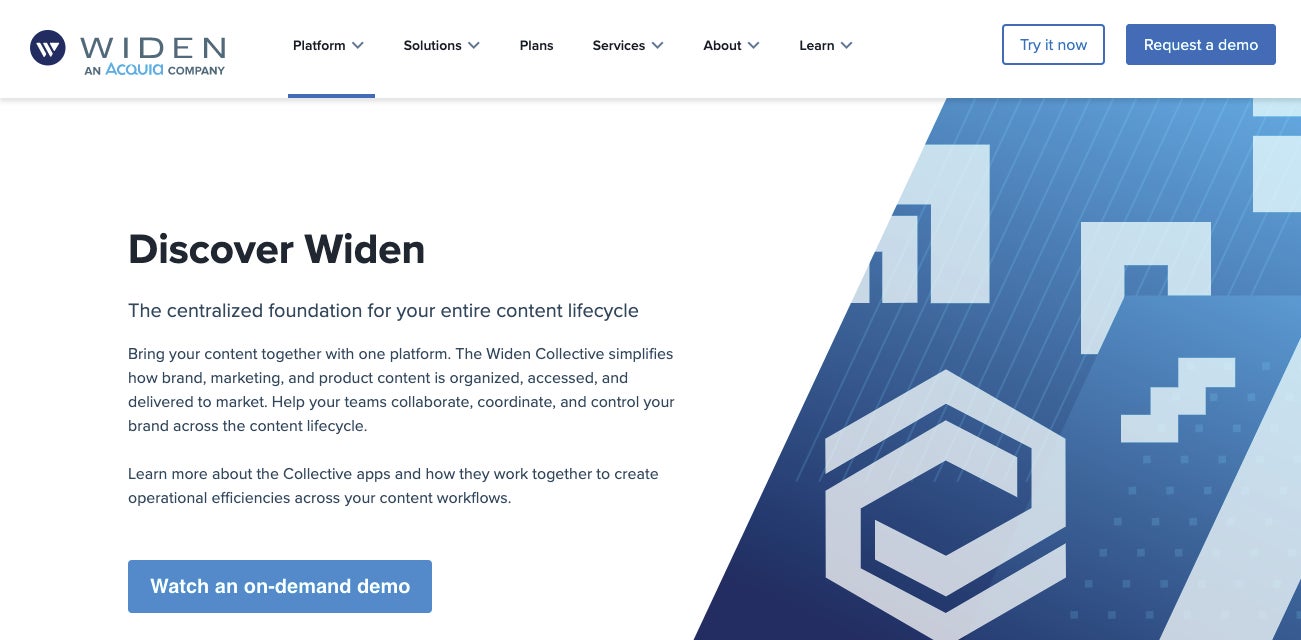 The last name on our list, Widen, is a unique solution because it is both digital asset management and product information management (DAM + PIM) software. It is popular amongst enterprise teams that need both DAM and PIM features — for example, a global eComm brand that needs to manage website content like product images and 3D renders with detailed product data.
As you might expect, Widen also has an enterprise-level price tag because it does combine both solutions. (Teams that don't need PIM software can skip this solution and find something that's better suited to their use case.)
Widen has been recognized by Capterra for its ease of use and value for money, and they receive pretty good user reviews — Widen is rated 4.4 stars on Capterra.
Reviewers say that the software is intuitive and easy to use after you've gotten started and taken some time to learn the ropes. However, Widen earns good customer service ratings and users say their team is available to guide you through onboarding and answer questions after the fact.
Some of Widen's DAM features include:
Cloud storage for digital assets and product data
Automated metadata tagging
Advanced search
Online sharing options & brand portals
Brand guidelines
Version control
Asset archive
Templates
Reporting dashboard
Integrations & CDN system
Mobile apps
There are a few common themes when looking at Widen reviews: While many reviewers praise Widen because it serves as an organized, accessible hub for brand assets, some users say it can be hard to find the files you're looking for and quickly retrieve content.
If you aren't strategic in mapping out content, adding the right metadata, and creating filters, it can be hard to keep track of what you have (and don't have) and discover new collateral for projects — so proper set-up is crucial to reaping the benefits of Widen's software.
You can also read more about Widen here: 6 Best Alternatives to Widen Collective: Buyer's Guide
---
Schedule a Free Demo of Brandfolder
When shopping for the best digital asset management software, consider…
Your current situation: What software are you using to store your brand content? What problems do you experience? How can DAM software solve those problems?

Your users' needs: Who needs to access your content? What are they using your content for? Can you easily share content or connect with other tools you use? Can users repurpose content for their unique projects?

Your team size and budget: Will you have a wide range of users accessing your DAM? Do you have a large asset library? Do you need enterprise DAM software?
You can also schedule a free demo with our team to talk about what you're looking for in a digital asset management solution and see how Brandfolder can help.
Related read: Digital Asset Management Software Reviews: 10 Best DAMs