If you're looking for free digital asset management (DAM) software, we have some bad news: All of the free options are either a) super basic b) really technical and difficult to set up or c) operate as a "freemium" software and charge for the actually-useful features.
So if you've reached a point where you've outgrown your cloud storage drive and you're interested in DAM software, we recommend looking for a DAM provider who offers free demos or free consultations so you can:
Sit down pre-purchase and determine whether or not you're truly a good fit for DAM software
See exactly how a DAM system can benefit your teams (and discuss options to customize the DAM to support all of your teams' workflows)
Learn about pricing options that work with your budget
That way, you can decide if investing in a DAM makes sense for your organization.
In our experience, we've seen that most teams who are ready for DAM software experience problems searching for assets and making the most of their digital collateral. They also have issues guaranteeing assets are accessible to everybody who needs them, monitoring external asset sharing, keeping everybody who's using company assets on-brand, and more. These problems can eat up time — hindering team productivity — and make it difficult to control asset usage and maintain brand consistency.
So even though transitioning to high-quality DAM software costs money, the investment pays off in the long run with saved time, improved team efficiency, and smoother operations. All in all, it's significantly more cost-effective for teams to invest in DAM software than continue with basic storage systems.
In this post, we'll talk about the best digital asset management solutions with free demos or consultations — starting with our very DAM platform, Brandfolder — so you can compare all of the high-quality DAM options available (and avoid wasting your time on the janky "free" options).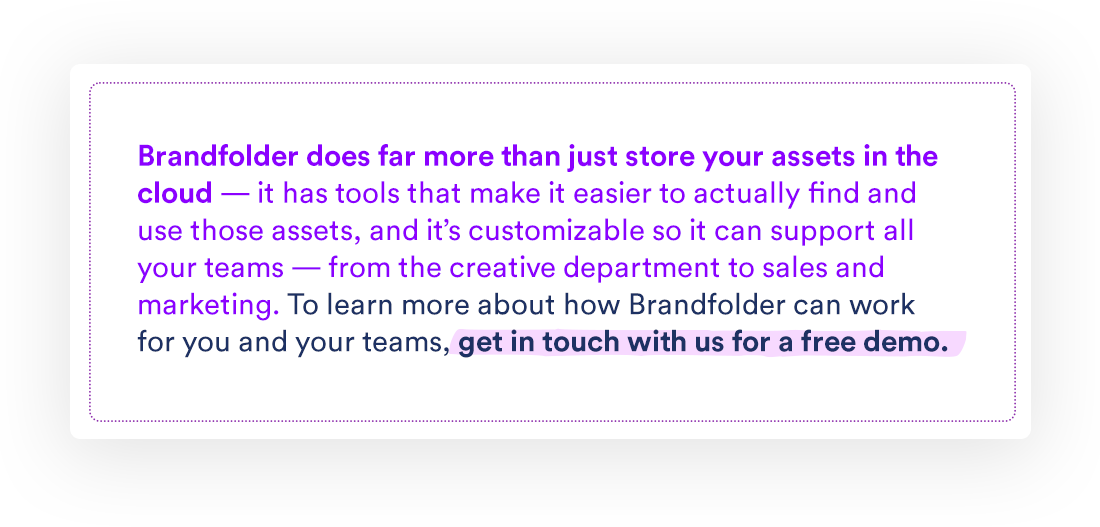 The first thing you should know when shopping digital asset management tools: DAMs are not "one-size-fits-all" software solutions. If you want a DAM to truly support you and your teams, you need to personalize your DAM — by mapping out how you want to organize assets, choosing the features you want, and setting up the right integrations — so it does exactly what you need it to do. Otherwise, you're probably not going to get much use out of your DAM.
But you don't get that kind of customization with free DAMs. As we mentioned above, free DAMs are pretty basic — they're typically no more advanced than cloud storage drives like Google Drive or Dropbox. You get some free storage and a few sharing options, but that's about it.
The companies who do offer free, "entry-level" versions of their DAM solutions (or even free trials), like Nuxeo, ResourceSpace, or Bynder, also offer more robust, paid versions for users who need to upgrade. If you've found that cloud storage tools don't work for your teams, you're going to end up upgrading to a paid plan with these providers. So you're not really getting a "free" DAM, after all, and you waste time with the free versions instead of just getting yourself set up in an appropriate solution from the start. Plus, many of the brands who offer free trials just use that as a way to get you onboarded and upsell you on features.
All in all, free trials for DAM software are pointless. They're typically only a month-long, or shorter, and don't give you sufficient time to get a feel for the software. In fact, many teams spend their entire trial period just getting set up, so they waste the entire trial moving assets over and adding users and don't get a chance to actually see the DAM in action. This puts them in a position to either commit to the DAM since they're now set up in it or abandon the DAM and accept the lost time and energy. A "free trial" isn't really a benefit, and we suggest avoiding free trials and opting for free demos or consultations instead.
On the flip side of all of this: Some free DAMs — open source digital asset management software — are built to be modified and personalized, like Pimcore or Islandora. They have a few basic features, but the set-up and transition process includes manually building out the software to suit your team's specific needs.
As a result, getting started in these DAMs is really time-consuming and challenging, and it also requires a substantive IT background. Not to mention, if you ever want to tweak your DAM after set-up, it's on your team to make the modifications. Unless you have the time and resources to spend managing these tools, you should choose other (more sophisticated, paid) options since they're more practical for your teams.
Brandfolder: A Customizable DAM Solution for Teams of All Sizes
Brandfolder is one of the most popular DAM softwares available, according to review sites like G2 and Capterra, because of how easy to use and customizable it is. We have a 98% customer retention rate because we structure our digital asset management platform, its features, and our team's onboarding processes so that we can truly tailor every client's Brandfolder account to fit their specific needs.
Before switching to Brandfolder, our team will meet with you to discuss what you're looking for in a DAM and game plan exactly how we'll personalize our platform (via add-ons, integrations, API connections, asset organization, etc.) so Brandfolder can best support your teams.
Then, once it comes time to get moved over to Brandfolder, the process is smooth and straightforward. Our team is available to assist with questions or adjustments thereafter so you're not left on your own to maintain your DAM system.
Brandfolder's versatility allows us to suit a variety of teams and users, and our hands-on support helps our customers succeed in the platform. Plus, all of Brandfolder's features are designed to be intuitive and user-friendly, so training takes little to no time (and teams actually enjoy using our DAM).
Let's review some of the ways Brandfolder and its features improve digital asset management. Or you can get started with a free consultation and demo of Brandfolder here.
#1. It Accepts All File Types & Organizes Brand Assets in One Single Spot
For starters, Brandfolder can store all of your brand assets because it accepts all file types and file formats, including images, spreadsheets, PDFs, videos, audio files, GIFs, fonts, templates, documents, Adobe files, etc. This prevents the need for multiple storage solutions and keeps all of your brand collateral in one centralized location.
Then, within the Brandfolder platform, we let you map your asset library in a way that makes sense for your organization — and we assist with laying that out pre-uploading. You can organize assets by brand (in Brandfolders), group related subsets of brand assets together (in Collections), or create portals of assets for specific end users (in Brand Portals).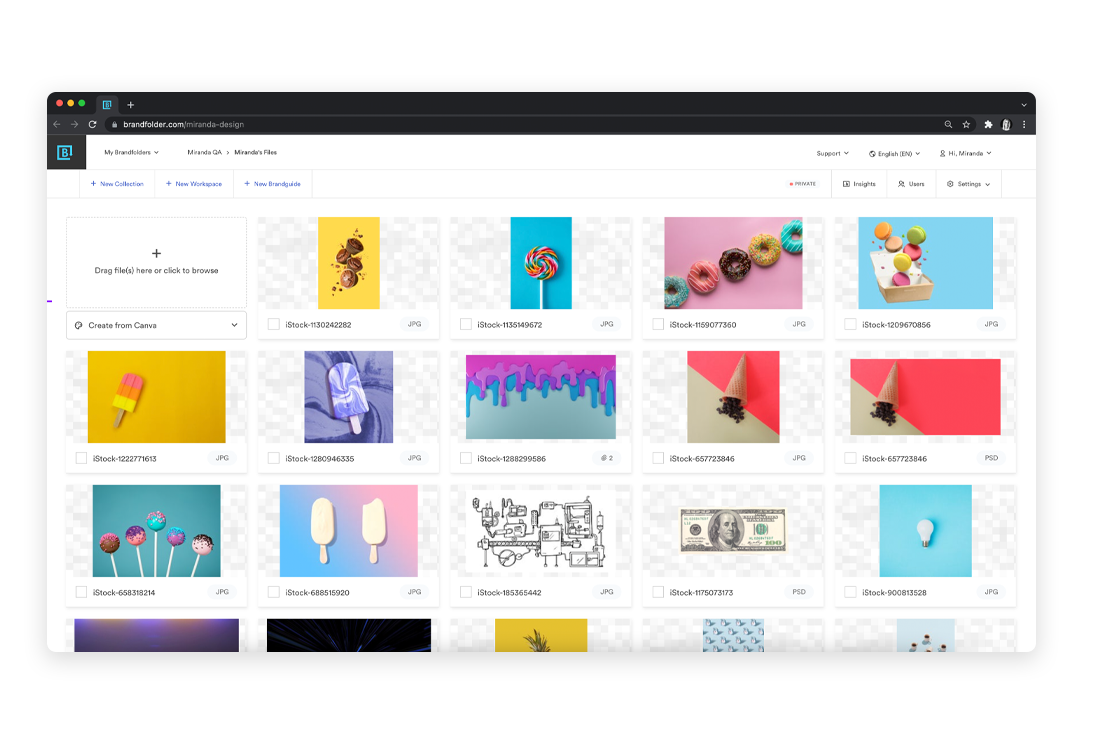 For example, say you work for an eCommerce company that sells its products under a few different brand names. You can set up Brandfolders for each online brand you manage. Then, you can create Collections to neatly organize product images and documentation, brand imagery, sales decks, and marketing content like social media assets within your Brandfolders.
You can also put together Brand Portals for each of the retailers or external partners you work with, or for different departments within your organization (i.e., creative teams, digital marketers). But we've also seen companies, especially large global brands, create Brand Portals for each of their regional teams so everybody in their organization is accessing the most relevant assets to their roles and locations.
#2. It Keeps Your Asset Library Up-to-Date & Clean (Even As Your Library Grows)
Brandfolder goes beyond regular cloud storage drives by keeping your library current, so:
You don't have duplicate assets or old files cluttering your library and causing confusion
Everybody who's accessing your assets is always finding and using the right versions, and you don't experience hiccups with version control
Your library stays organized no matter how often assets are added, updated, expired, etc.
It does this with the help of duplicate asset detection, asset expirations, asset reviews and approvals, and real-time asset updates.
Duplicate Asset Detection
Brandfolder analyzes assets upon upload, comparing the content of the asset to the collateral that already lives in Brandfolder, to detect duplicate files. When dupes are detected, Brandfolder prompts the user to delete the file or merge it with the existing asset in Brandfolder.
As a bonus, this technology also automatically adds metadata and tags to assets while analyzing content during upload. This speeds up ingestion, aids in metadata management, and improves the search/discovery of assets.
Expirations
You can set expiration dates for assets in Brandfolder so teams know when to stop using certain collateral. When you give an asset an expiration date, it'll automatically expire in Brandfolder on the designated day, preventing users from downloading or using the asset. The asset will still live in Brandfolder, but it'll have a banner across it to notify other users of its status.
Asset Reviews & Approvals
Control which assets are added to your library and monitor when assets are updated by putting review and approval processes in place for new and updated assets. This guarantees that all assets in your library have been looked over and given the green light for use.
Brandfolder also records a detailed version history for every asset so you can track how assets are updated (also who updated them and when) as time passes.
Note: You can also turn off reviews and approvals if you don't want to review every single asset that's added to your library. You can modify these settings based on your preferences and workflows.
Real-Time Asset Updates
Brandfolder automatically refreshes itself when you modify your asset library, so you're always viewing the most current versions of your digital media assets. And when you use Brandfolder to publish assets online — more on that below — all of the updates done at the Brandfolder level are automatically reflected across the web, making brand management tasks a bit more… manageable.
Maintaining an updated and organized asset library also:
Improves brand consistency by keeping everybody on the same page
Enables teams to work more independently and productively because they're not stuck waiting around for asset requests or wasting time weeding through outdated assets
We'll talk more about these benefits in the next sections…
#3. It Helps You Share Assets With Everybody Who Needs to Use Them
But first, let's talk about how you can use Brandfolder to make your assets accessible to all of your teams, partners, collaborators, stakeholders, etc., who need them.
You can share assets with other team members, and control how they engage with your assets and asset library, with user permissions. You can add users to whole Brandfolders, Collections, Portals; then, they can view the assets within and any new assets that are added. You can also get more granular with sharing by adding users to single assets or groups of selected assets. You can learn more about user permissions and how they work here.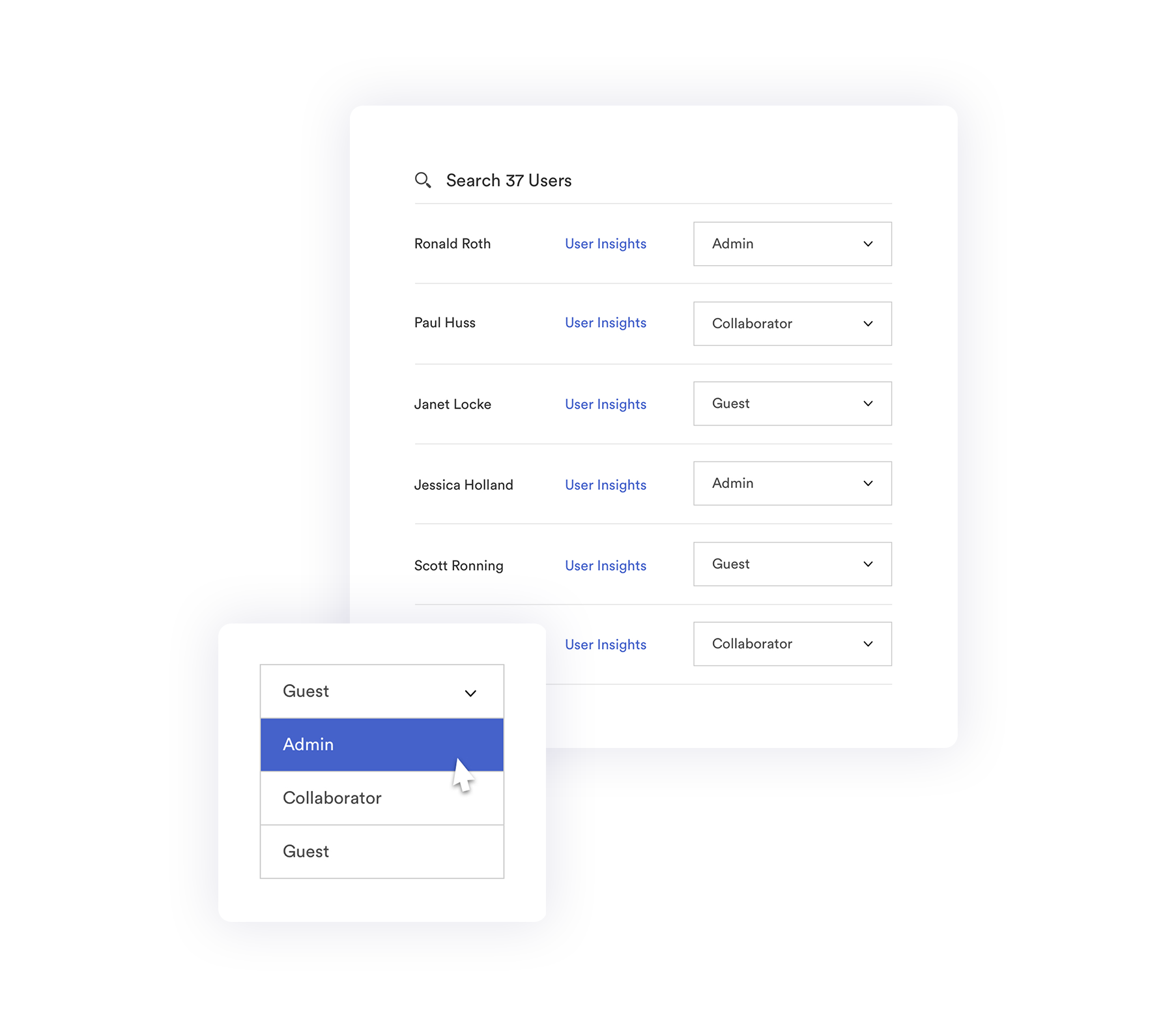 To share digital assets with people outside your immediate organization (or other non-Brandfolder users), you can send them a custom share link. With custom share links, you can:
Name your share link
Set share links to expire
Require end users to provide an email address to view/download assets
Add or remove assets
Watermark assets
Restrict asset downloading
When you share assets via a custom share link, you can monitor all external asset sharing from Brandfolder; specifically, which assets are being shared and with whom. You can also set up Brandfolder to notify you when users view or download your shared assets.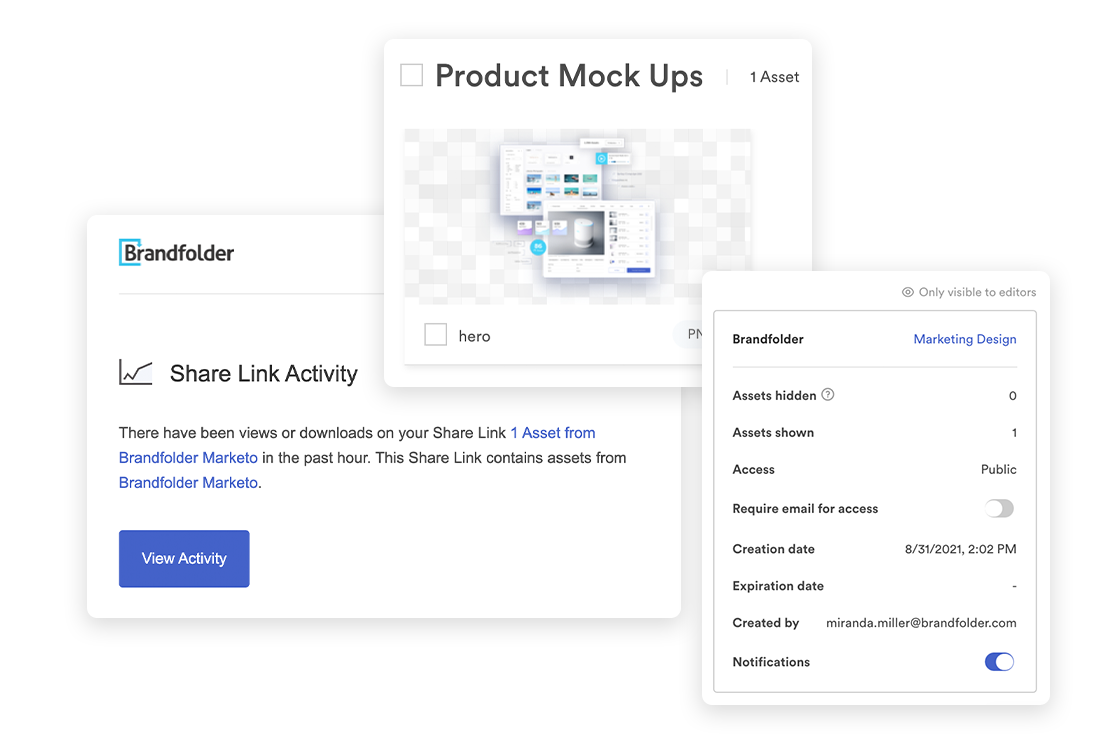 We provide free unlimited guest seats, too, so you can do as much asset sharing as you need without worrying about extra fees. This is excellent if you're looking for enterprise digital asset management software and want a system that supports a lot of guest users.
#4. It Gives You Greater Control Over How Others Use Your Assets
You can control how others engage with your asset library and utilize your assets when sharing digital content, yes, but you can also provide more specific instructions for asset usage with our Brandguide feature.
Brandguide lets you create detailed brand guidelines (hence the name) in Brandfolder, and share them with everybody you share your assets with; this way, your team's rules for asset usage are always accessible and there's never any confusion around how to publish, print, distribute, (or otherwise use) assets. If everybody who uses your brand collateral follows your brand guidelines appropriately, you can create a cohesive brand experience and maintain consistency amongst customer touchpoints.


Brandfolder also provides data and analytics for each asset so you can track:
Where it's published online
How other users are engaging with it
How many times it's viewed, shared, or downloaded
And more
These reports let you quickly check-in and make sure all of your branded content is published correctly, and performance metrics let you gauge which assets resonate with your target audience (and which ones don't) so you can refine your marketing strategies and update your media files. Not only do DAMs make it easier to use your assets, but they also give you the tools to use your assets more strategically.
#5 It Lets Teams Work Independently & Productively
That said, one of the biggest benefits of high-quality digital asset management software is better efficiency. Brandfolder has a powerful search functionality to save you time searching for assets, lets you find the files you need and immediately get to work using them, and integrates with the other tools you need in your workflow so you can push assets back and forth for whatever projects you need.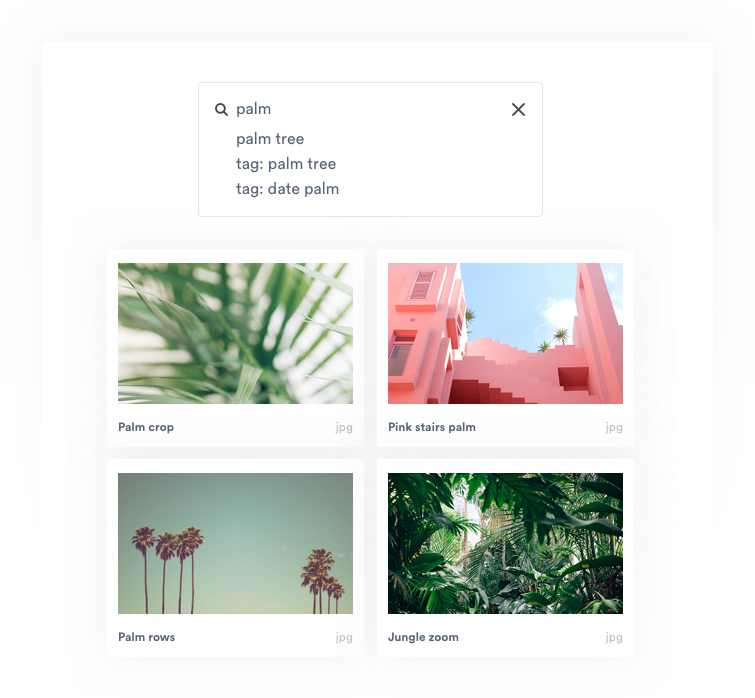 Since your users are able to access brand assets on their own and don't have to wait around for creative teams to send or approve assets, they're able to get their work done faster, and without roping in others.
Some of the tools Brandfolder integrates with include:
Content management systems like WordPress
Creative applications like Adobe Photoshop and InDesign
Project management software like SmartSheet and Trello
Marketing communications software like Hootsuite and Hubspot
Workspace collaboration tools like GSuite, Slack, and Microsoft 365
Brandfolder is also built with a templating feature to encourage content creation, so non-designers can make fresh collateral for their own projects, and creative teams aren't tasked with supporting content creation for every single person and project in your company. (And instead, can focus on actual design tasks.)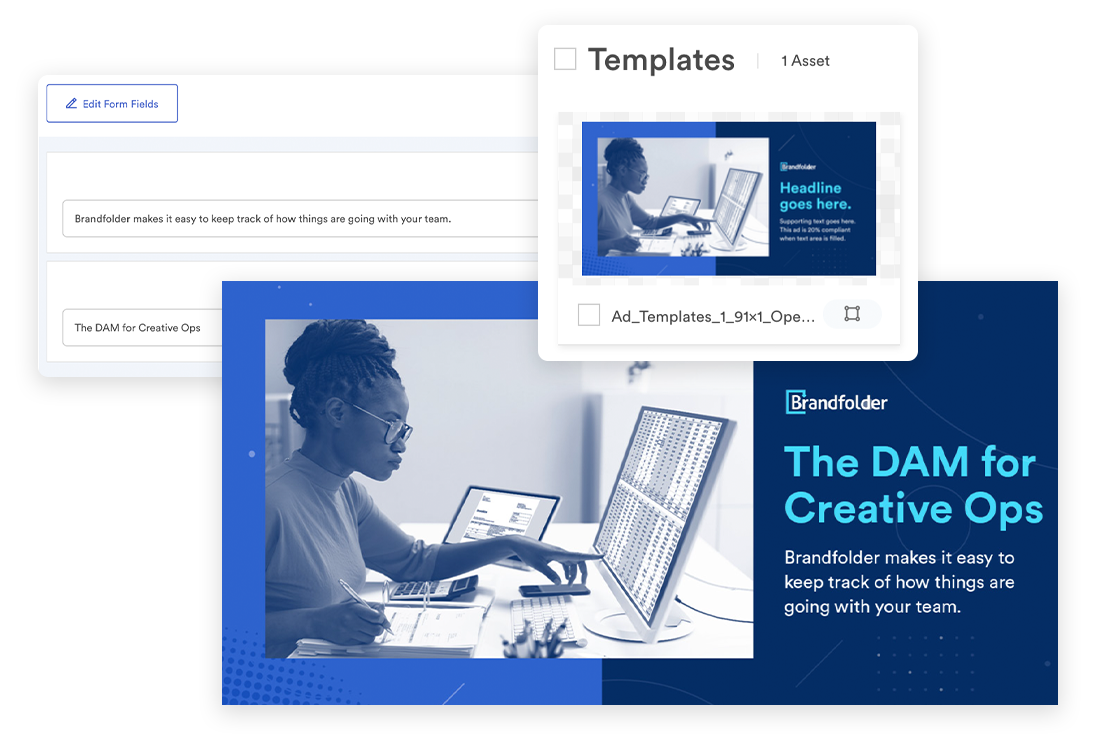 With our templating feature, designers can push branded templates from InDesign and control exactly how end users can customize them in Brandfolder. Then, other team members can find your brand's pre-approved templates, personalize them on the fly, and download them for whatever they need — without having to submit the template for review.
*Brandfolder is also built with an open-source API so you can connect it with any of the tools you use on a daily basis to support all of your teams. Our team will help you set up APIs, too, so customization is simple. *
#6. It Also Has Collaborative Tools to Streamline Team Projects
Although Brandfolder has a number of features to help users be more independent, there are plenty of instances when teams need to work together on digital projects. So we also designed Brandfolder with a handful of collaborative tools to make teamwork simpler.
Teams can collaborate on asset updates by clicking into the asset's Workflow tab. In there, users can comment back and forth with each other directly on the asset, push the asset out to its native editing app for changes, and then send it back to Brandfolder when it's ready for review.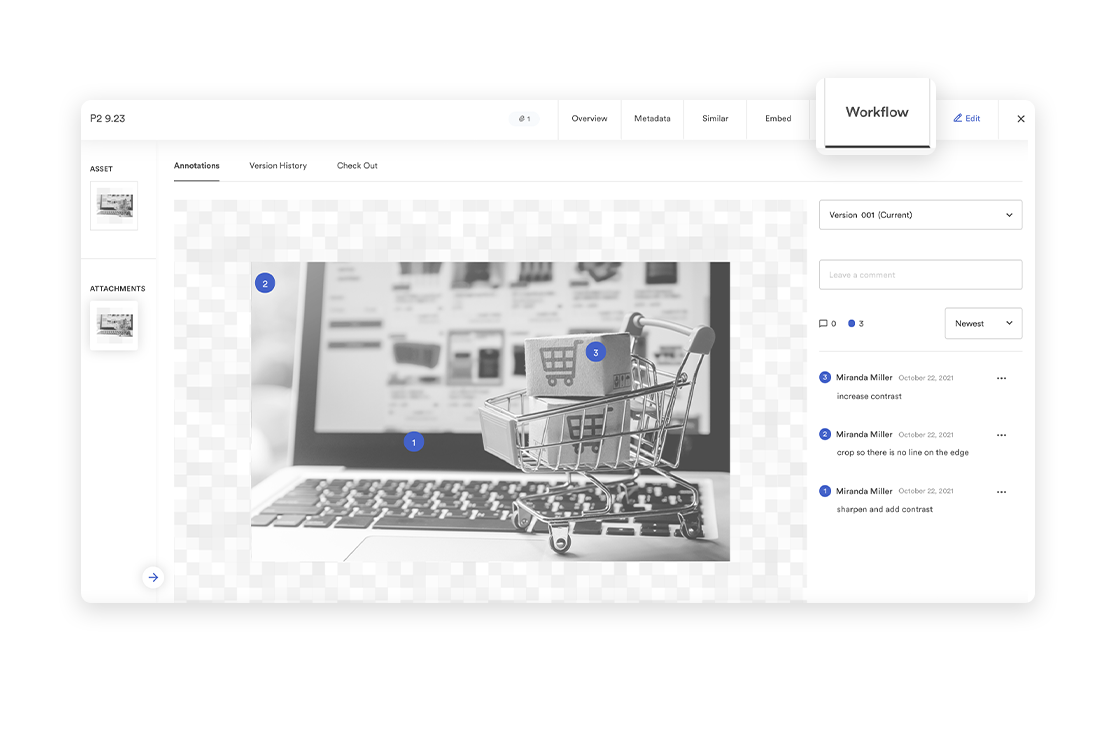 Brandfolder stores all comments in the comment history and keeps a record of asset updates in the version history tab. This makes it so all changes are done and saved in Brandfolder, and your asset library is always current and accurate.
Beyond asset updates, teams can leverage our Workspace tool to collaborate on other projects (i.e., completing website updates, building landing pages, creating product brochures). Workspace is a lot like project management software in the fact that it lets you communicate with other team members on projects, assign tasks, and check-in for status updates.
With Workspaces, you can avoid bottlenecks and keep everybody moving efficiently.
#7. It Helps You Grow & Manage Your Digital Presence to Connect With Your Target Audience
It's not uncommon for teams to have so many assets that some slip under the radar and never see the light of day, but Brandfolder has a number of features to help you actually use your brand assets.
Brandfolder helps you make the most of your digital content, and your designer's time, by giving you better visibility into the type of collateral you have available to you. Plus, asset analytics, as we mentioned above, help you understand how others are using and engaging with your content so you can: 1) Get more strategic with your marketing efforts, 2) Solidify your brand presence, and 3) Grow your customer base.
In Brandfolder, you can also:
Push assets out to other tools, like WordPress or Hootsuite, to use them in blog articles or social media posts
Publish assets on your website, email marketing campaigns, or other places across the web via CDN link
Send assets directly to a printer with built-in web-to-print functionality
Brandfolder's features let you control the entire content lifecycle, from creation — and publishing, editing, and updating — to expiration.
#8 It Also Has Some Free Features for Non-Brandfolder Users
Although Brandfolder is not a free DAM, and we don't offer a free version or free trial, we have made some of Brandfolder's features available for free via our Workbench Suite.
In Workbench, you have access to Brandfolder's:
File converter tool
Text extractor tool
Image resizing tool
Color palette generator
Extract image metadata tool
AI auto-tagging tool
Non-Brandfolder users can use Workbench up to five times per day for free, so it works well if you collaborate with external stakeholders and they want to make a slight tweak every now and then (without relying on your team for every edit).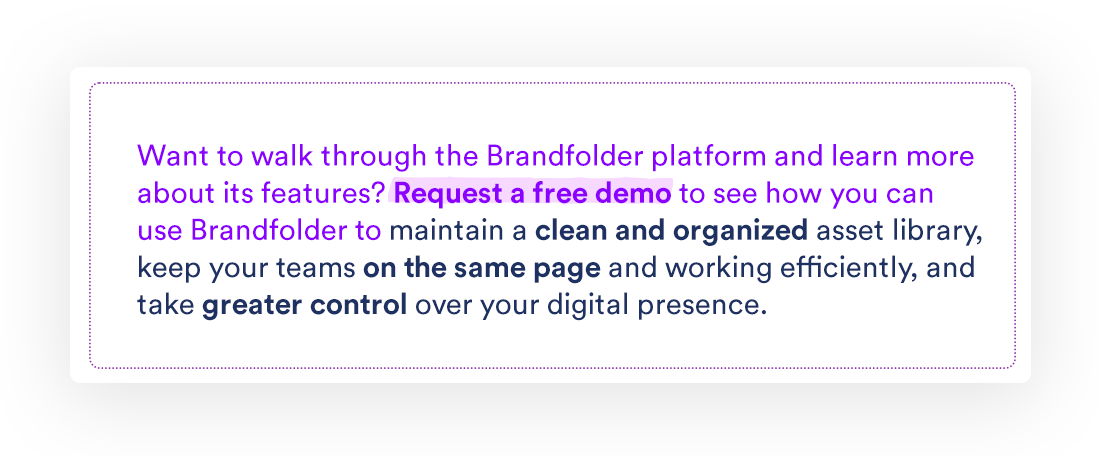 Other Top Rated DAM Tools to Compare
Brandfolder is just one highly-rated digital asset management software available; when researching the best DAM software, you'll also see names like Nuxeo, Bynder, Canto, and Widen in many of the buyer guides.
In this section, we'll review these other digital asset management software, comparing their features and who they're designed for, so you can learn more about the popular DAM solutions on the market.
The first option on our list, Nuxeo, is an enterprise digital asset management software for large teams who need a "complex" solution (according to their site). Nuxeo is technically an open-source content management system, but their platform also offers document management, digital asset management, and claims management systems, so it's pretty robust — and many reviewers like Nuxeo for its variety of features.
We only recommend Nuxeo for IT teams, or brands that have strong IT support, because the installation and configuration processes are pretty technical and challenging: One reviewer even said their developers had trouble navigating the set-up. If you have the resources to manage this hurdle, then it shouldn't cause any problems, but Nuxeo definitely isn't a good solution for non-tech users.
We should mention, although Nuxeo gets fairly good customer reviews, many users say the platform can be difficult to learn and understand, and it's hard to get support from Nuxeo's team. So again, if you're not overly technical, or if you think you'll need hands-on support from your DAM provider, Nuxeo probably isn't your best fit. But if you're a large company with the know-how and in-house developer resources to adopt and manage Nuxeo, it could be a fine option.
Nuxeo offers a 30-day free trial on their website for users to get started.
Widen Collective is another robust enterprise digital asset management platform. It's different from other DAMs on the market because it's designed to operate as a DAM+PIM — digital asset management plus product information management — hybrid solution. It's a good option for eCommerce brands, retailers, and other vendors who have both product images and product documentation to store, organize, and distribute. For example, some of Widen's customers include Crayola, Dyson, and Harmon.
While Widen works well for large companies that carry hundreds of products, it can be a little bit too much (and too expensive) for small and mid-size companies that don't need an entire product information management system built into their DAM. Plus, many DAMs let teams create and track custom fields with assets, so teams who just want to store basic product information with their product imagery can get away with using regular digital asset management software (and save money by foregoing the advanced product information management features).
Widen gets mixed feedback from customers. A lot of reviewers like Widen because it has dozens of features, gives users a lot of advanced asset management capabilities, and provides helpful customer support. However, many reviewers say that the platform is confusing, that teaching others to use the software can be tricky, and that Widen's training videos aren't overly helpful with getting teams fully transitioned.
Widen is typically a fit for large teams who are in the market for both digital asset management and product information management software and have the budget to afford Widen's sophisticated software solution.
Widen offers free demos on their website. Or you can learn more about Widen by reading our guide on the best Widen alternatives.
The next option on our list, Bynder, works well for both enterprise and mid-size businesses because it has flexible packages and pricing options to suit teams of different sizes. Users can choose their storage space, select the exact features and add-ons they want, and leverage Bynder's integrations and open-source API for further customization. Bynder is a versatile solution with dozens (upon dozens) of features, so it can work for all types of teams.
Overall, when looking at customer feedback, Bynder gets good reviews. Users like Bynder's modern, clean interface and say that the platform is user-friendly. Bynder users also appreciate that Bynder offers mobile apps for both iOS and Android. However, not every reviewer thought Bynder was easy to use, and we noticed a few reviewers mention that Bynder's customer service is lacking, saying that their agents are slow to respond when you have a question or need help.
Bynder can work for a variety of teams because it's highly customizable, however, it's a bit on the expensive side, and Bynder charges extra for guest users, so it may be more pricey for small businesses or teams who are working on a limited budget. Bynder is marketed towards teams that have a bigger budget for DAM software and don't need many guest seats.
Bynder offers a 30-day free trial for users.
The last option on our list, Canto software, is a good digital asset management system for nonprofits and small businesses because it's not super advanced or expensive — it's often referred to as a good "entry-level" DAM. Canto is also popular amongst teams who need an on-premise DAM solution because they're one of the only DAM brands that offer cloud-based, self-hosted, and hybrid versions of their software.
Like any high-quality DAM, Canto makes it easy to organize assets and has an advanced search feature to find the files you need. But their platform doesn't go too far beyond asset organization, search, and sharing. As a "starter DAM," Canto is pretty straightforward and easy to use. The downside of that is many teams outgrow it and have to transition to a more advanced DAM solution.
Canto has made changes to its platform to appeal to larger teams and enterprise businesses; however, many reviewers dislike the fact that Canto charges for every guest user, so despite its recent updates, it still isn't the best option for big businesses or businesses that do a lot of asset sharing.
Canto offers a free trial for new users right on their website (but remember that a free trial usually isn't enough time to add your assets and test the software before the trial expires).
Ready to Invest in Digital Asset Management Software?
Although you may feel tempted to try to cut corners and save money with free digital asset management software, it's generally not worth the time or energy: You can reap the same benefits of free DAMs by using cloud storage tools like Dropbox or Box, but with half the hassle.
Once you're ready to make the move to digital asset management software, we recommend choosing a high-quality DAM brand and making the investment in a DAM that's specifically built for your teams. This lets you get the most out of your DAM (and investment) and sets you up for success on the platform.
Brandfolder is a perfect solution for teams switching from cloud storage drives or investing in DAM software for the first time because our entire onboarding process is completely personalized to you. We meet with you before you sign up for our DAM to help you decide if we're a good fit for your needs. If we think Brandfolder is the right solution for your use case, we walk you through the transition and help your teams get switched over to the new system.