Air — by Air.inc — is one of the newer names in the DAM software space. In this post, we review Air's digital asset management solution vs. our DAM, Brandfolder.
We cover:
A brief overview of Air DAM and how the platform works.
Notes from Air customer reviews.
Who Air is recommended for and typical Air users.
Then, we explain how Brandfolder's digital asset management solution compares and provide a quick demo of our DAM features.
You can also schedule a free demo with our team to discuss the challenges with your current storage solution and see how we can tailor Brandfolder to support specific business needs.
---
Air DAM vs. Brandfolder DAM: The Main Takeaways
Before we dive into our DAM comparison, let's review the most important takeaways from our research:
The main differentiator between Air and Brandfolder is that Air is not a genuine DAM software — it has some asset management features, but the platform is designed to streamline internal file sharing and project management. Although it covers "team collaboration" well, it doesn't provide a lot of features to work with people outside of your immediate organization.
Brandfolder lets you store assets in a central repository, send files to anybody on your team, and collaborate on projects inside the DAM, but it also has numerous extra features to help you distribute assets outside of your organization, track file sharing, edit and use assets in new projects, and monitor all of your brand content.
At the end of the day, these platforms appeal to two different user groups.
Air appeals to teams that just need that internal side of asset management.
Brandfolder appeals to the teams who need a more robust digital asset management tool.
So yes, while Air might have a more affordable price tag or seem easier to implement, the platform has limited features and can only grow with you for so long — if you are moving on from Google Drive or Dropbox and expect continued business growth, you need a scalable solution that'll continue to grow with you. And to squash any concerns with moving to DAM software, we offer a customizable set-up and hands-on onboarding to guarantee you can quickly move files and successfully implement Brandfolder.
Now, let's take a closer look at both of these software options.
---
Air Digital Asset Management: A Step Between Google Drive & DAM Software
Air offers a new type of digital asset management software: Instead of advertising their product as a true DAM solution, Air has lightweight asset management features and is more geared toward improving online team collaboration, task management, and internal file sharing.
In fact, they ditch the digital asset management branding altogether and refer to their solution as a brand workspace or a creative request software. Their goal of simplifying asset management is to eliminate some of the headaches associated with switching to DAM software, like long migration times and expensive contracts — making their "asset management" solution more attainable to smaller businesses with fewer resources.
Air's innovative DAM-type software mostly attracts midsize teams that need to upgrade from tools like Google Drive and Dropbox, but don't entirely need a robust digital asset management system. (That's why we label Air as a step between cloud storage and DAM software.)
For example, Air's solution can work for creative or marketing teams that only manage one or two projects at a time, or teams who primarily share files with and collaborate with other departments in their organization.
Some of Air's primary competitors include:
However, because Air is a lightweight DAM, they also have fewer features and more limited capabilities than traditional digital asset management software. Teams that want to streamline online publishing and improve brand management, or teams who want tools like templates to repurpose creative collateral, often skip Air's solution because it doesn't have all of the tools they require.
Air Feature Overview
Now let's look at Air's core features:
Cloud storage
Automated tagging
Advanced search functionality
Project management board
Dynamic feedback and team commenting
Asset version control
File sharing tools and guest upload links
Mobile apps
We should note: Air offers four different packages and a tiered pricing model to suit different user needs. The basic packages have fewer features, so not every user has access to all of the tools listed above. You have to purchase the enterprise plan to unlock all of Air's asset management features.
Customer Reviews of Air Digital Asset Management Software
As we mentioned earlier, Air is a fairly new DAM system, and they've only recently become a more popular name, so there aren't a ton of reviews available online. But when we look at what's available, it seems Air gets good feedback from customers.
On popular software review sites, G2 and Capterra, Air earns a 4.2-star and 4.6-star rating (respectively).
A common theme amongst positive reviews is the platform's ease of use: Many reviewers note Air's intuitive user experience, saying that the features are easy to learn and the software doesn't require any downtime for training. Air solves many of the organizational challenges teams experience with tools like Dropbox, and reviews mention that files are easier to find. Reviews also mention that Air makes collaboration on creative projects smoother.
However, negative reviews of Air mention slow loading times and glitches with the software; challenges with integrations, and the inability to sync Air with creative applications (like Adobe Premiere Pro); Air's smaller feature set.
For example, take a look at some of the top reviews below: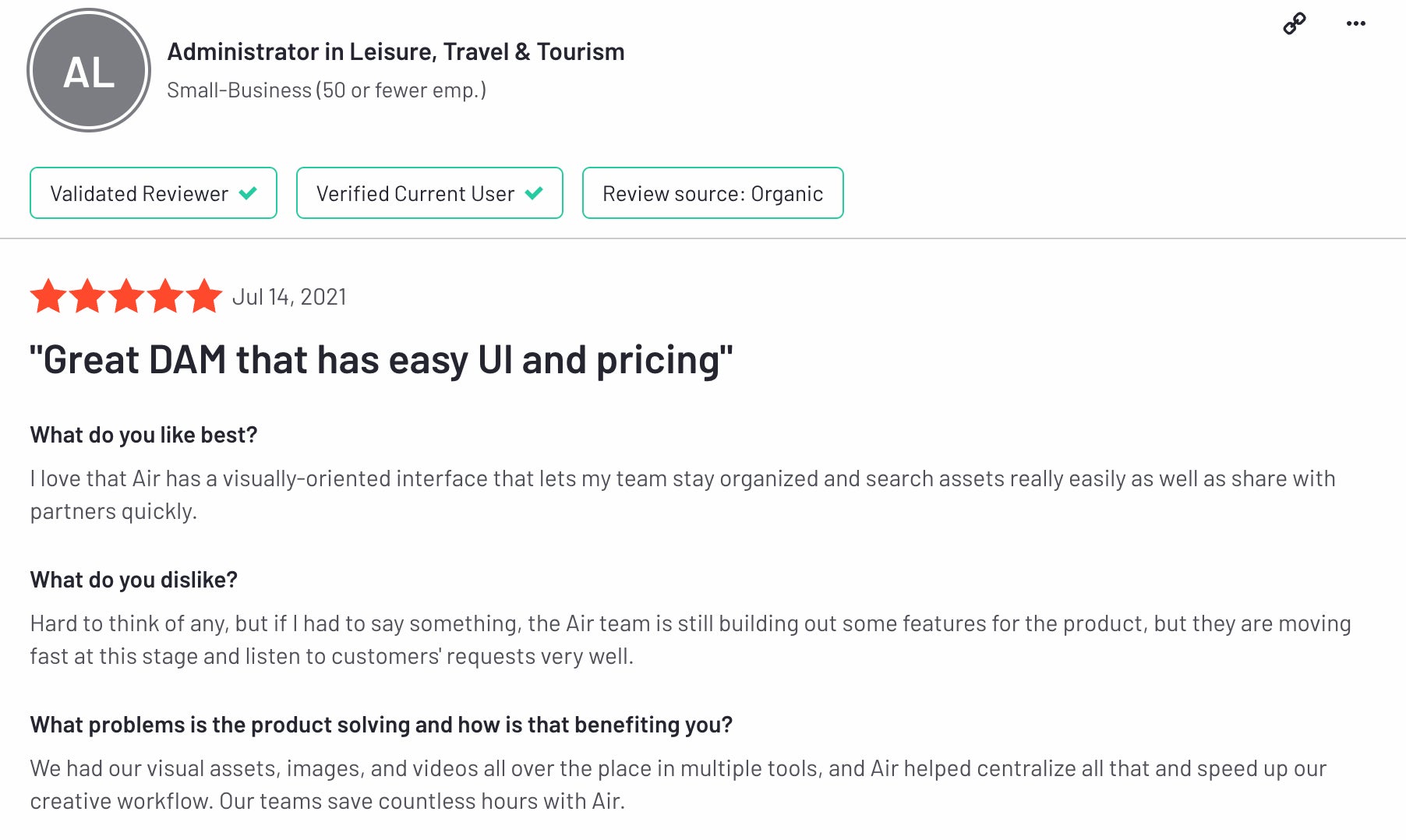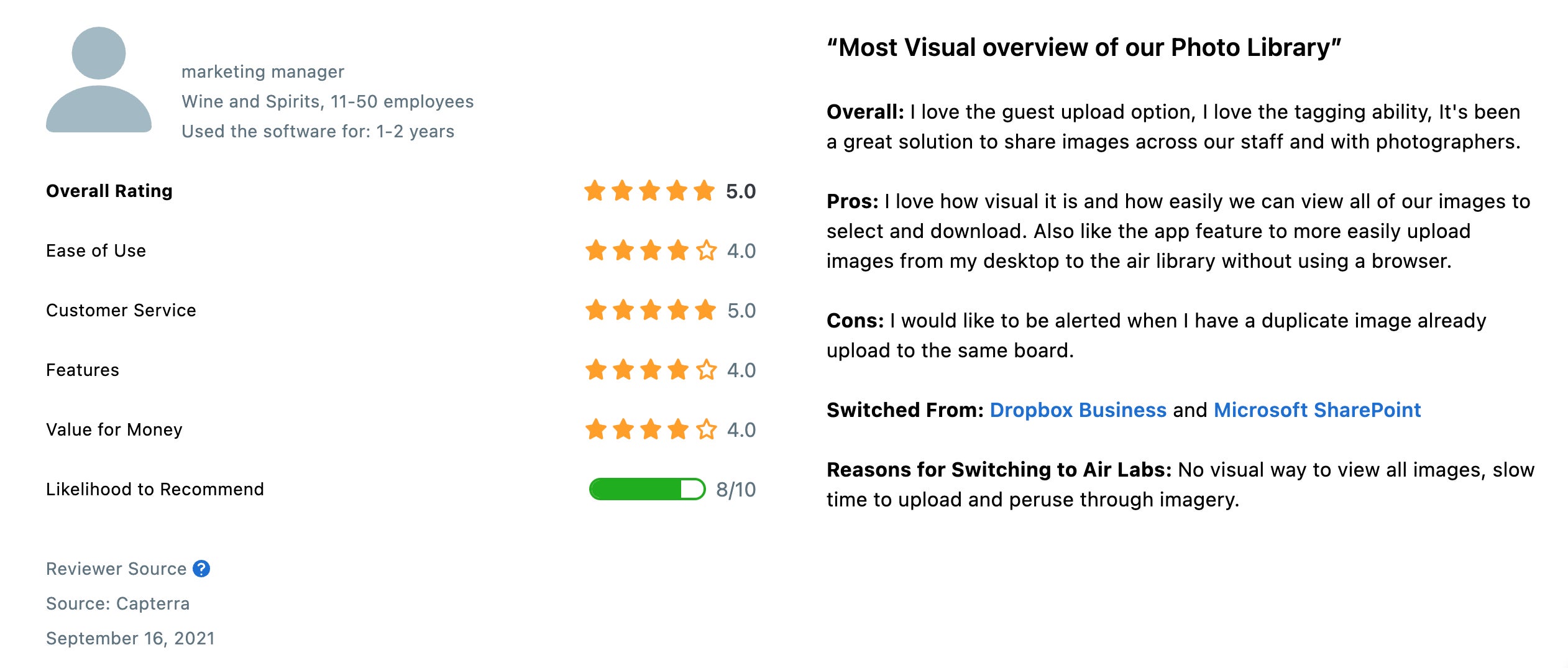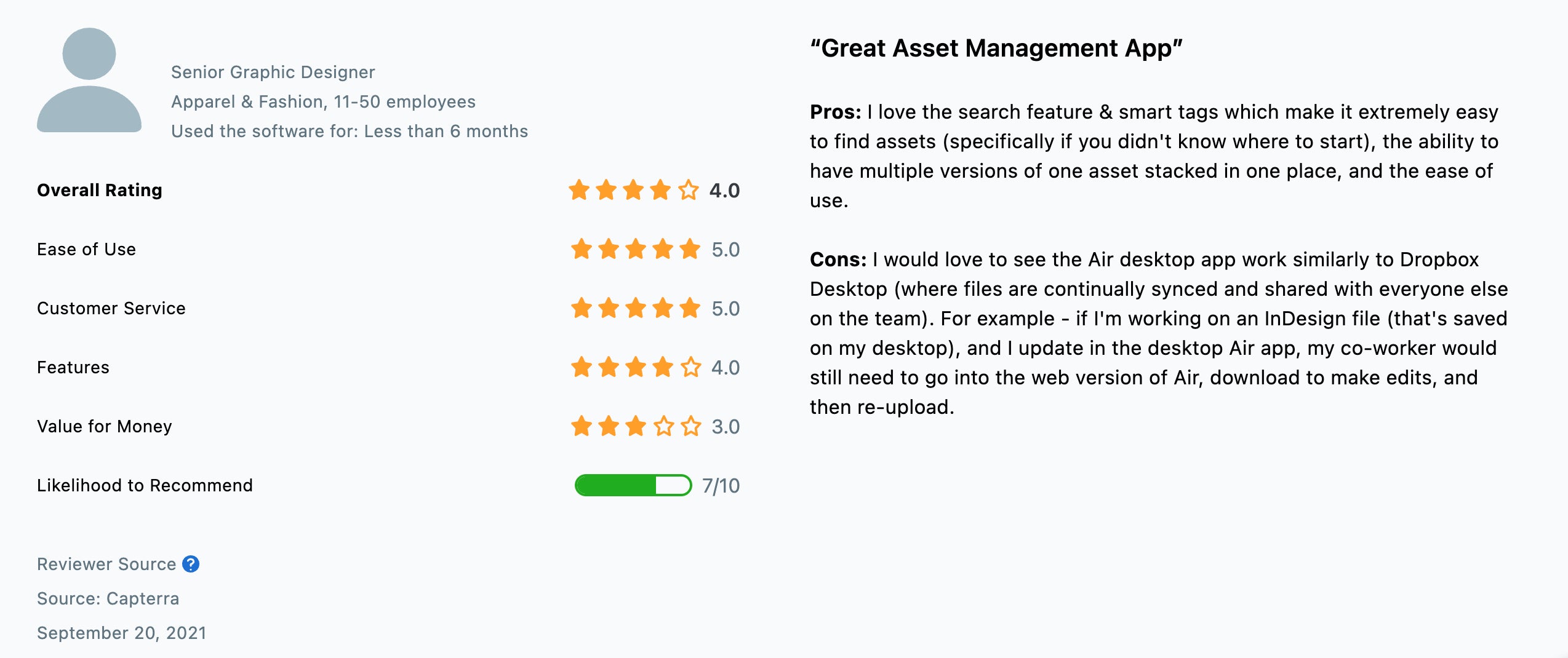 In our experience talking with customers, we've learned the primary reason our users pass on Air is that it doesn't have all of the necessary features to support their workflows. And one notable deal breaker for enterprise teams is Air's pay-per-seat pricing model (for Plus, Pro, and Enterprise plans) — you have to pay for every user you add, including all guest users, so file sharing can quickly become expensive.
While Air can be a great platform for teams that need to focus on internal collaboration, it's not the best if you need a tool that integrates with other apps in your daily operations, or if you want more advanced features to monitor external file sharing and online publishing.
Teams who anticipate needing the full functionality of DAM software in the future are better off jumping from their current storage drive to a true digital asset management software, instead of using an in-between solution like Air, because they can set up the DAM to their current specifications and adjust the software as their business needs change. This way, they don't have to keep upgrading from one software to another.
Recommendations: Who Are Air's Core Users?
Because Air is mostly designed to aid in team collaboration and task management, it appeals mostly to smaller organizations that don't have the budget or need for all of the advanced features in DAM software. (When looking at user reviews, almost all of Air's customers are small business or mid-market users.) However, this solution can also work for large enterprise teams that only need Air's select features, as well.
In summary, Air works for:
Marketing managers that need a better way to centralize visual assets and organize team projects.
Creative teams that need to communicate with each other and other departments on content creation.
Small businesses with a large library of brand assets that need to upgrade from their current storage drive to a solution with more dynamic features to store and search assets.
Teams who want asset management and project management features.
Want a simple digital asset management solution? Check out our guide: Brandfolder's Simple Digital Asset Management & Fast Set-Up
---
Brandfolder's Digital Asset Management Platform: A Customizable & Scalable DAM
On the flip side, we have Brandfolder: A full-fledged DAM system that has all of the same functionality as Air — and more. Our platform lets you:
Centralize all of your brand's digital content and maintain an organized asset library.
Find any file you need with ease, and improve asset discovery so you can quickly find new creative collateral that's approved for projects.
Share digital assets with other people in your organization and outside stakeholders, and monitor all file sharing so you know who has access to your content.
Collaborate on digital projects and creative requests inside the DAM system.
Streamline asset updates (and automatically update files everywhere they're shared to improve version control and brand consistency).
Repurpose creative collateral for new projects and reduce designer workload.
Monitor how your brand content is used, see what users are doing in the DAM, and access Insights to report on digital projects and plan future content creation.
Connect the DAM with any other software in your tech stack to push content between systems and easily work with DAM files in other applications.
Brandfolder is consistently rated one of the best DAM software because we can tailor our platform to accommodate various business needs: You choose storage space and user seats (we provide free guest seats so you can add users as you go without charge), select extra features to support your teams, and set up integrations during onboarding — then you can adjust these settings any time you wish. This flexibility is what allows us to work with smaller organizations and support large global brands.
Plus, our team works with you side-by-side through the entire onboarding process so you can get started with Brandfolder quickly (and we're available to help with any future DAM optimization). We guide you through everything from organizing digital assets to setting up custom integrations, we even provide team training services and free online feature tutorials to help you onboard users with no downtime.
By following our DAM strategy, most teams can fully implement Brandfolder in 6 weeks. (G2 rates Brandfolder a 9.1 for ease of use and 9.2 for quality of support — more on customer reviews below.)
Read more: Digital Asset Management Software Reviews: 10 Best DAMs
Brandfolder Feature Overview
Now, let's review some of Brandfolder's core features so you can see how our DAM works.
Customizable Cloud Storage
First, Brandfolder offers secure cloud storage for hundreds of file types — including documents, spreadsheets, PDF files, images, RAW photos, design files, 3D models, videos, templates, social media assets like GIFs, and more — so you can store all of your brand assets in one spot.
We help you organize your DAM library during onboarding so all of your files are organized in a clear, logical format. Here's a quick look at how you can organize digital assets:
You can create Brandfolders to organize collateral by brand. Large creative agencies and enterprise teams that manage assets for multiple brands can create dedicated Brandfolders for each brand they manage.
You can create Collections within Brandfolders to group related assets together. Some teams use these to organize assets by use case, product type, season, etc. But you can create these based on your specific needs and add sections, labels, and advanced filters to help you sort and find files quickly. You can learn more about that in our guide here: With the Right DAM, You Won't Need File Naming Best Practices.
You can create Brand Portals to organize assets for end-user groups; these let you easily distribute assets to teams you frequently work with, without constantly having to send or update share links. These are helpful for teams who regularly distribute assets to clients or stakeholders because they can drop assets into Portals after they're finalized and approved, and end-users can find them when they need them.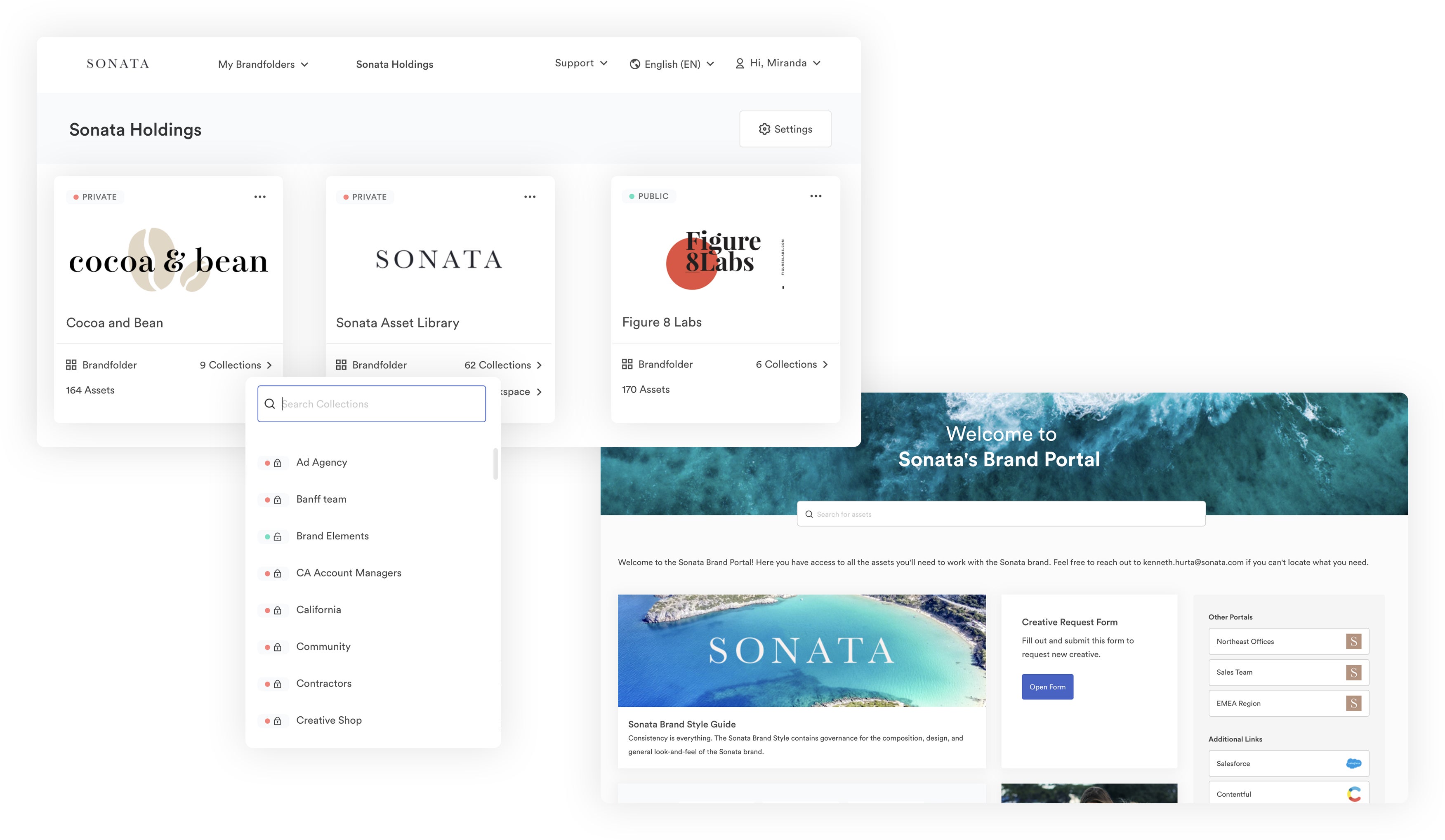 There are three key benefits to our digital asset management taxonomy:
It has a flat search so you can search entire Brandfolders at once; you don't have to dig through Collections or remember exact file names to retrieve assets.
You can store assets in multiple places without duplicating files — everybody accesses the same versions of assets.
You can stack similar files together in Asset Modals — for example, if you have related product imagery or multiple variations of your brand logo that you want to store together. This makes it easier to find similar files and reduces the number of thumbnails for these assets in the main library.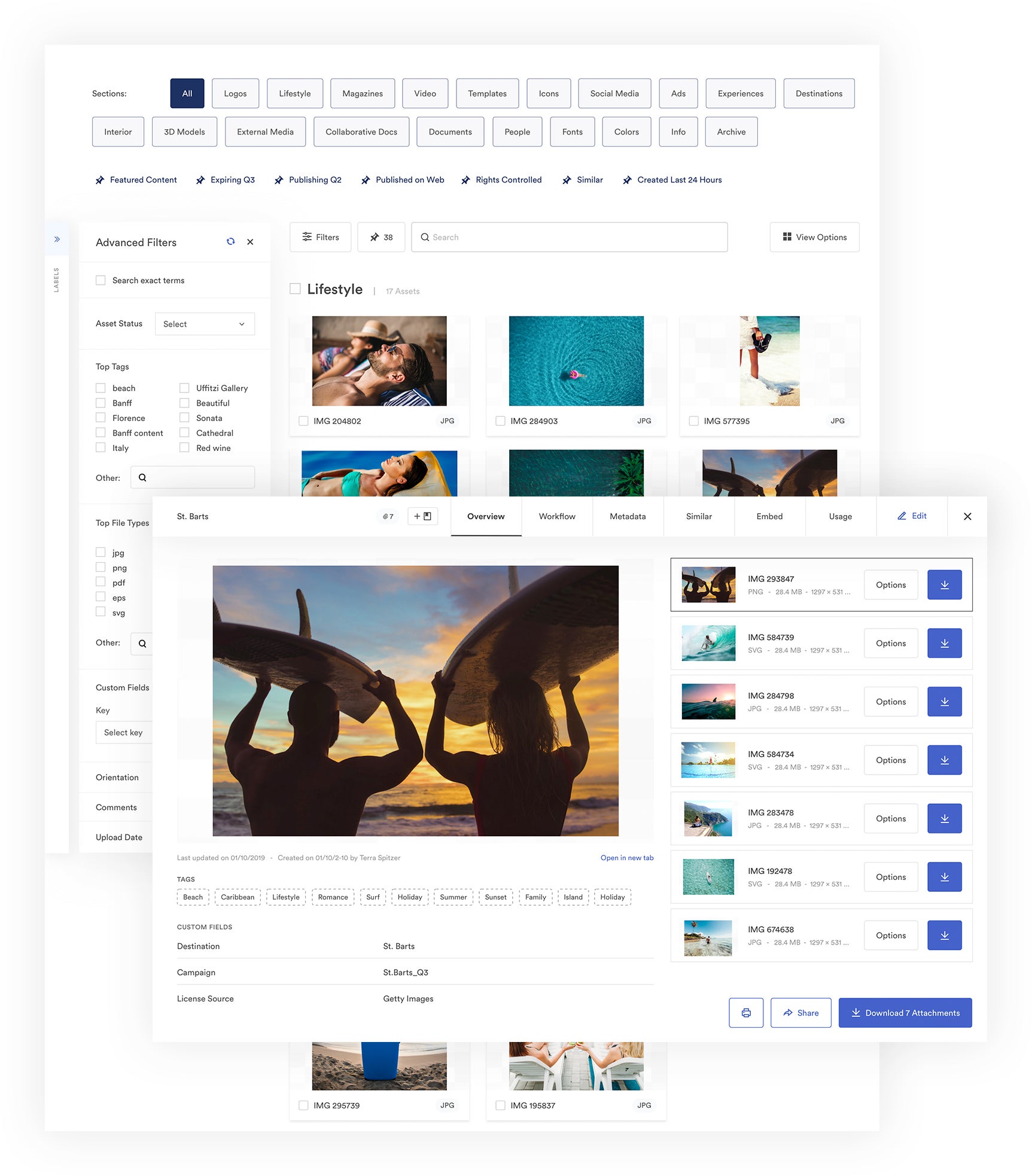 When it comes time to actually move your content into the DAM, we set automation rules so Brandfolder can place files in the correct Brandfolder, Collection, or Portal for you. All you have to do is import content and our system takes care of the rest. Our AI (Brand Intelligence) will automatically add metadata and tags to assets, as well, but you can add custom tags and extra information in the asset overview.
Then we have features to keep your asset library organized and up-to-date:
Duplicate asset detection scans all uploads to prevent you from uploading duplicate content.
Expirations give you greater control over the asset lifecycle by letting you set dates for content to automatically expire.
Permissions let you share assets with other team members and control user access.
Brandfolder's collaborative workflow features let you comment with teammates about edits, push assets to native apps to make changes, and send files back to Brandfolder for review and approval. Then, assets automatically update (for all users) once the new version is approved.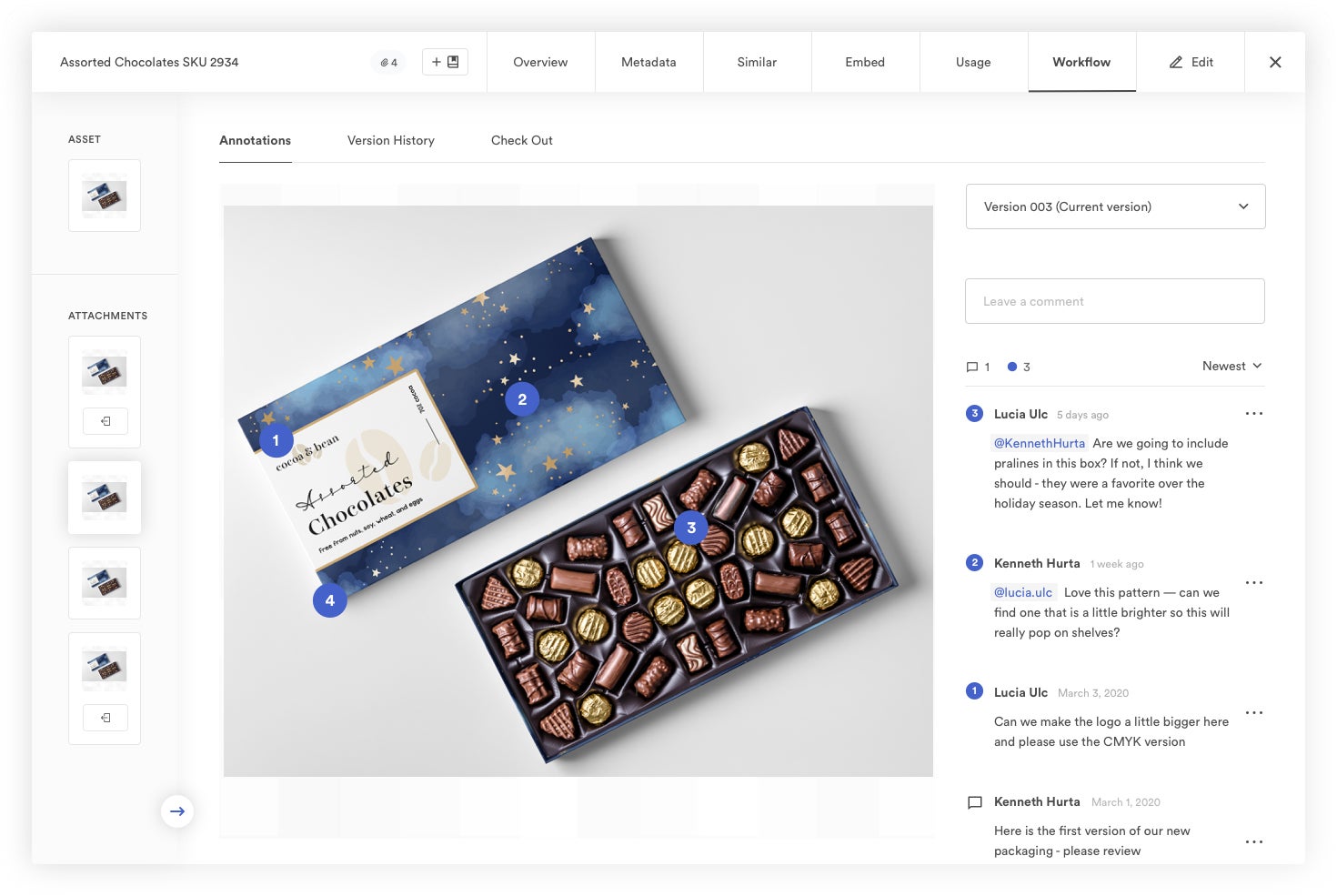 Fast & Easy Search Functionality
Brandfolder has an advanced search functionality so you can quickly find assets you're looking for and see new, approved collateral that relates to your search. Our AI analyzes all available asset information — including metadata, tags, custom fields, and even the content of assets, like text in documents, the scenery in images, and dialogue in videos — and it scans your entire library at once, so it can retrieve all files that are relevant to your search query.
For example, say your social media team is planning content to promote your summer sale, and they want to use images of palm trees or beaches in their posts: They can log in to Brandfolder, search "palm," and see all of the approved brand collateral that's available for them to use.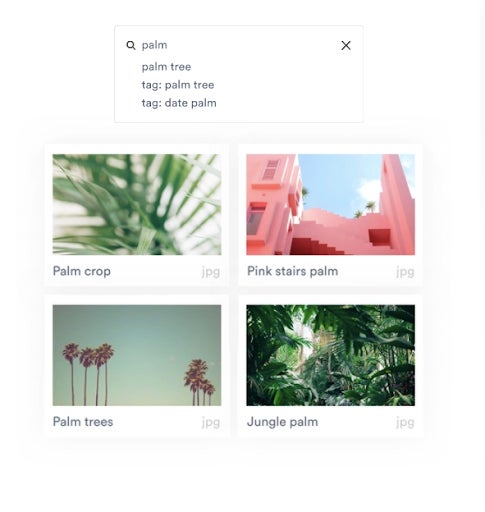 Online Sharing Options
Brandfolder's user permissions and custom share links make it easy to 1) share digital assets with anybody, 2) track who has access to your content, and 3) update shared content after it has been sent.
Here's how they work:
Permissions let you add other users to groups of assets (like Brandfolders or Collections) or selected files and control what they can do with that content (i.e., view, download, edit).
Custom share links let you do this same type of sharing, but with users outside of your organization. Select the content you want to share, add recipient emails, and customize share link settings. We provide free unlimited guest seats so there are no fees or restrictions on sharing.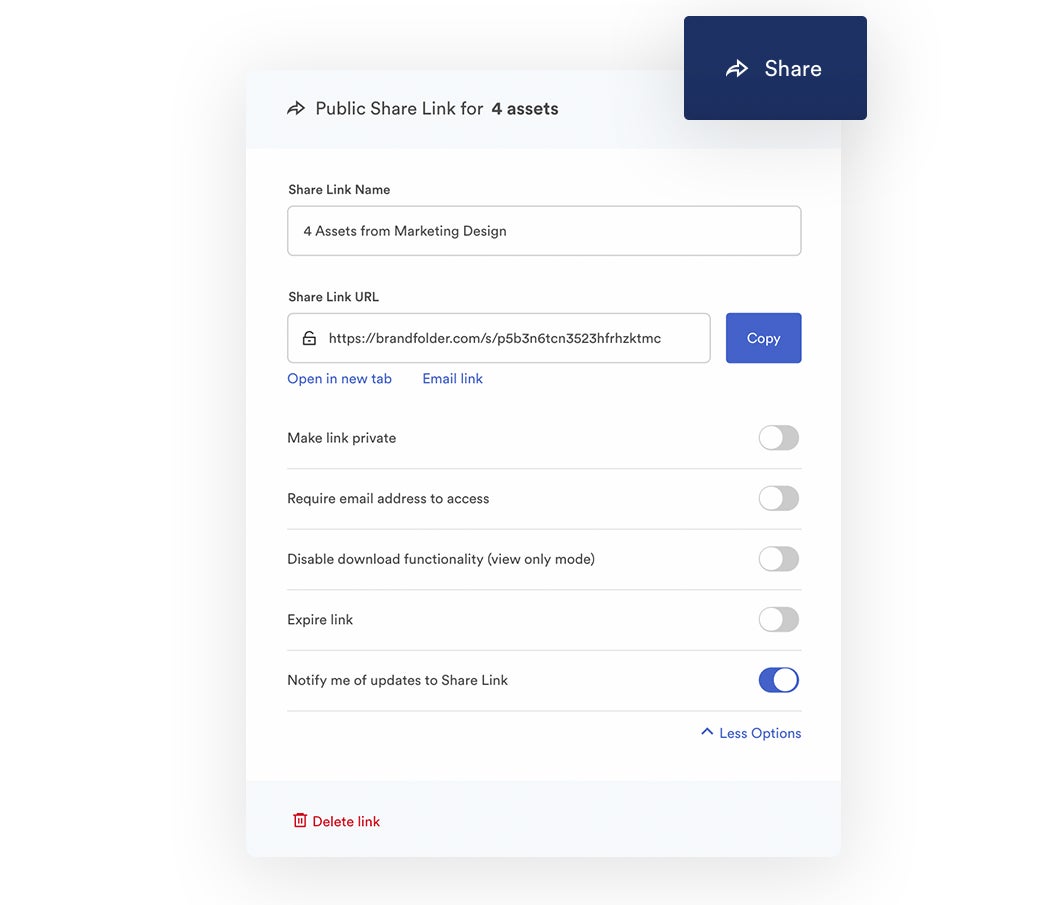 With Brandfolder's share links, you can watermark assets, restrict download access, edit or remove assets, add new content, set content or links to expire, and more. Then, you can monitor all share links from Brandfolder's reporting dashboard. (You can also check the asset's Usage tab to see all share links the asset is included in.)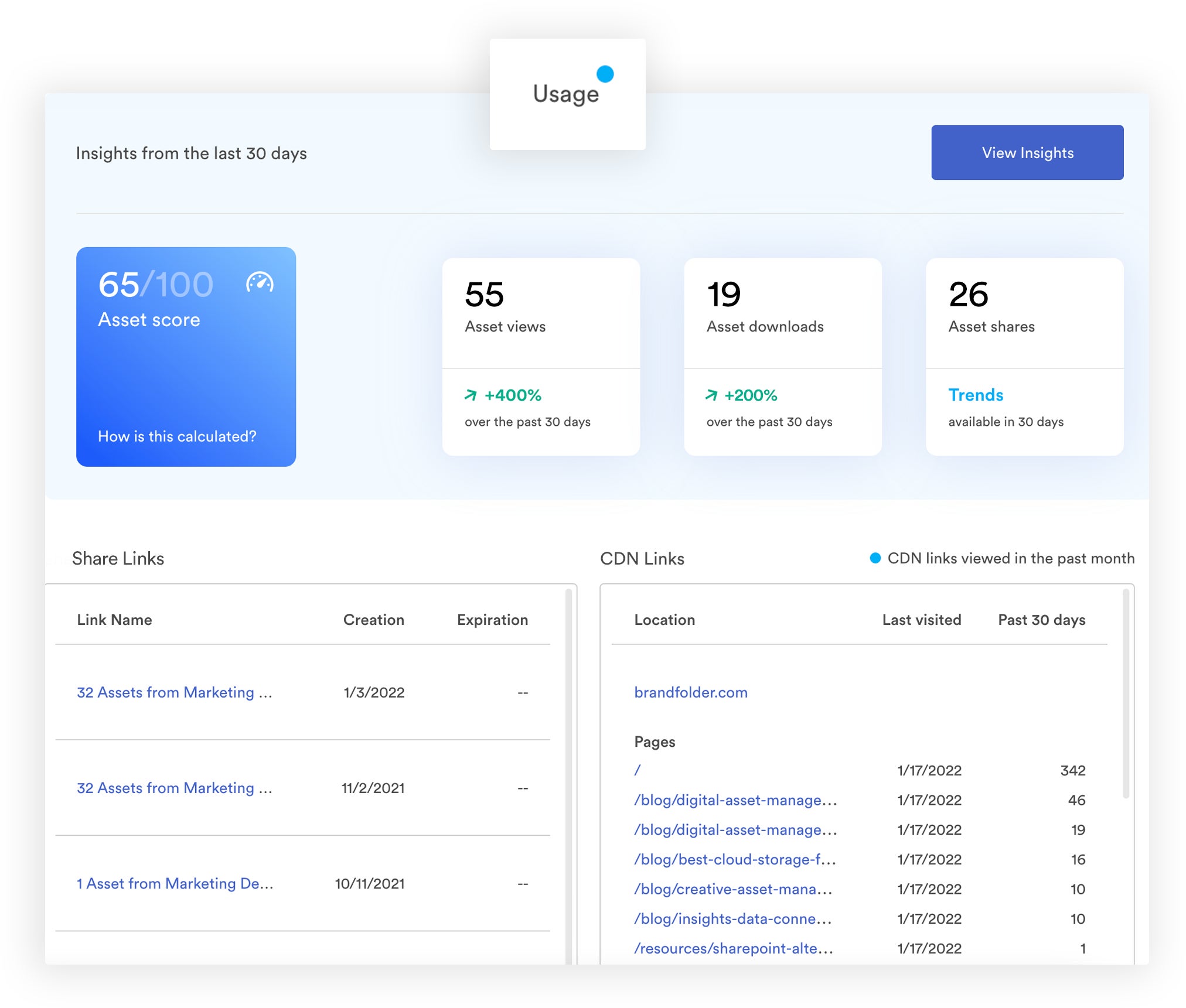 In addition, Brandfolder has guest upload links so you can request content from outside groups and receive new assets in the DAM system.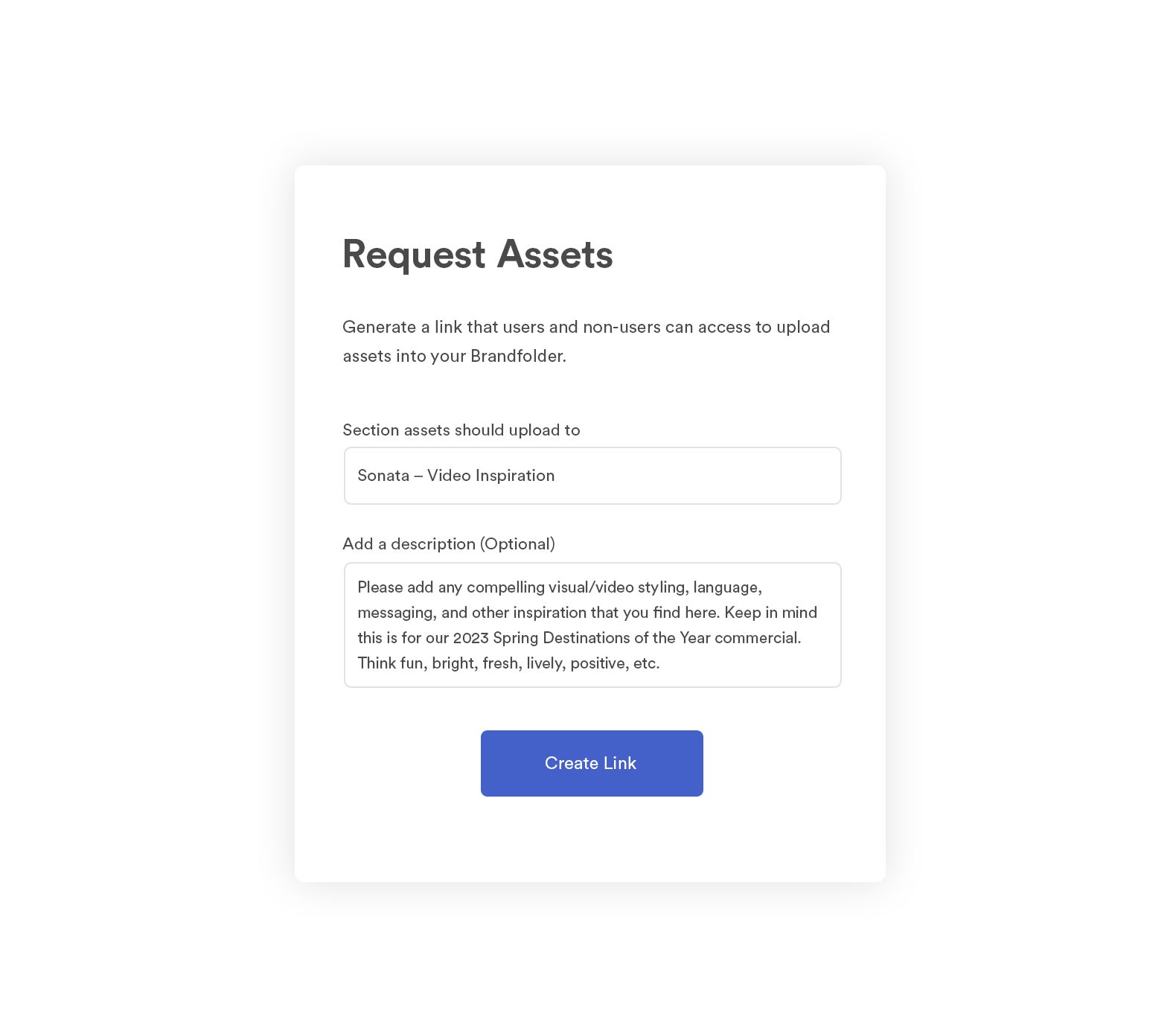 Brandfolder also has a suite of features so users can modify and repurpose assets before downloading or exporting files for new projects. This way, teams don't have to ask designers for help or submit creative requests — they can access and use content immediately, no waiting around.
Custom & Preset Crop: Quickly crop assets for online platforms or print projects. You can create crops for social media platforms, eCommerce sites, blog or website content, and other websites where you frequently publish assets.
Convert & Resize: Easily change file format or resolution upon download, without using another conversion tool or creating a new version.
Advanced Video: Brandfolder provides basic video editing tools so you can watermark videos, make video clips and GIFs from recordings, and trim the beginning or ends of videos.
Templates: Designers can upload approved templates from InDesign and set editing rules; then end-users can access these templates and customize them on the fly.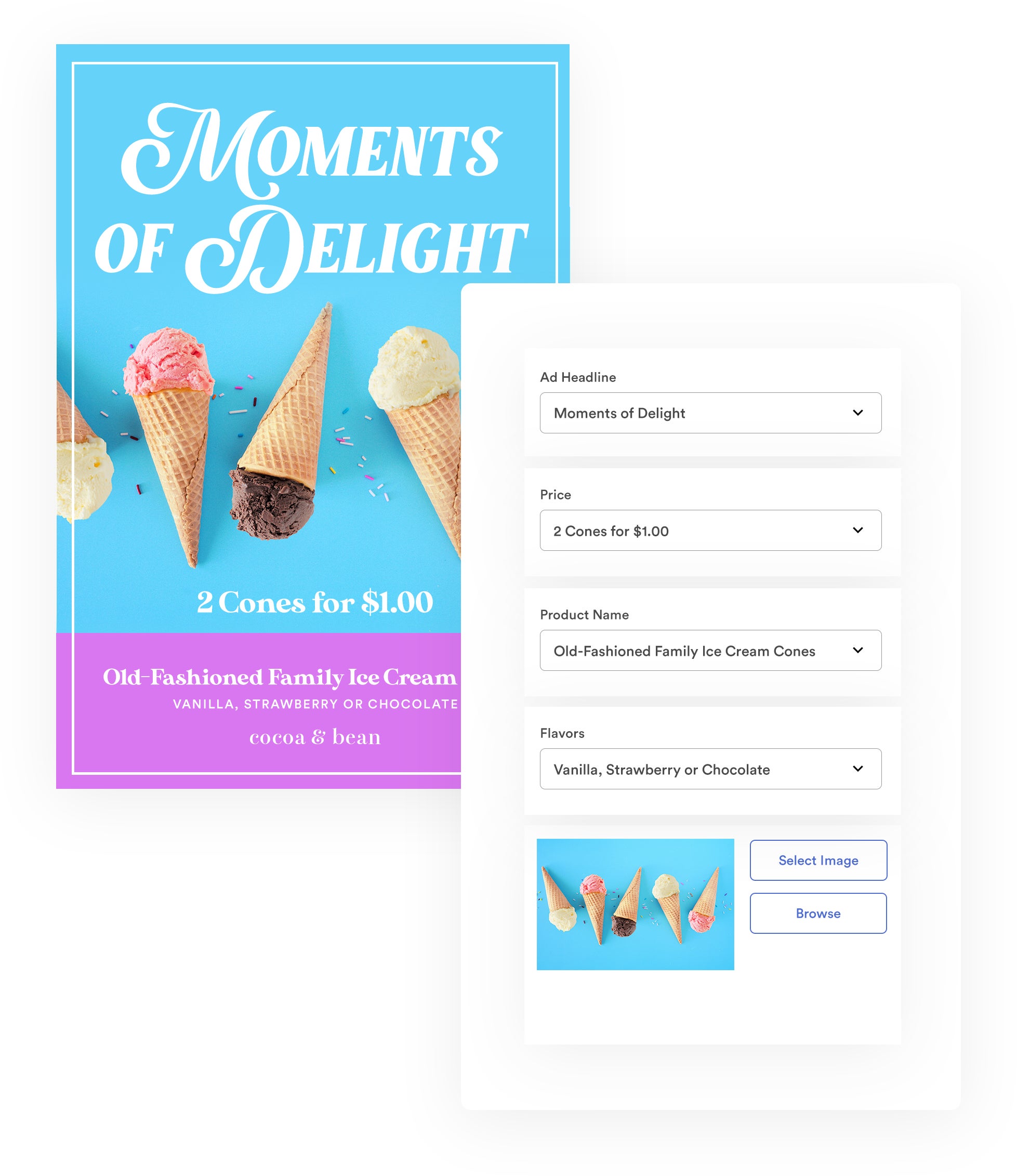 Brandfolder also has a Workspace feature that has team and task management tools so you can manage digital and creative projects in the DAM. It's designed to help designers work with other departments and user groups — like marketing teams, social media managers, product designers, and stakeholders like retailers — to create content for new projects. We also integrate with Smartsheet (and other project management software like Trello) so you can use these systems in sync.
Read more: Creative Asset Management in Brandfolder: Reclaim Your Time
Then, you can monitor everything that's happening in the DAM from Brandfolder's Insights dashboard. Here, you can see:
A live feed of user activity.
Monthly metrics like how many times your content was viewed, downloaded, and shared.
Individual asset metrics (including views and downloads), details on where the asset is shared and published online, and the asset score.
A list of your most popular assets.
Details on your most active users and their activity.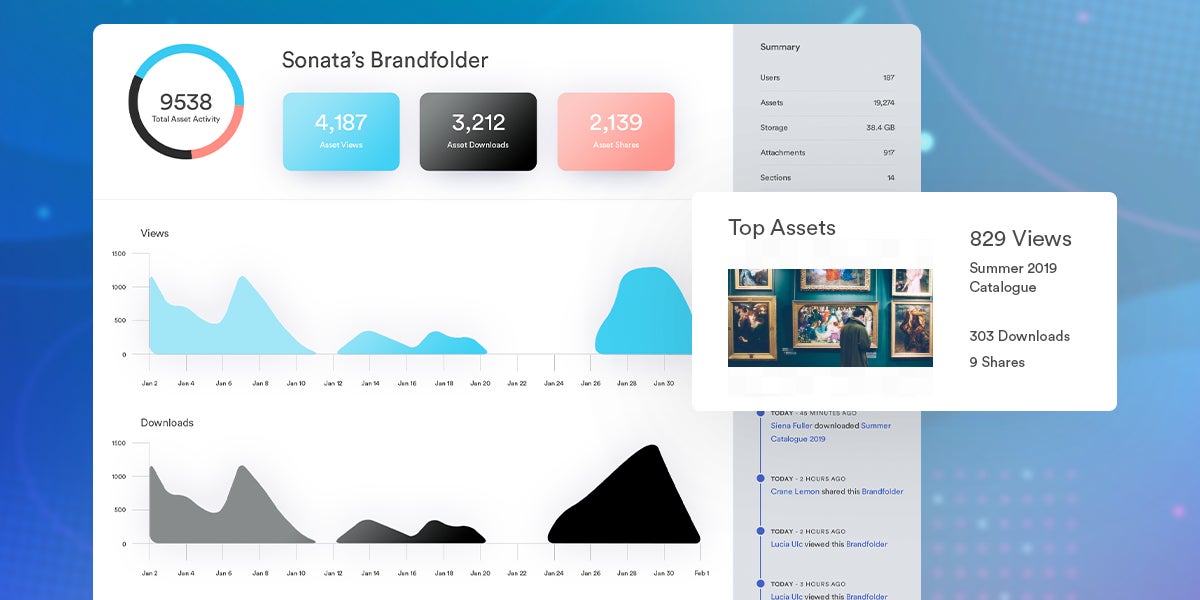 You can customize reports to view data over different time frames, and you can use these insights to improve brand consistency, plan new creative projects, and gauge the success of past efforts.
Integrations
Brandfolder has dozens of native integrations but we also have an open-source API so we can create custom integrations with any other tool you use. Connecting Brandfolder with other tools in your workflows allows you to send files directly to the DAM, update DAM content from other systems, and access DAM assets in outside applications.
Some of the tools we integrate with include:
Content creation apps, like Adobe and Canva.
Content management systems, like WordPress and Contentful.
Workspace collaboration tools and messaging apps like Microsoft Teams and Slack.
Marketing apps like Hootsuite and HubSpot.
CRM systems like Salesforce.
You can see our full list of integrations here.
Bonus: Brandfolder also has a native content delivery network (CDN) and web-to-print functionalities via Gelato, so you can use Brandfolder to power online publishing or send custom print orders.
We'll help you set up (and adjust) integrations during onboarding to ensure Brandfolder connects with all of your business applications.
Want to see a demo of Brandfolder's features? Schedule a call with our team.
Customer Reviews of Brandfolder DAM Software
Overall, Brandfolder has a 4.5-star rating on G2 (from 1000+ user reviews) and a 4.7-star rating on Capterra (of 400+ reviews).
Here are just a few of our nods from software review sites:

Brandfolder works for a variety of business sizes so we see reviews from small businesses, mid-market, and enterprise users alike; and almost all of Brandfolder's reviews are four stars or above. Many positive reviews of Brandfolder mention:
The convenience of storing all brand files in one location.
The DAM's modern UI and clear features.
The ease of distributing brand assets and using creative collateral in digital projects, and the ability to track asset usage.
Meanwhile, some negative reviews of our platform mention that the search can sometimes be challenging to use, some integrations are limited in functionality, and Brandfolder doesn't have all of the desired features teams would like to support their workflows.
Here are some of Brandfolder's recent reviews: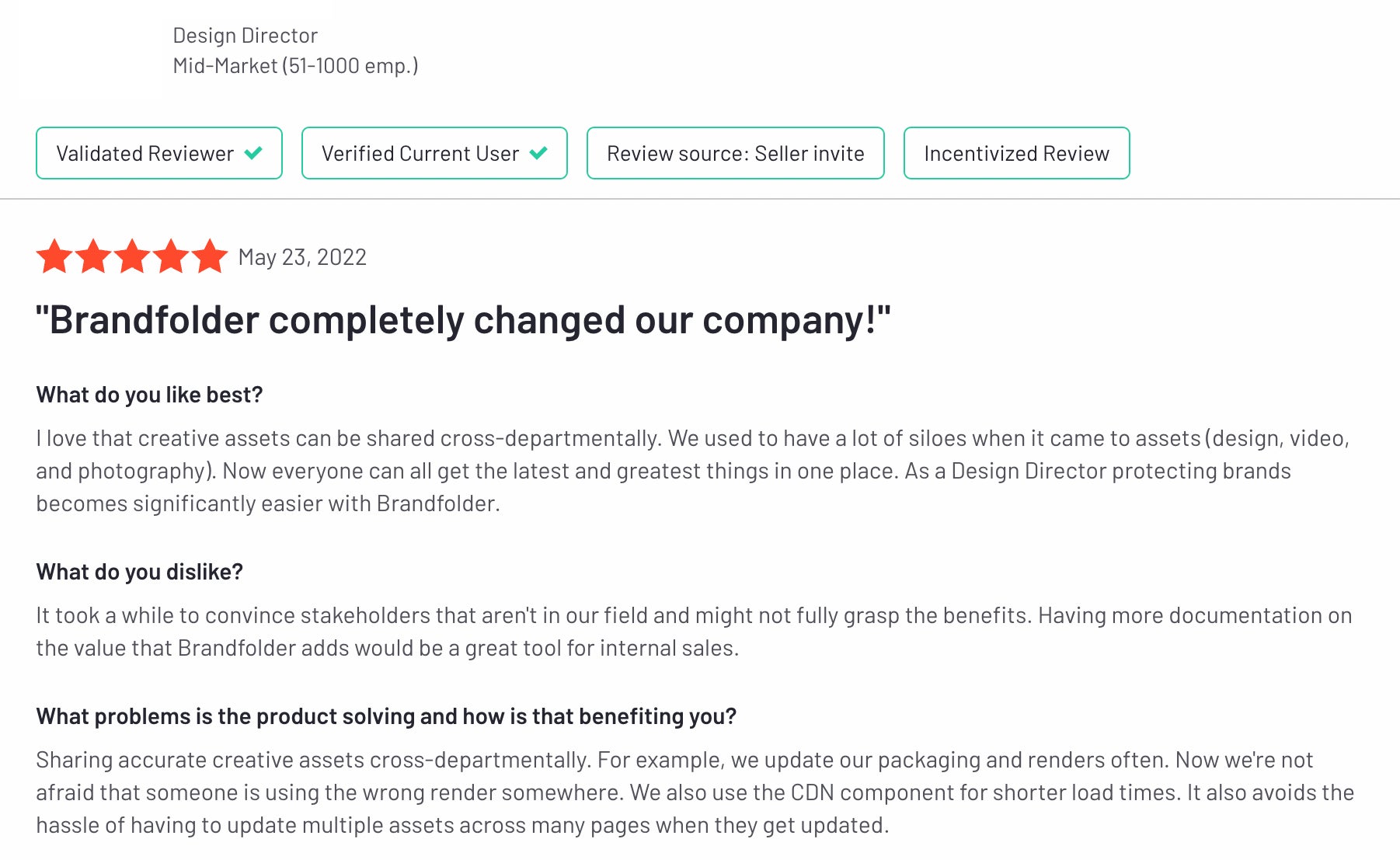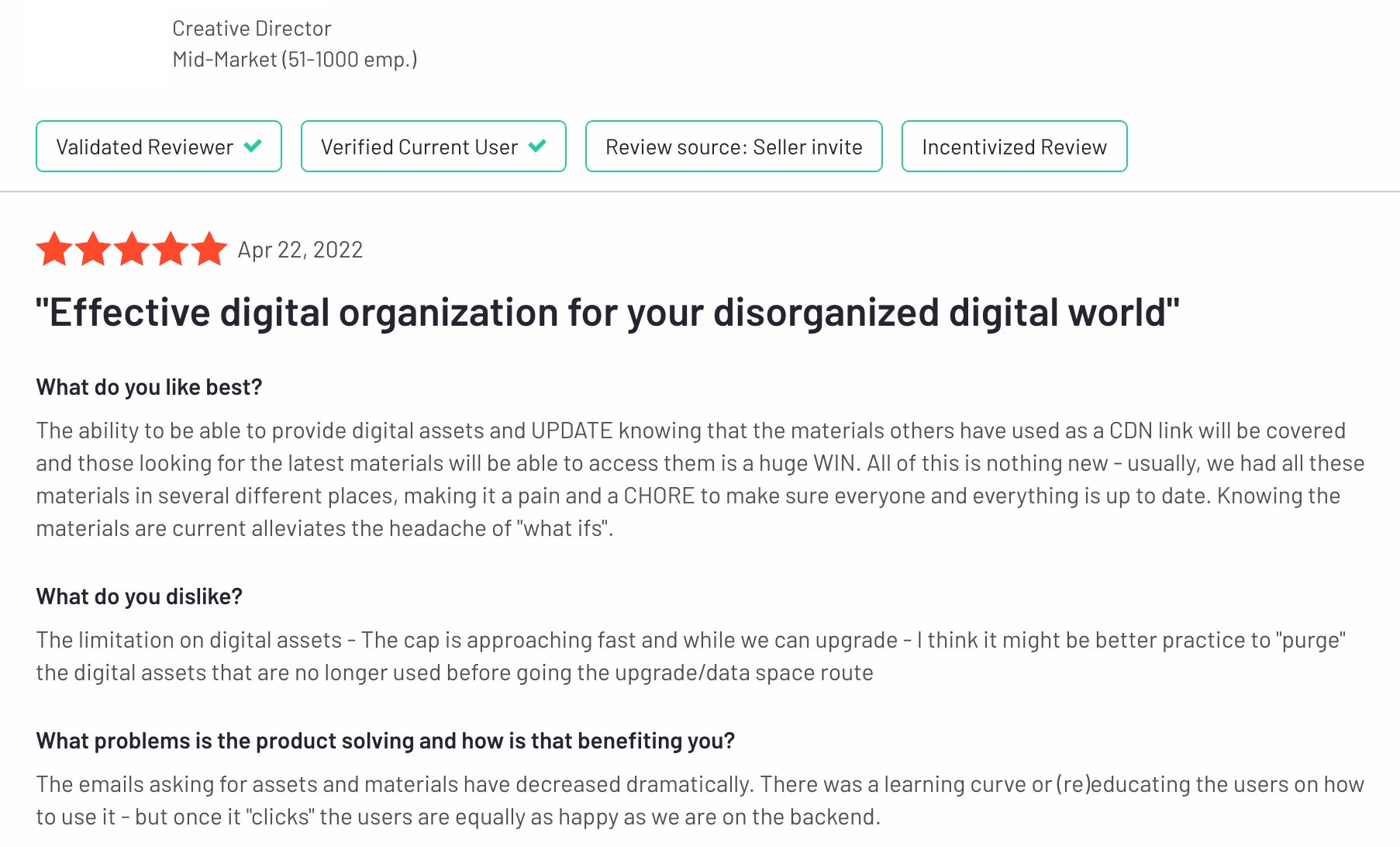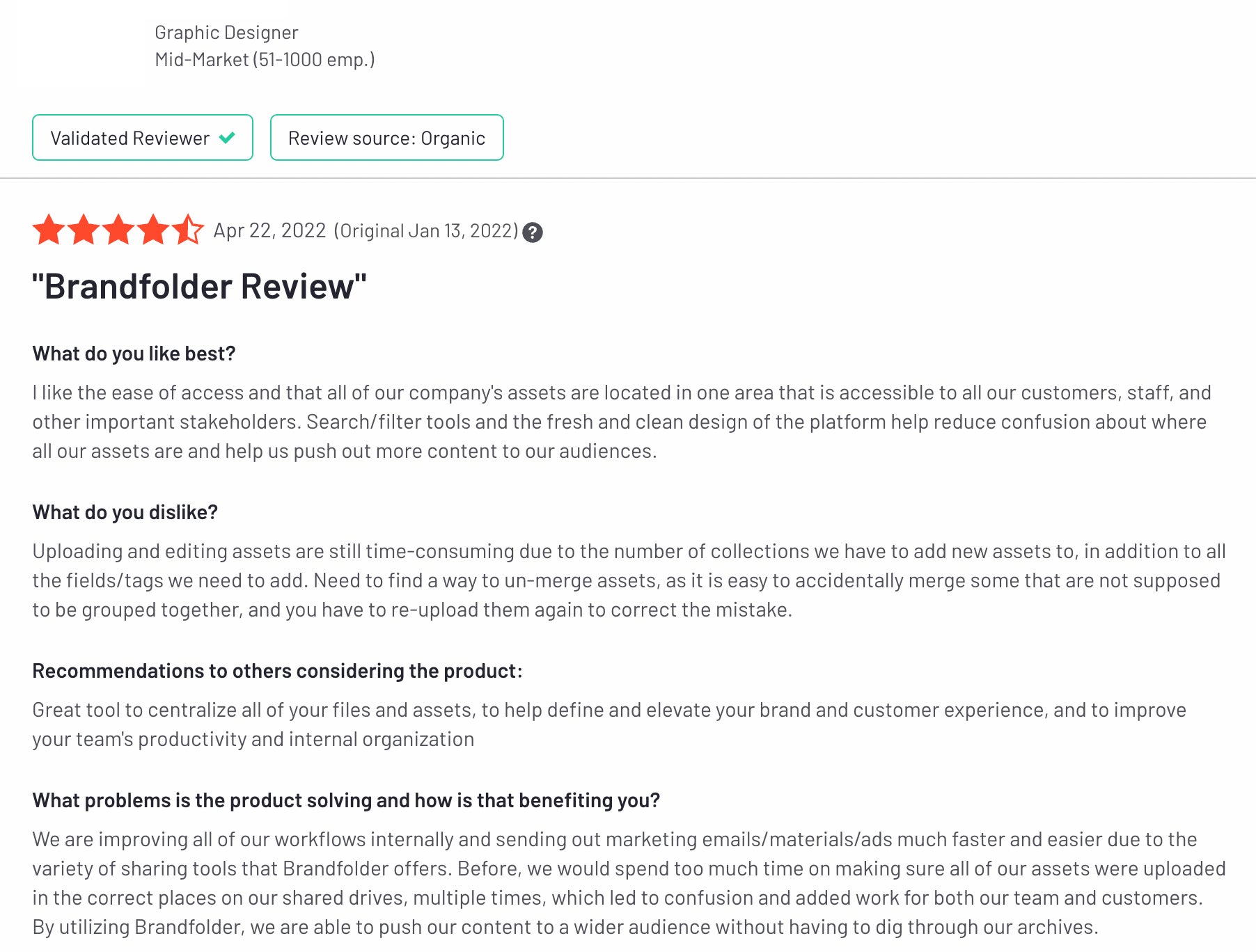 You can also read more Brandfolder reviews on our website.
Recommendations: Who Are Brandfolder's Core Users?
As we've mentioned, Brandfolder's flexible set-up options make it a versatile DAM solution, so you can adjust our platform to suit your current business needs and make changes to the DAM setup as needed.
Large global brands like Getty Images use Brandfolder, but our platform can also support smaller groups like professional photography teams. We support creative operations, marketing teams, brand managers, and more, across dozens of industries. You can read Brandfolder's client stories here.
---
Schedule a Free Demo of Brandfolder
Think Brandfolder is the right digital asset management solution for your business? Schedule a free demo with our team where we can discuss, 1) the problems with your current storage situation, 2) what you're looking for in DAM software, and 3) the next steps to make the switch.