Any high-quality digital asset management (DAM) system should offer certain benefits:
Facilitate clear asset organization for all of your brand's digital files
Save team members time searching for and retrieving assets
Simplify sharing amongst internal departments and external users
Reduce designer burden and prevent creative teams from spending hours responding to (often repetitive) asset requests
Assist with version control, eliminate duplicate assets, and improve brand consistency
Guarantee everybody, from other departments to sales teams and distributors, has access to the most up-to-date versions of your assets
Integrate with the other tools in your operations to streamline user workflows
While all DAMs are obviously designed for clear asset management, some fall short in terms of sharing features, maintaining organization, and integrating with other applications.
In this post, we review seven of the best DAM software options for 2023. We'll start by explaining how our DAM, Brandfolder, works for enterprise, mid-size, and small businesses to organize digital assets and save teams time. At the end, we'll also answer common questions about DAM software.
You can also book a free demo to see exactly what you could do with Brandfolder at your disposal.
---
Brandfolder: #1 Best DAM System of 2023
Now, we know it seems biased to vote Brandfolder the #1 digital asset management software, but we're not the only ones that think Brandfolder is the best DAM: With a 98% customer retention rate and a 4.7-star rating from customer reviews, we have evidence to back our claims.
Brandfolder is a highly-customizable DAM platform that can be tailored to support small businesses and professionals or grow with large enterprise corporations. We have a dedicated customer experience team that walks you through each step of set-up and onboarding: You can customize Brandfolder to suit your current needs — select storage space, add users, choose integrations, and map out your digital asset management taxonomy. Then, we help execute the switch and make updates or adjustments to your DAM in the future.
Learning how to use Brandfolder is easy, too. The user interface is modern and intuitive: You can easily view your asset library, search files in the search bar, and filter content to find what you need. In addition, our advanced features preserve organization to prevent clutter and duplicate assets, make files easier to find, and give you better control over your digital content.
Plus, Brandfolder has dozens of extra features to help you use assets in digital projects — you can convert and resize assets in Brandfolder, drop content into templates, create clips from video recordings, and more. You won't need any basic training to get started with Brandfolder, but if you want to explore these cool features, you can either play around with them on your own or use our online tutorials to learn more.
Let's review Brandfolder's core features and how they help you better manage your digital assets (and all of the teams that use them).
Storing & Organizing Assets in Brandfolder
Brandfolder makes it easy to centralize all of your brand assets — we accept hundreds of file types and formats so you can store everything from images and documents to rich media like video and audio files, fonts, templates, design files, and 3D assets.
You can organize digital assets in Brandfolders, Collections, and Brand Portals.
Brandfolders house all brand assets; you can create multiple Brandfolders if you manage assets for more than one brand.

Collections live within Brandfolders and house groups of related assets; you can create Collections based on any criteria you wish. Some teams use them to separate product images by product line, others use them to organize collateral by use case. We help you plan out this organization during onboarding, so mapping out assets doesn't feel overwhelming.

Brand Portals are also subsets of Brandfolders; these enable you to group assets for end-users and streamline file sharing. For example, eCommerce brands that sell products through retailers can set up portals for each distributor they partner with, then those users can access (only) the brand assets that are needed for their roles and projects.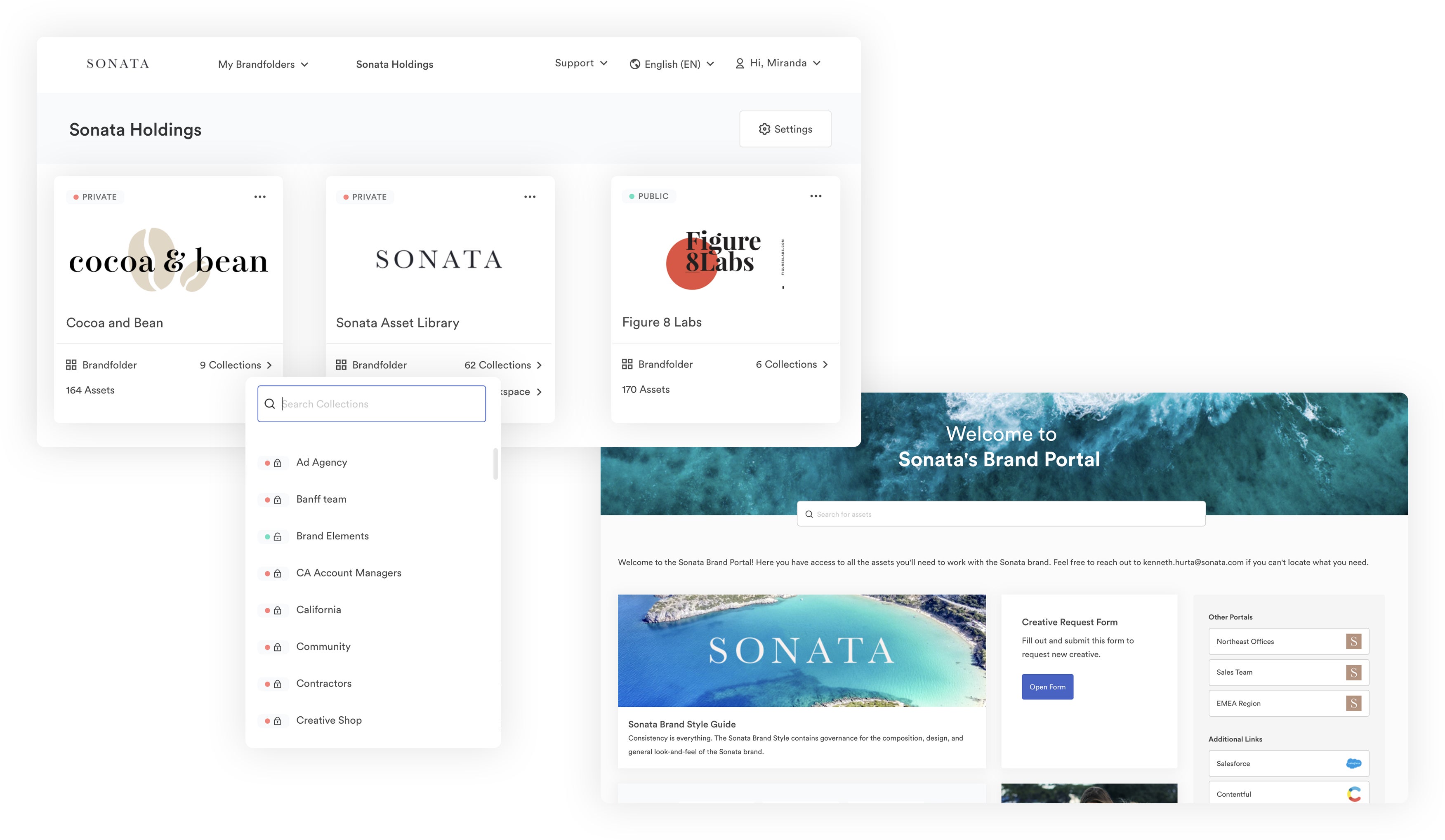 What's unique about Brandfolder is that you can store assets in multiple places without creating duplicate files; so you can store brand assets in Collections and drop those files into Portals for end-users, and everybody accesses the same versions of assets.
Brandfolder's flat taxonomy also enables easier searching. When you start a search in Brandfolder, our AI — Brand Intelligence — filters through your entire library and analyzes the content of your files to pull all available assets that relate to your search. Our advanced search lets you quickly find what you need and discover new creative collateral to use in projects.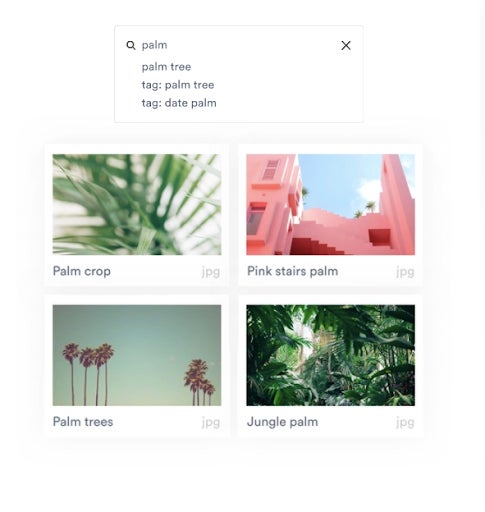 We also provide easy filtering options to help you sort through DAM content; you can filter by Sections, Pin Tags, custom fields, metadata, and more — no more relying on file names to find assets.
You can read more about searching assets in Brandfolder here: With the Right DAM, You Won't Need File Naming Best Practices
Sharing Assets in Brandfolder
There are two simple methods to share digital assets with Brandfolder:
User permissions let you add other team members to collections of assets, or specific selected assets, and control how they can use content. Admins can add and edit assets and control user permissions, collaborators can edit assets and add content to your DAM, and guests can view and download files. You can modify permissions at any time.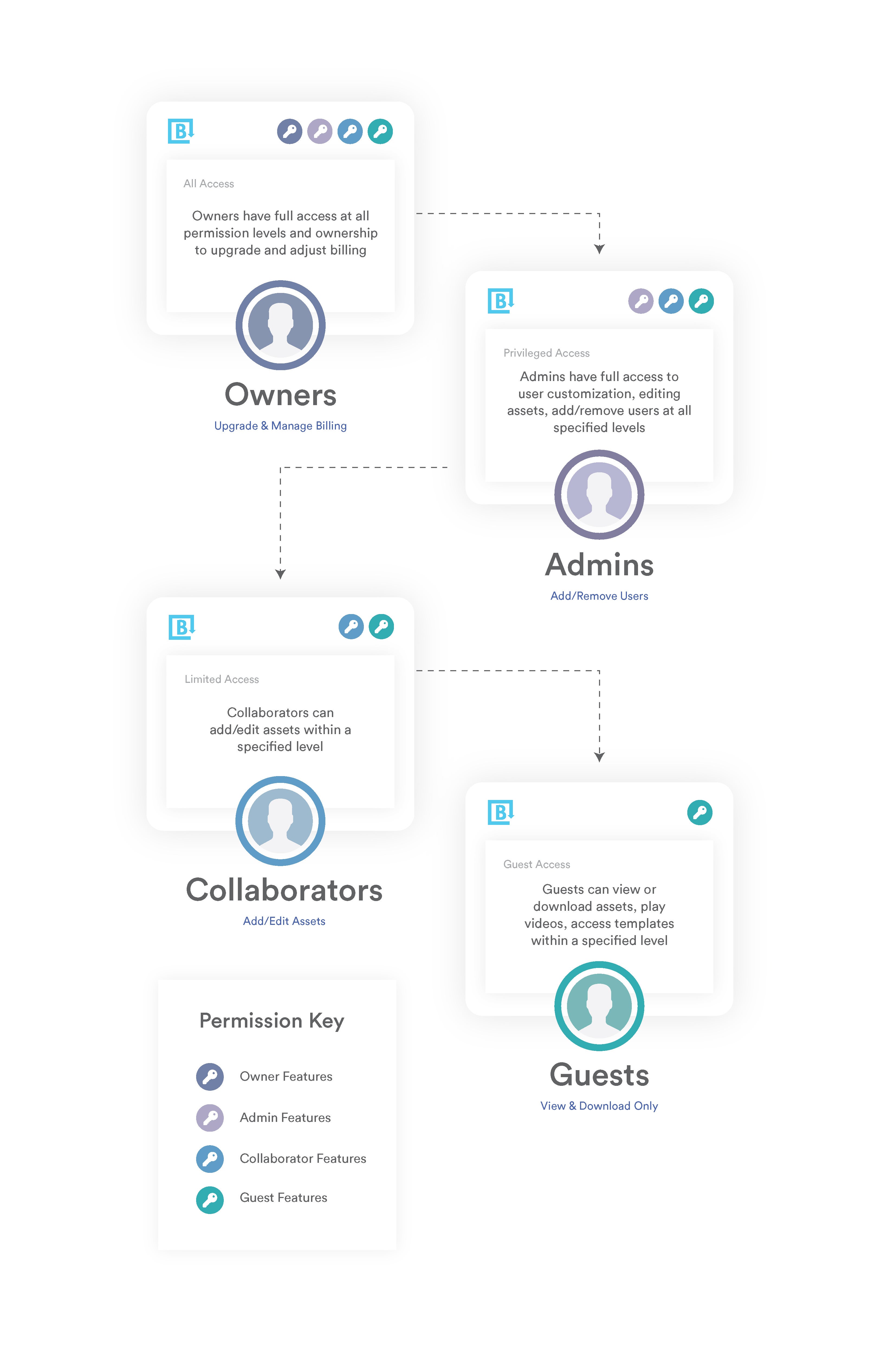 Custom share links let you send assets to stakeholders and other external groups. We allow free unlimited guest sharing so you can send these links as often as you need. We provide advanced options to monitor and control external sharing, too; you can track all active share links, set notifications for share link activity, add or remove assets from share links, watermark assets, disable downloading for end-users, expire share links, and more.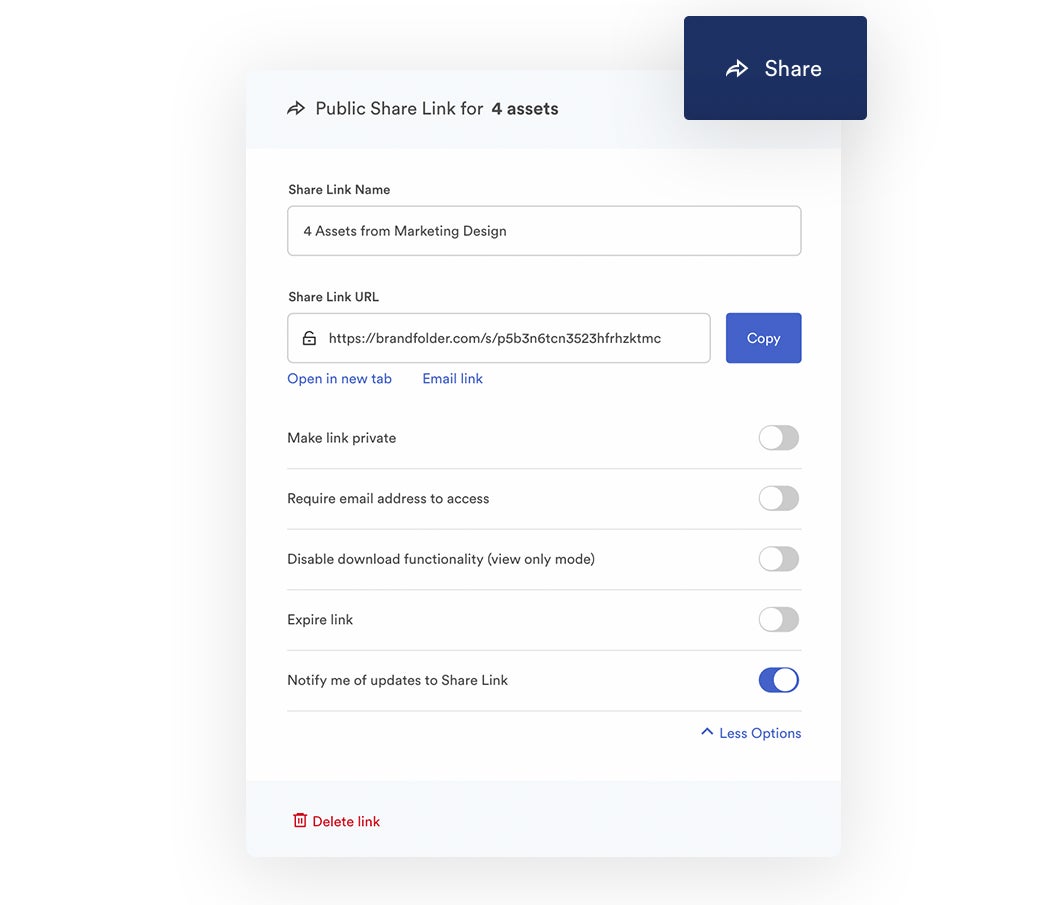 Brandfolder's Features to Repurpose Assets in Digital Projects
Unlike cloud storage systems like Google Drive and Dropbox, Brandfolder has dozens of features — like content automation, convert and resize tools, and quick cropping functions — to use and re-use brand assets in digital projects.
We even have a built-in content delivery network (CDN) system so you can leverage Brandfolder as a single source of truth and publish digital media online directly from your DAM.
Here's how these features work:
Content Automation: Designers can upload pre-approved templates, set rules and restrictions for personalizing templates, and make templates available for teams. Then, end-users, like your sales or marketing teams, can access, customize, and use these templates when they need them. Creatives don't have to double-check collateral or field requests for content.
Convert and Resize: Change an asset's file size or format in seconds; select the desired file type and adjust the resolution, then click download.

Custom and Preset Crop: Quickly crop assets for online publishing, templates, and other projects. We provide preset crops for social media sites like Twitter, Facebook, and LinkedIn, but you can create custom crops as you need. For example, teams that publish blog content on WordPress can create custom crops for hero images and in-line media before posting content.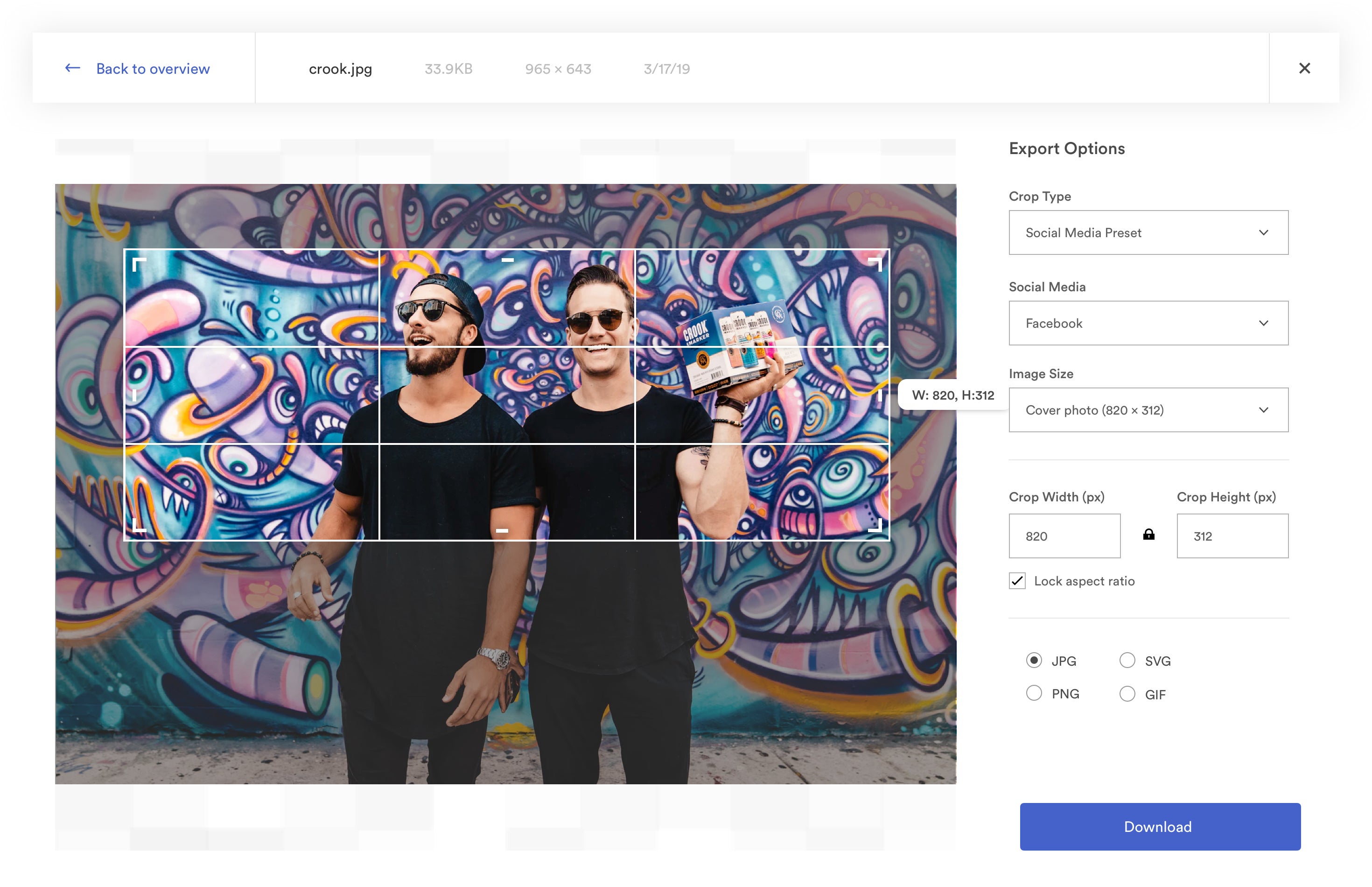 Brandfolder Advanced Video: Brandfolder doubles as a video asset management solution for teams that want to store videos and use media assets in projects. We automatically transcribe recordings so you can view dialogue and search videos by spoken words. You can also add watermarks to videos, and we have user-friendly tools to trim videos, make video snippets, and optimize videos for different mediums.

Brandfolder CDN: Copy your asset's unique CDN link and paste it anywhere you want to publish online. Then, any edits you make to assets in Brandfolder automatically reflect anywhere the asset lives on the web; this ensures that the right versions of your files are available online, improving brand management and consistency. You can see all active CDN links in Brandfolder to track publishing and disable links as needed.
Read more: The Brand Consistency Checklist: How to Build Loyalty & Recognition
Brandfolder's Features to Work with Team Members & External Collaborators
We've also supplemented our core DAM functionality with collaborative features to unify users.
In cases where you want to update existing content, you can comment with other team members directly within the asset overview. The comment history is saved in Brandfolder so admins can monitor asset updates, and we provide version history for every asset so you can track changes throughout the entire asset lifecycle.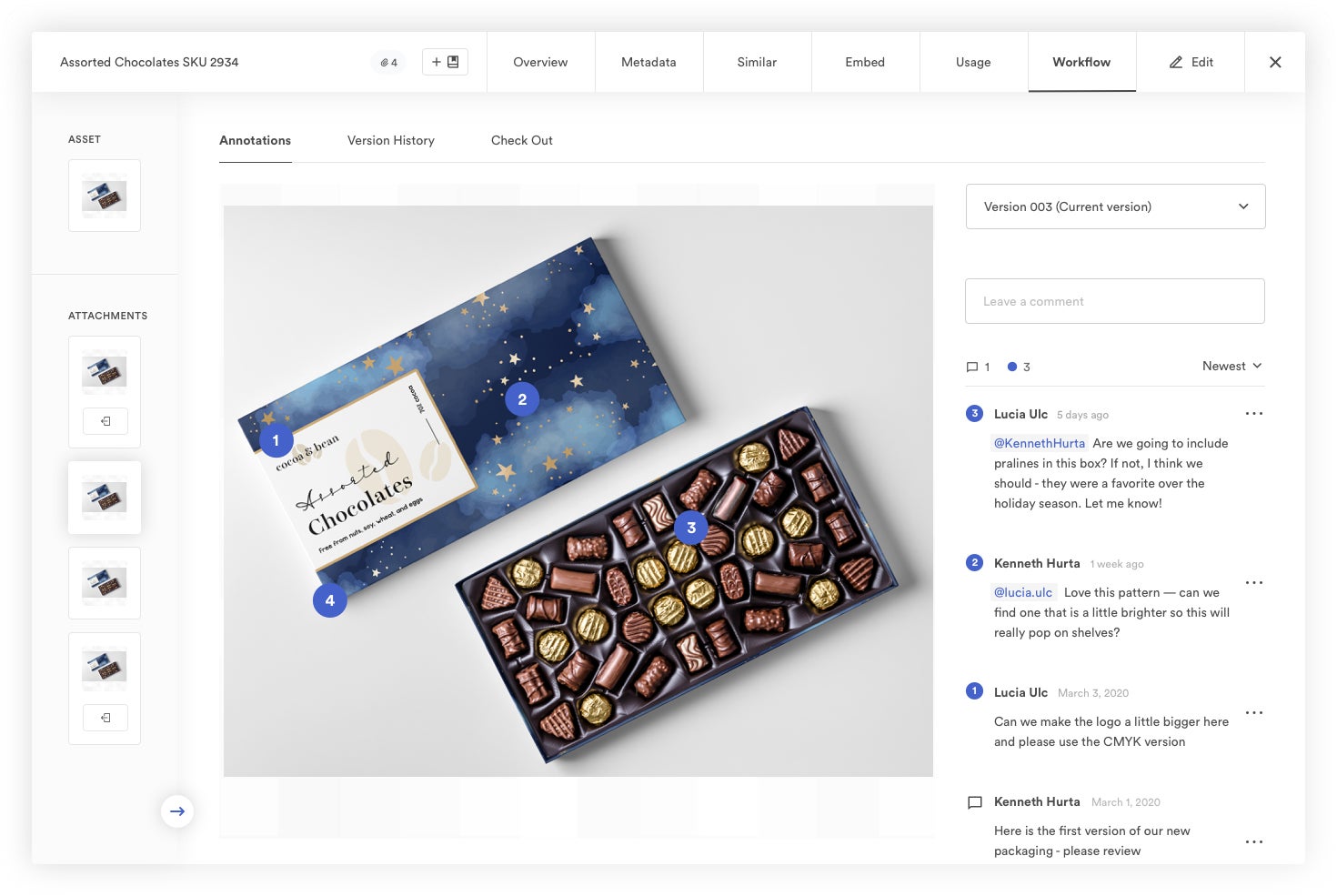 Brandfolder also offers Workspace: a lightweight project management suite to oversee new digital projects. You can create new projects in this dashboard, add users and assign them to tasks, then track everybody's progress in one place. This is perfect for designers that need to collaborate with other departments, but it's also beneficial for marketing teams, brand managers, and admins that need a place to manage upcoming projects and monitor how teams use collateral.
Customize Brandfolder & Adjust As You Go
Brandfolder integrates with dozens of software and applications; you can connect it with the other tools you use in your daily operations to push content between systems and streamline team workflows. We also have an open-source API to accommodate custom integrations, so we can sync Brandfolder with any tool in your tech stack.
Some of the tools we integrate with include:
Content management software like Contentful and Wordpress — you can read more about Brandfolder's digital asset management WordPress solution here.
Graphic design tools like Photoshop, InDesign, Canva, and Figma
Sales enablement and CRM software like Salesforce
Project management systems like Smartsheet and Trello
eCommerce platforms like Shopify
Marketing tools like HubSpot and Hootsuite
Workspace collaboration tools like Slack, Microsoft Office, and Google Apps
Read more: Top 8 Must-Have Digital Asset Management Integrations
Detailed Overview of Brandfolder DAM
For a preview of Brandfolder's features, watch our short overview video:
You can also read more about Brandfolder, how specific features work, and how teams leverage our DAM by visiting the resources portal.
Brandfolder Client Stories
We've helped a variety of businesses make the switch to DAM software and improve asset management, team organization, and brand consistency in digital projects. There are dozens of case studies on our website, but here are a few worth reading:
Getting Started with Brandfolder
Switching to Brandfolder is simple because our customer experience team guides you through the entire process. We provide a free demo and consultation, so we can talk about what you need in a digital asset management solution, then we set up Brandfolder to check those boxes.
We gameplan each step of the move:
First, we'll map out a structure to organize digital assets in Brandfolder, then provide tips to audit your current library and clean out old files before starting the migration.

After, we'll prepare to move assets to the DAM; Brandfolder automatically organizes files, adds metadata, and auto tags assets during upload, so our team will set up those automation rules during this step.

Next, we migrate priority assets to Brandfolder (and set a schedule to move the rest of your assets to Brandfolder in manageable batches).

Last, we'll help set up integrations and add users, and we provide resources to train team members and facilitate organization-wide adoption.
We have customizable onboarding and support packages, too, so you can decide how hands-on you want our team to be through this process; we can take the lead with each step or offer guidance when you need us. We're always available to answer questions, troubleshoot issues, or make adjustments to your DAM setup — just reach out to us and we'll find a solution.
Want to see why so many reviewers vote Brandfolder as the best DAM? Book a free demo and consultation to talk about how Brandfolder can work for your business and receive a personalized walk-through of our DAM software.
Read more: 10-Step Digital Asset Management Strategy: How to Switch to DAM Software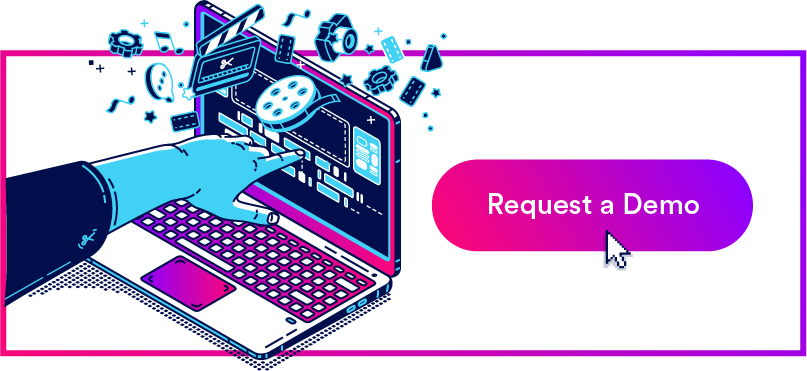 ---
Additional Top DAM Software Options
While our Brandfolder solution is one of the best DAM software across the board, there are other digital asset management providers that also score well on review sites. Let's talk about some of the other most popular DAM software solutions:
Bynder
Widen Collective
Canto
MediaValet
Cloudinary
IntelligenceBank
Bynder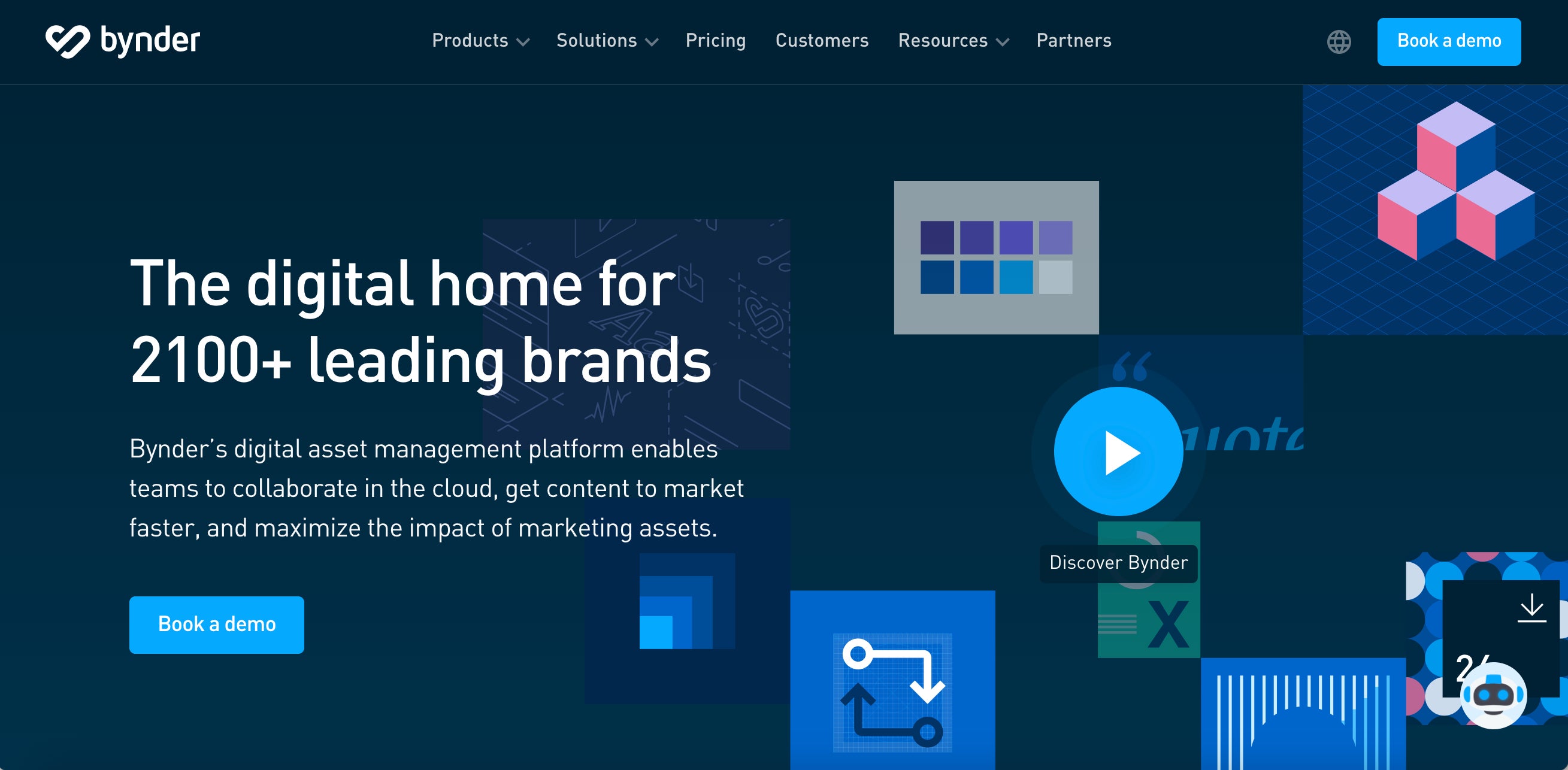 Bynder was the first DAM software delivered as SaaS and, like Brandfolder, it was designed without a folder hierarchy for better ease of use. Bynder often goes toe-to-toe with Brandfolder because we offer comparable features, but Bynder lacks in the customer support department, and reviewers say that the software isn't the easiest to learn or use. The platform aims to spread its offering outside a focus on DAM and to include Creative Project Management, Branding Automation, and Web to Print.
Read more: Bynder Alternatives: How Brandfolder & Other Competitors Compare
Widen Collective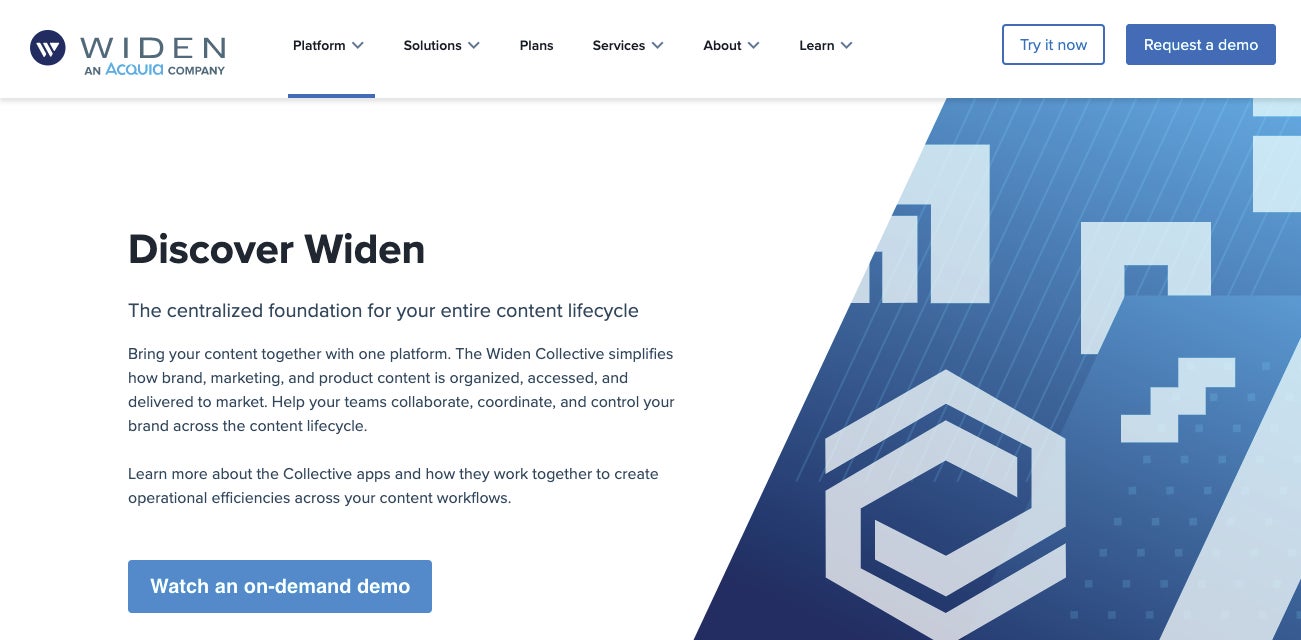 Widen Collective is a relationship-based software company that prides itself on its customer service and support. Their DAM+PIM software appeals mostly to eCommerce, retail, manufacturing, and CPG brands because it lets you organize digital content and product information in one central location. It also has advanced features to manage the content lifecycle from creation to distribution.
Read more: 6 Best Alternatives to Widen Collective: Buyer's Guide
Canto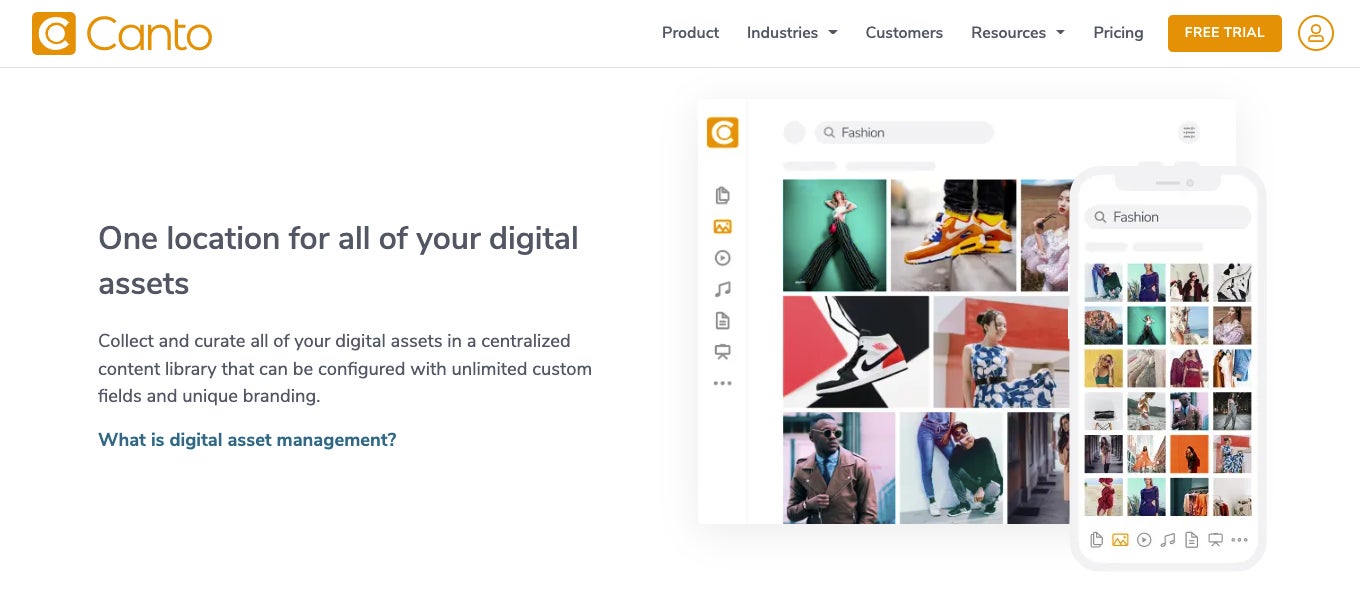 Canto is a DAM software that operates on a folder/album hierarchy and offers more basic DAM features than Brandfolder. It's designed a bit like Apple's iPhoto application with more filtering and sharing options, and it works best for smaller businesses that don't have a ton of assets. That said, Canto has added additional functionality to appeal to larger brands, but upgrading the software can become costly.
Read more: Canto Software vs. Brandfolder: Compare Two Top-Rated DAMs
MediaValet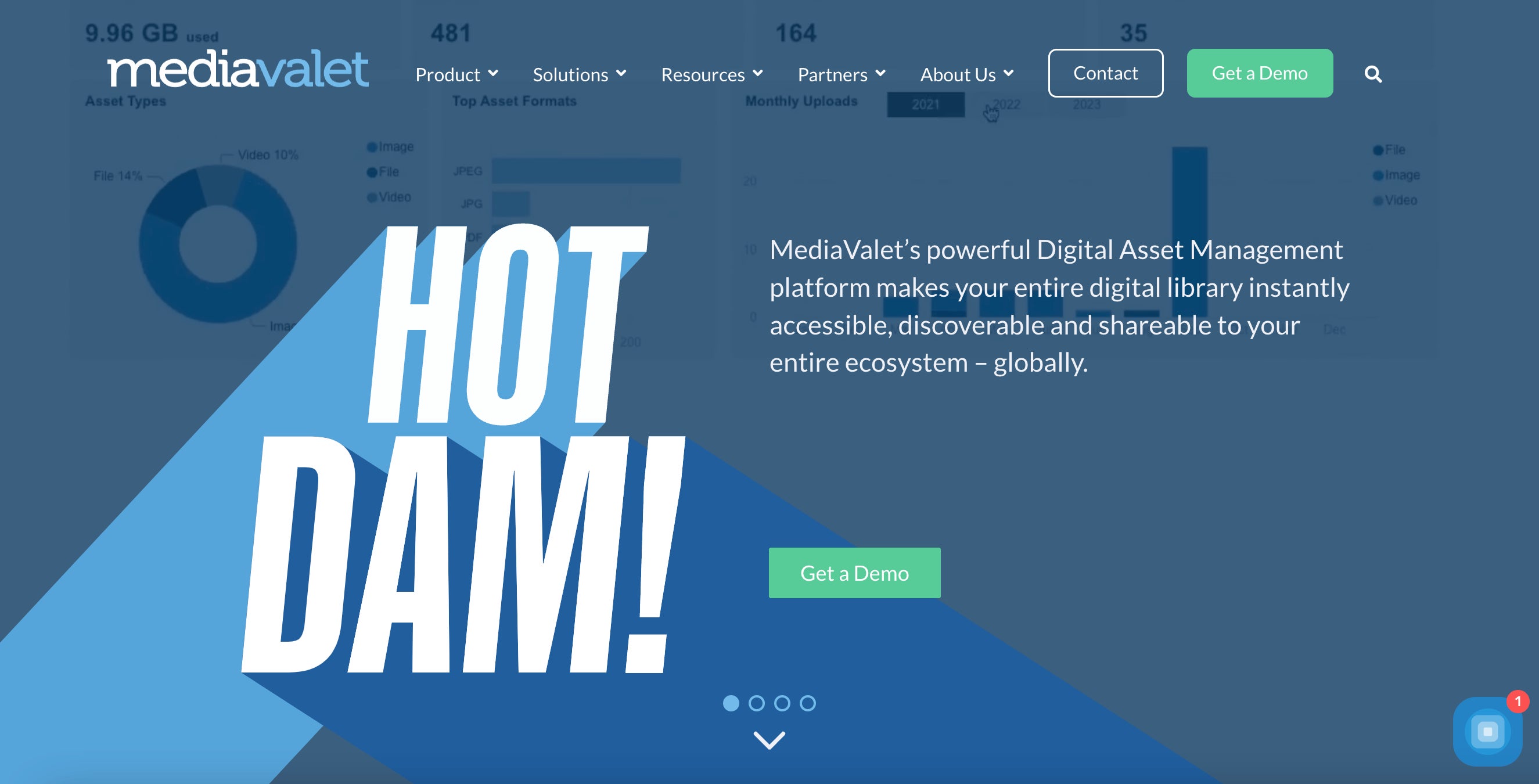 MediaValet offers an enterprise DAM solution that typically appeals to marketing and creative agencies because they offer advanced features to manage (store, share, and repurpose) rich media, videos, and work-in-progress design files. They score well in terms of ease of use, and their customer service team is considered one of the best; however, the platform can be expensive, which is why it's mostly reserved for larger teams.
MediaValet is also popular amongst teams that are embedded in the Microsoft ecosystem because the platform is built on Azure and has strong integrations with Microsoft applications.
Read more: MediaValet Reviews: Brandfolder vs. MediaValet DAM (2023)
Cloudinary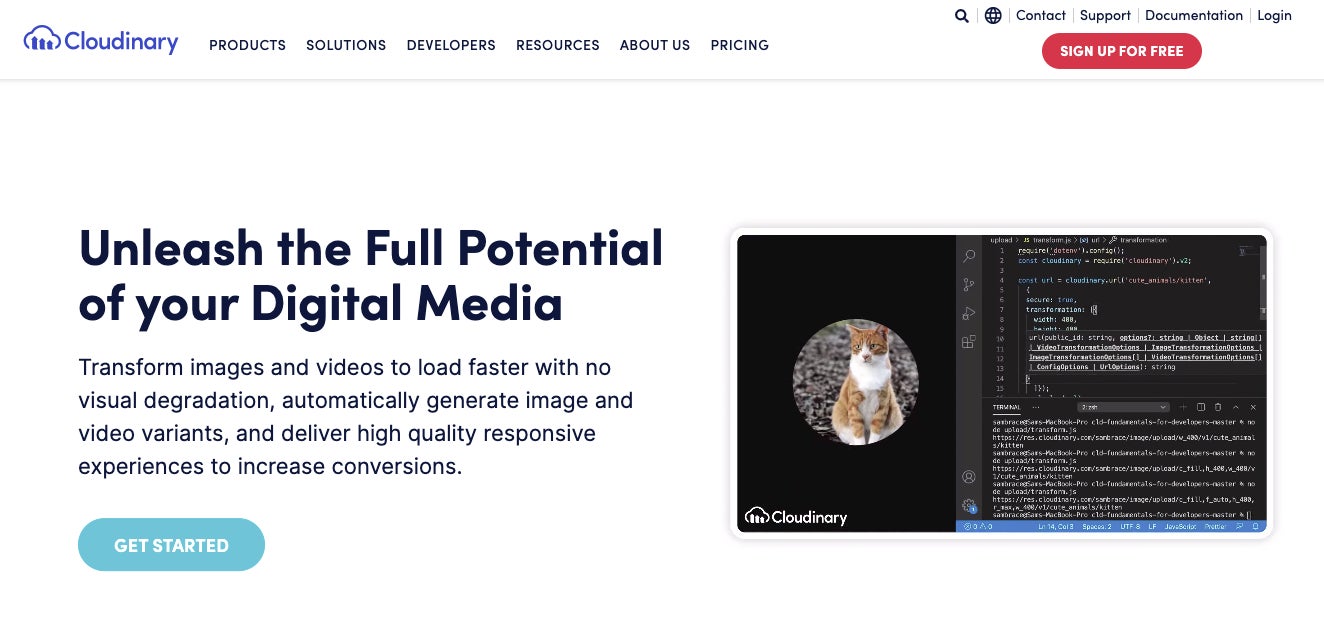 Cloudinary is a real-time image and video management solution for developers and marketers, and it has user-friendly features to support everybody who needs access to your brand's assets. Cloudinary's "Media Experience" software helps teams manage, edit, optimize, process, and distribute their assets at scale. They primarily work with e-commerce and retail businesses, travel and hospitality companies, nonprofits, and media and entertainment companies.
Read more: 7 Cloudinary Alternatives & Competitors (2023 Buyer's Guide)
IntelligenceBank

The last option on our list, IntelligenceBank, is a marketing operations software for enterprise companies. This software has some DAM functionality but also works to manage marketing assets and campaigns. Overall, IntelligenceBank has four main offerings: Digital Asset Management (DAM) software, Brand Portal software, Marketing Operations software, and Marketing Resource Management (MRM) software.
---
Best Digital Asset Management Software FAQs
Here are the answers to some commonly asked questions about DAMs.
Why is DAM better than Google Drive?
DAMs are considered "cloud storage on steroids" because they offer all of the same benefits and more. In basic terms, Google Drive offers a cloud-based hub to store files and send files to other users, but it doesn't have features to keep your file library organized, it doesn't let you monitor file sharing, and it doesn't offer much beyond storage and sharing. Teams can use this solution for a while, but eventually, they'll experience clutter and disorganization, have trouble keeping track of assets, and struggle to maintain brand consistency.
DAMs squash these concerns with more advanced features to store assets and keep your file library organized, share assets and monitor all file sharing, transform and repurpose assets in the DAM (without compromising brand guidelines), and keep tabs on what everybody is doing with brand collateral.
How much does a digital asset management system cost?
Pricing for digital asset management software usually depends on several factors, including:
Number of users
Additional features
Amount of cloud storage space you need
A business with millions of assets and hundreds of users is going to spend more on an enterprise DAM than a small business with only a couple thousand assets and a handful of users.
Read more: Five Criteria to Evaluate Enterprise Digital Asset Management Software
Guest seats can also hike the price of a DAM — some DAM solutions charge per guest seat, while others allow guests to view and download assets for free. When comparing options, we suggest choosing software like Brandfolder that allows free guest seats to save money in the short and long term.
There's no real "average" cost for a DAM as yearly costs can range from a couple of hundred dollars to hundreds of thousands of dollars.
Are cloud-based DAMs secure?
Cloud-based digital asset management solutions are highly secure — in fact, most cloud DAMs are more secure than on-premise options because they include added protection by the vendor.
Most DAMs are hosted via GCS or AWS (two of the most reliable cloud hosting providers) and have extra security features to authenticate users during login, prevent data breaches, and back up data in case of emergency.
When looking for a reliable DAM provider, check that they are SOC 2 Type 2 compliant and offer extras like 2FA, Stealth Mode settings, and regular risk assessments.
What is AEM? Is AEM a DAM?
Adobe Experience Manager (AEM) is both a content management system (CMS) and a digital asset manager (DAM), and it integrates with Adobe's Creative Cloud. It lets you create assets, store them in one place, and publish rich media files across multiple channels. On their website, Adobe refers to their AEM as, "a comprehensive content management solution for building websites, mobile apps and forms that make it easy to manage your marketing content and assets."
Adobe's AEM is helpful in a lot of ways, but it doesn't have as many sharing options as other DAMs, and it's one of the more difficult and technical DAMs to implement and use. Most of the time, IT teams have to assist with setting up AEM, and users need strong HTML skills to use the software to its full potential. In addition, it's quite costly, so it's not always a viable option for smaller businesses. (Plus, Adobe's Experience Manager requires a third-party integrator to use, adding to the overall cost.)
What are examples of digital assets? What is not considered a digital asset?
A digital asset is defined as, "anything that exists in a digital format and comes with the right to use;" this includes logos, photos, design files, PDFs, spreadsheets, marketing materials, videos, etc. That means digital content that does not come with the right to use is not considered an "asset."
---
Find the Right Digital Asset Management Platform for Your Business
Choosing the best digital asset management tool doesn't need to be overwhelming — you can compare options by looking at the available features, reading reviews on customer support, and gauging each software's overall ease of use. When you consider these criteria, you can find a solution that has the necessary functionality to support (all of your) users' workflows and is straightforward to set up and adopt.
We've built Brandfolder to work for all types of businesses, with features such as:
Streamlined ingestion and organization of assets — and easy uploading from outside users
Powerful metadata tagging
A simple but smart search function
Straightforward user groups and permissions
Free unlimited guest seats
Transformation tools to optimize assets on the fly
Creative and collaborative suites so you can create new content and work with other users on digital projects
Customization options to integrate with other software in your workflows
Reporting to monitor brand assets and user activity (and keep everybody on the same page)
Not to mention, Brandfolder's flexibility and scalability allow us to accommodate DAM for small businesses, support large enterprise companies and work with everybody in between. Our team is ready to help you choose the right program for your needs and get set up with the software successfully.
Book a demo and learn more about how Brandfolder can work for your teams.
Related reads: