Digital asset management software is beneficial for manufacturing companies, specifically, because they serve as a step up from solutions like Google Drive, Dropbox and Box, and let you:
Organize all of your brand assets (like technical spec drawings, product imagery and marketing materials) in one hub.
Store detailed information — like SKU numbers and rights management information — with business collateral.
Access creative tools and advanced templating to edit, update and repurpose assets without compromising brand consistency. So all of your teams and partners can access the brand materials they need for their roles and self-serve new content for projects.
Connect with other software in your workflows to push content and data back and forth; automatically keep all systems in sync.
Analyze asset insights to understand how teams are using content and which content is most effective in your projects.
In our guide, we talk about these benefits (and more) and explain how our DAM solution, Brandfolder, supports manufacturing organizations.
You can also schedule a free demo with our team to learn more about our solution and see if it's the best option for your business.
---
1. Brandfolder lets you store all of your digital media and business documentation in one place
As we mentioned above, DAM software like Brandfolder accepts hundreds of file types and formats so you can store all of your business collateral in one place. We even accept rich media like design files, 3D assets, RAW images, video recordings, audio files and more. This is important for manufacturing companies that have a wide variety of asset types and need a centralized storage solution.
Brandfolder has a flexible taxonomy so you can organize files in the way that makes the most sense for your organization (considering user workflows, projects and asset types). And we provide guidance as you map out your asset library so you can be assured that it'll be easy to navigate and find content.
Here's a quick summary of how it works:
You can organize assets by brand via Brandfolders.
Within Brandfolders, you can create Collections (to house groups of related assets; these are very much like "subfolders" within a folder) and Portals (to store and distribute assets to specific end-user groups; these are individual hubs that live within your Brandfolder).
You can also stack related assets in "containers" — this is helpful if you want to store assets that relate to a specific product (or part, service, etc.) together.
Then you can create custom filtering options (via Sections, Pins and custom fields) to easily sort through your content. (But we also have an advanced search feature — more on that in a moment.)
Note: You can also store assets in multiple places (for example, in a private Collection and public Portal) so everybody has access to the same versions of files.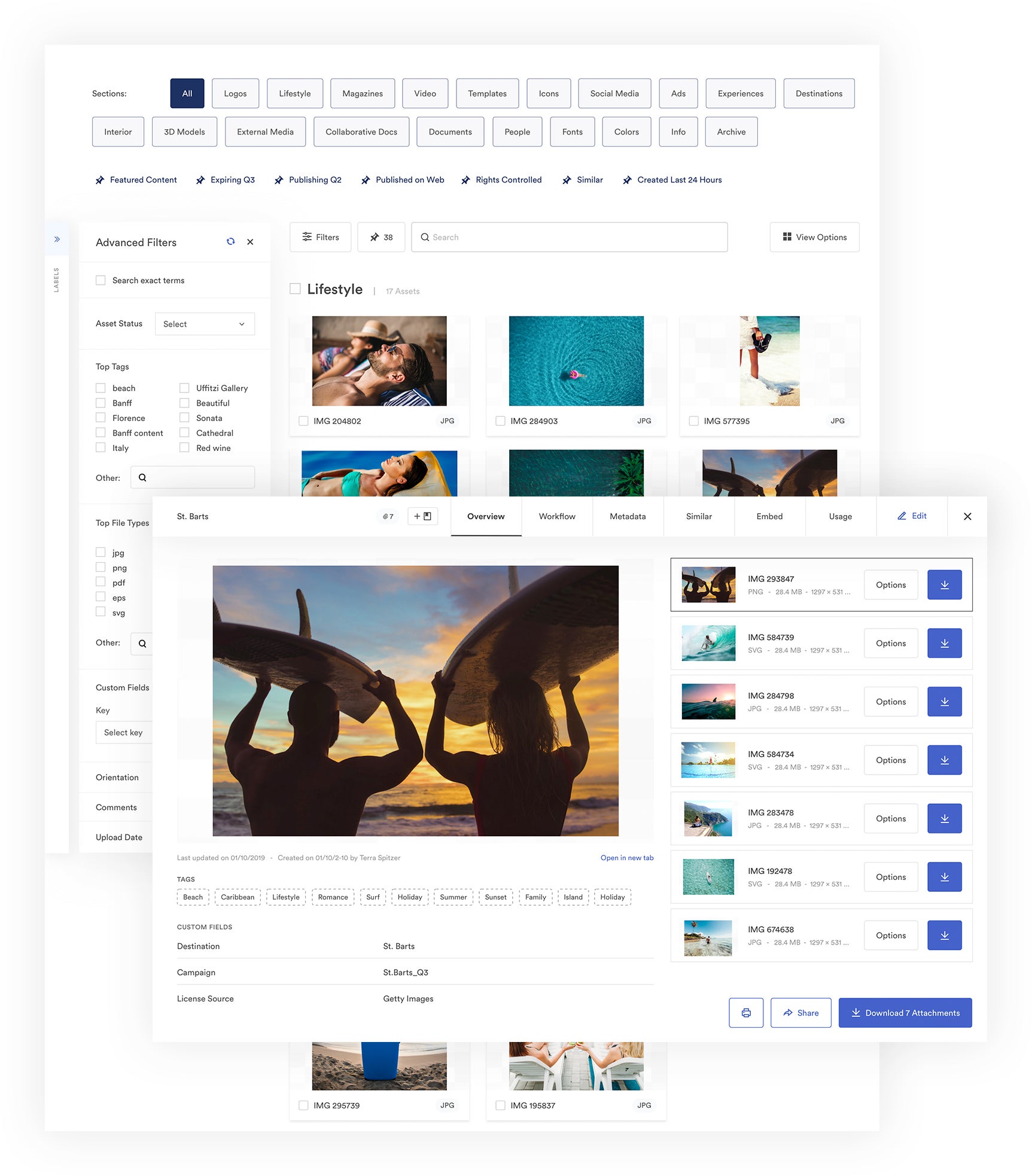 Read more: How to Organize Digital Files for Easy Sharing, Search & Use
Now, everything is stored in one place, and you can leverage artificial intelligence to maintain organization and control.
Many of Brandfolder's advanced functionality is powered by Brand Intelligence (BI).
For example, BI:
Analyzes files to automatically drop content in the right place and add relevant metadata and tags — our AI/ML even remembers brand and product-specific metadata to learn your tagging habits.
Keeps your library organized and current by detecting duplicate assets.
Enables advanced search and discovery capabilities – type any term or phrase into the search bar and BI analyzes asset metadata to pull all relevant files.
Brandfolder also has powerful asset management capabilities to help you control who sees what and when. It can:
Help manage the asset lifecycle by automatically expiring outdated assets (but you can still access expired content if you need to reference it).
Maintain version control, track edits and automate asset updates — when you make changes to a file at the Brandfolder level, Brand Intelligence will automatically push the updates everywhere the file is stored, shared (in share links or Portals) and published online.
In short, Brandfolder ensures the most current, approved assets are available for your users.

See how FINIS leverages Brand Intelligence to manage digital media and improve asset findability in our case study: FINIS expands global sales thanks to Brandfolder's distribution capabilities
---
2. Custom fields enable you to track detailed information with all of your brand assets
Brandfolder's custom fields let you store and track basic product information at the asset level. For example, if you were storing a technical spec drawing, you could save the product ID and dimensions in custom fields. Or, if you were saving user documentation, you could specify which products or policies the documents pertain to. (Then, you can use custom fields to refine search results — like quickly pull all of the documentation that relates to a specific product ID.)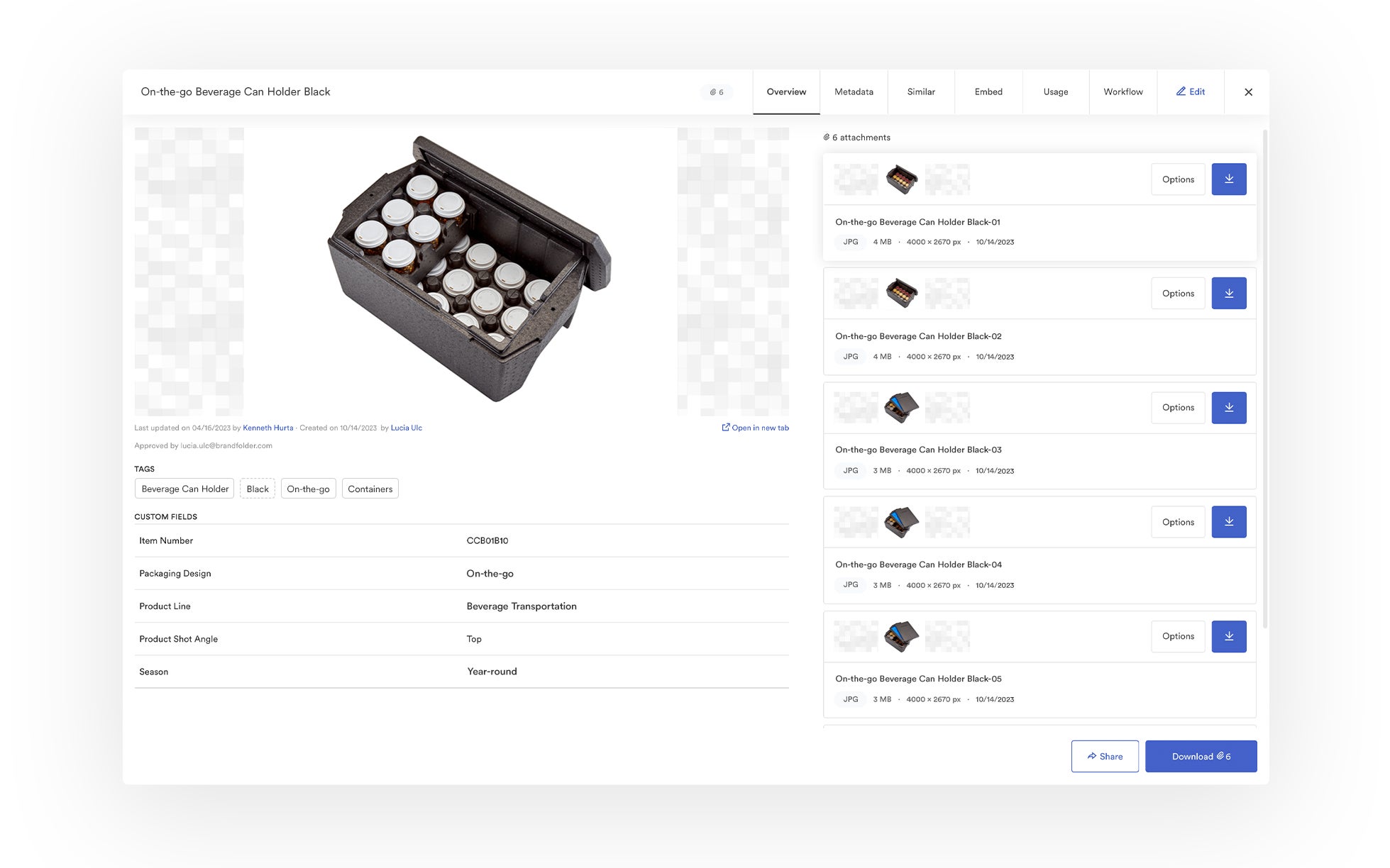 Brandfolder also integrates with product information management software like Salsify for more advanced PIM capabilities.
Read more: DAM vs. PIM: Core Differences & How to Use the Two in Tandem
---
3. Create a single source of truth for all of your user groups and partners
It's easy to add staff members (like marketing teams, sales teams and engineers) and partners (like retailers, distributors, subsidiaries, media agencies and other stakeholders) to the DAM and choose which Brandfolders, Collections and Portals each user can access.
Then, everyone you collaborate with can log into the DAM and find the content they need without submitting a request to the creative department or brand manager.
You can add users and assign roles via permissions. There are three main roles: admins, collaborators and guests.
Teams can divvy up admin duties by assigning more than one manager to that role.
Collaborators can edit, update and upload new content to the DAM, so many teams assign designers to this role.
Guests can view and download content, and we allow free unlimited guest seats so you can share content without fees.
You can also grant access to assets via share links. But before we touch on that, let's talk a little bit more about Brand Portals and how you can use those to distribute content to partners.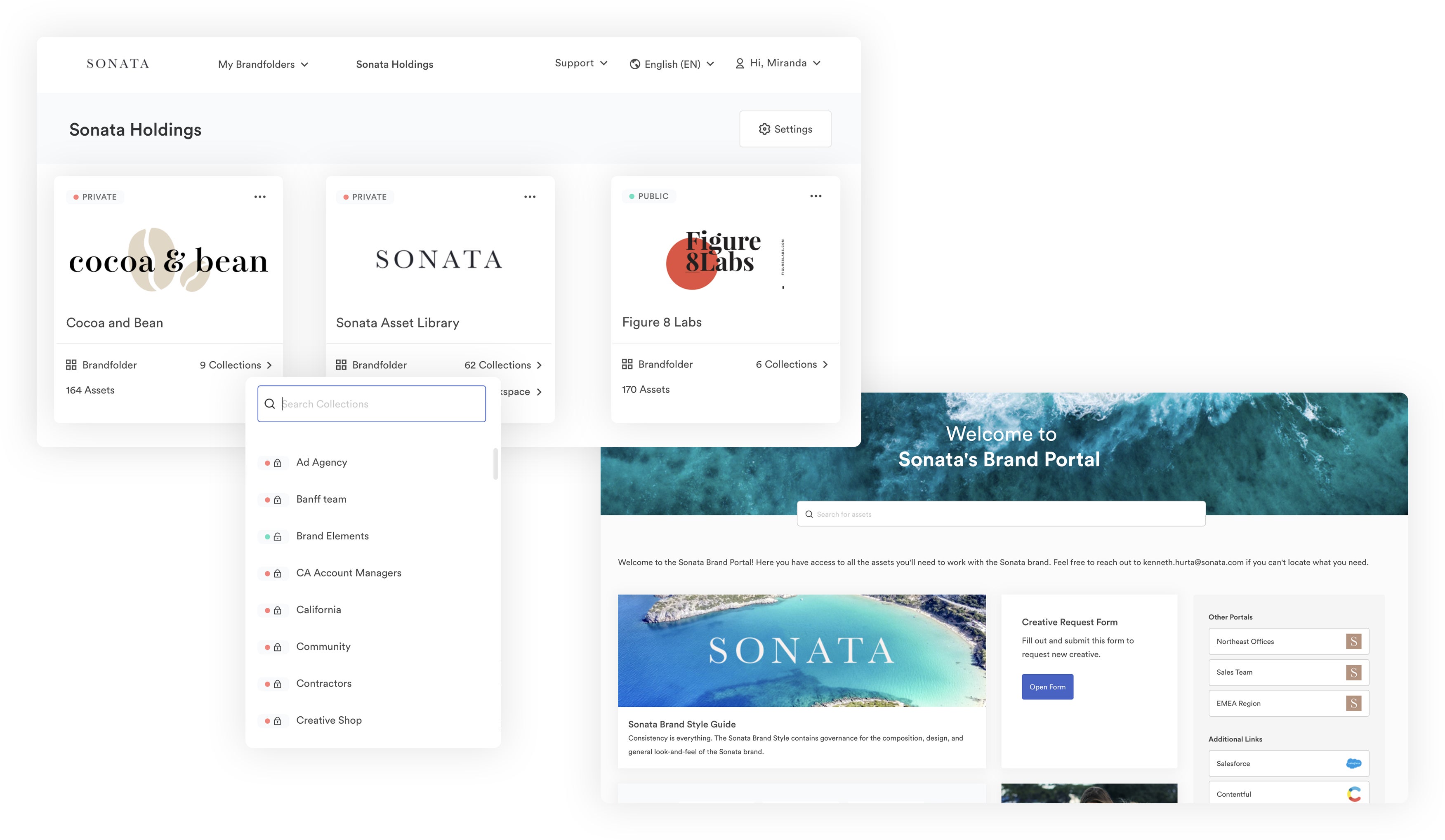 Brand Portals (as we discussed above) are essentially hubs of content that live within your DAM. They make it easy to store groups of assets for end-user groups, like retail partners, so those users can easily log into Brandfolder and see only the content that relates to their needs. These are especially useful for manufacturing companies because they typically work with and share files with a variety of end users.
These simplify sharing because you can drop assets into Portals as they're created and approved — Brandfolder will notify end users that new content is available, and they can grab it when they need it. You no longer have to send out every press release or product update, or resend content if you make an edit. Plus, you can even control publish and expiration dates to ensure everybody is working off the same versions (the most current and approved versions) of your brand content.
Brandfolder lets you create an unlimited number of Brand Portals, so we can support enterprise and international teams — like Spyderco, which has over 70 Brand Portals to support their partner network.
Learn more: Zeal Optics Powers Global Asset Distribution to 3,000+ Retailers With Brandfolder
If needed, you can share content on the fly (and maintain control of files after they're sent) with share links. Select the assets you want to share, add the recipient's email addresses and customize the share link settings. You can watermark assets, disable downloading, set expirations for assets, update shared content and more. You can also add or remove content from share links.
Read more: The #1 Way to Share Digital Assets
---
4. Maintain control over digital content and uphold brand consistency
Permissions act as the first layer of control in your digital asset management system — you choose which content users can access and what they can do with it. But Brandfolder also has extra tools that empower teams to use digital content (within the parameters of your brand guidelines and compliance requirements).
First, we have a feature called Brandguide that lets you publish detailed information about your brand and instructions on how to use digital assets. You have complete control over the setup of this page so you can add as much information as you feel necessary and even customize the page's appearance with branded colors, fonts and logos. Then, you can share your Brandguide with anybody who accesses DAM content.
Next, we have digital transformation tools to convert, resize and crop assets before downloading. Brandfolder also has an advanced cropping feature that lets you automatically edit collateral for various digital channels and print mediums. These tools make it easy to optimize assets on the fly, so you can publish and print content without compromising the quality of files.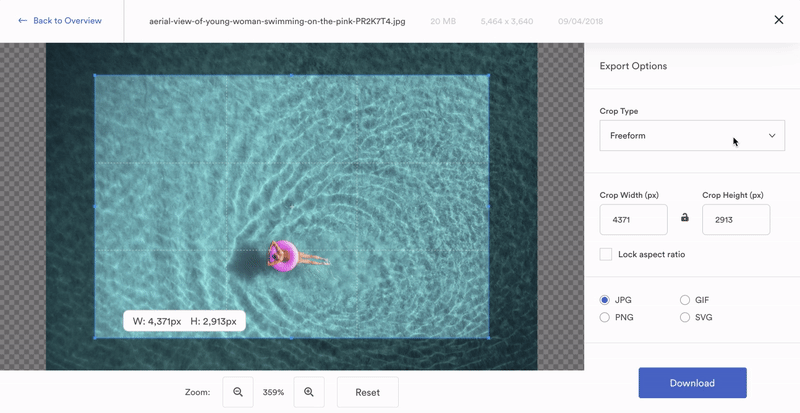 Brandfolder also has a video editing studio that enables you to repurpose recordings like user testimonials, product demos, promo videos, etc. You can trim videos, make video clips from longer recordings, create GIFs for social media and watermark media files before downloading.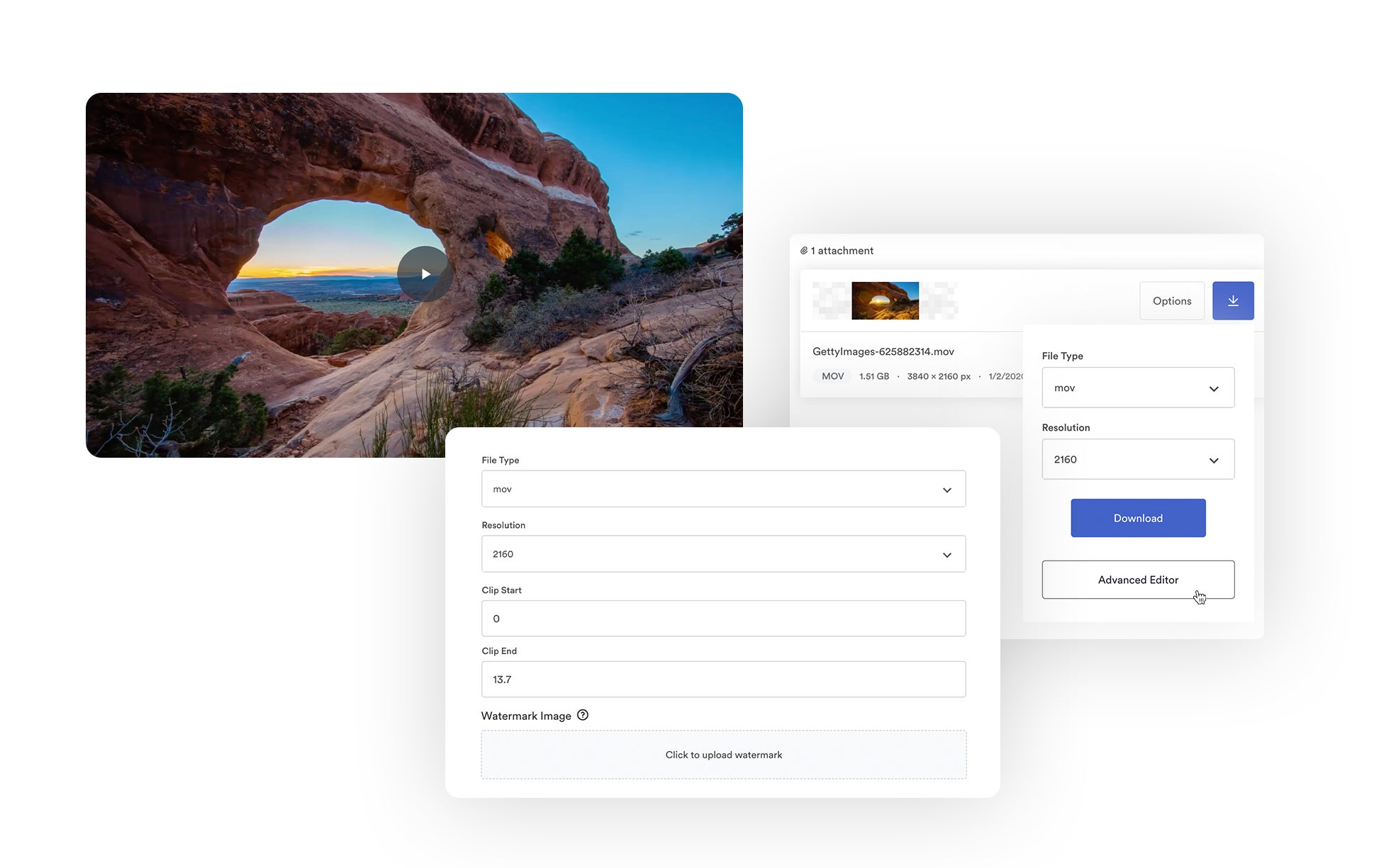 Up next, we have our content automation feature that lets teams create new content (at scale) from pre-approved templates. Designers can upload templates, lock down certain elements, set rules for how end-users can customize templates, then share templates. You can also distribute these in Portals or add them to your Brandguide.
Then, when users need to create content, they can browse the available templates and find the one that best suits their project, edit the template — while staying on brand — and continue with their workflow. (Alternatively, admins or designers can implement a review/approval process before edited templates can be available for download.)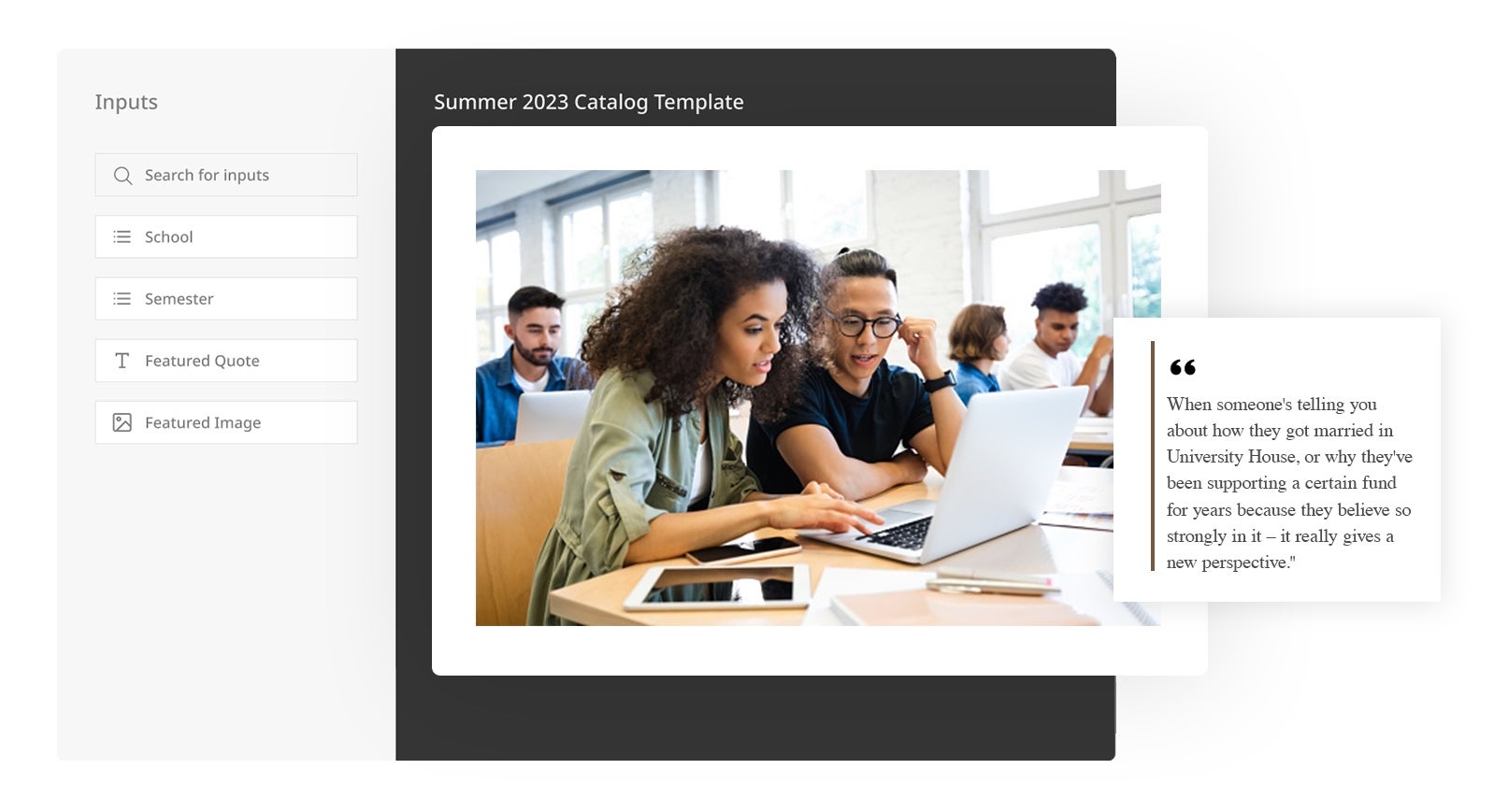 Brandfolder's content automation feature has a few key benefits:
See how Quicksilver Scientific uses Brandfolder to ease admin burden and streamline workflows: Quicksilver increases speed to market for products thanks to Brandfolder
Then, Brandfolder has a native reporting dashboard so you can track content and real-time usage analytics.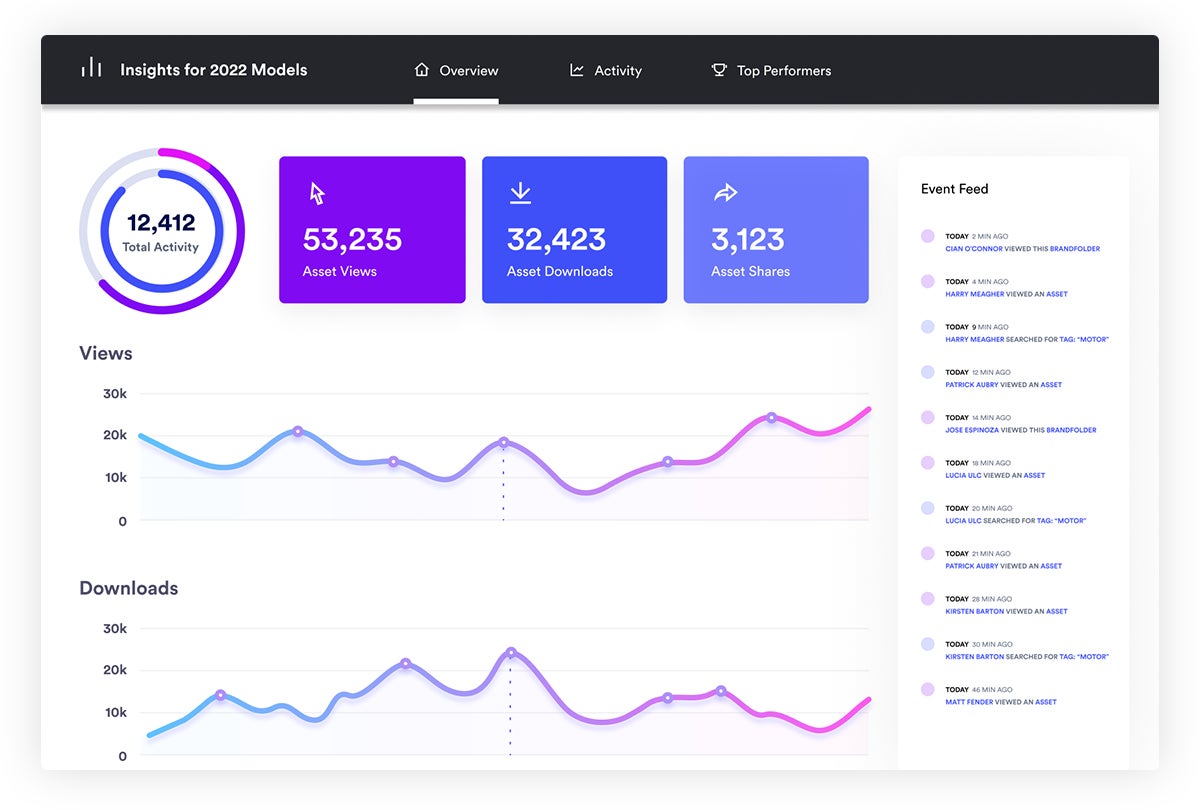 We provide reports so you can see your most successful assets, but you can also look at metrics at the asset level to see:
How many times content has been viewed, downloaded or shared
Who the content is shared with
Where content is published online
How well content scores with users and target audiences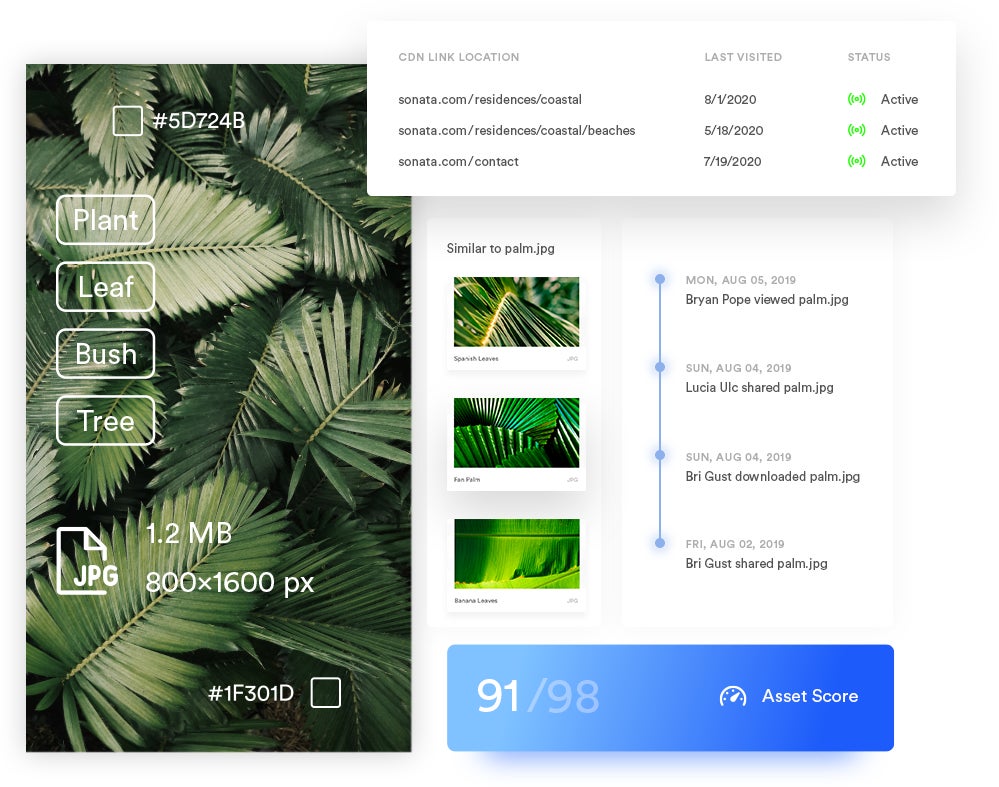 This way, you can keep an eye on what users are doing with your brand collateral (and course correct as needed) and use insights to guide future projects.
Read more: Why DAM Is Essential to Support Brand Management Strategies
---
5. Connect with your other software to support user workflows, online publishing and print projects
Brandfolder integrates with other software solutions so you can use the DAM system in combination with other tools in your workflows.
For example, you could connect Brandfolder with your CMS and instantly add content to your website. Or, you could connect with design tools like Adobe, Figma or RapidCompact3D and push content directly to Brandfolder.
We have native integrations with:
PIM systems, including Salsify
eCommerce sites, like Shopify
Sales enablement platforms, like Salesforce and Seismic
Design tools like Adobe Creative Cloud, Figma, Sketch and RapidCompact3D
Content management systems like WordPress and Contentful
Project management systems like Smartsheet and Trello
Workspace collaboration tools like Microsoft, Google and Slack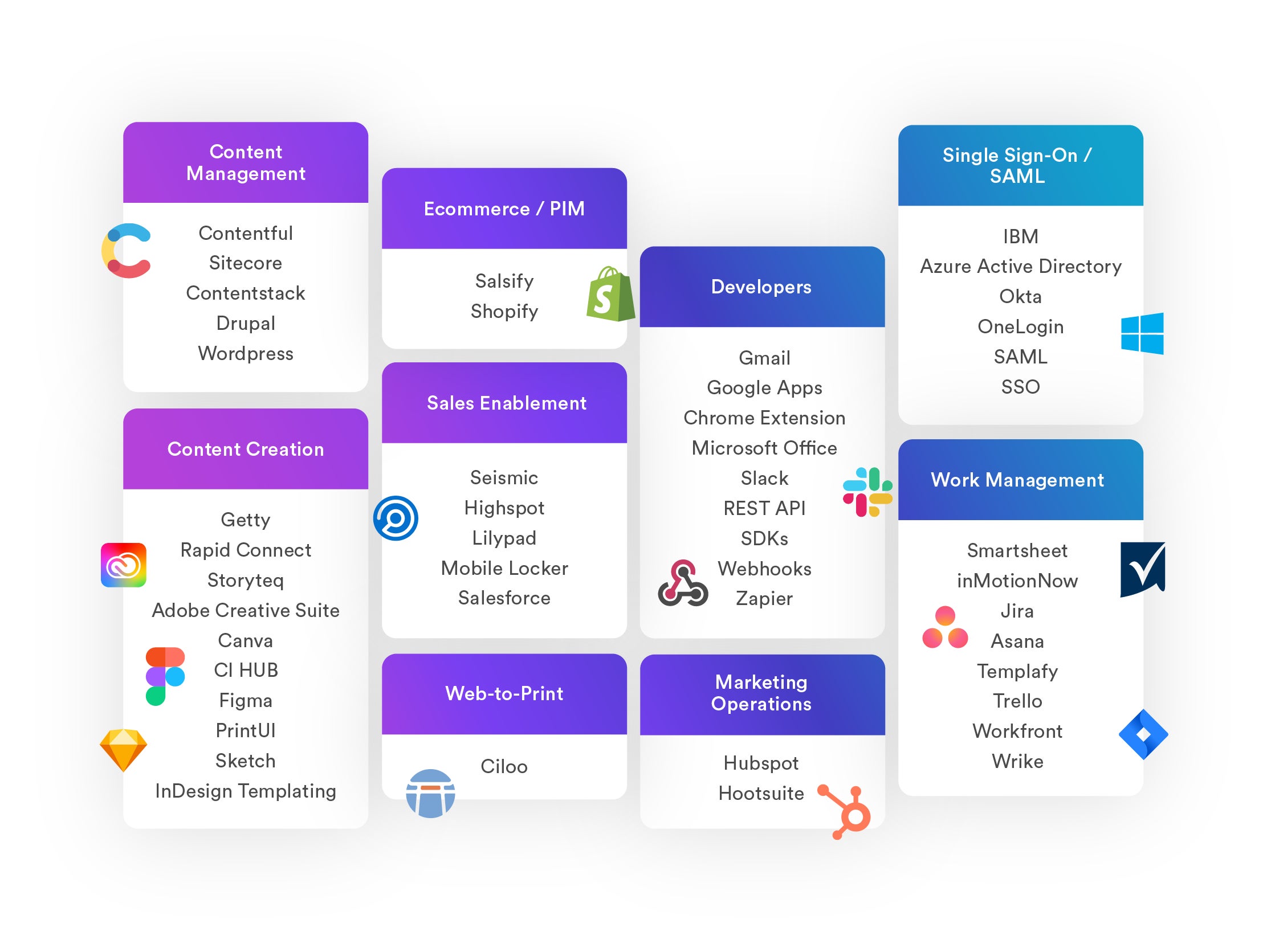 Brandfolder has an open-source API so you can create custom integrations and connect the DAM with any tool you love.
Read more: Top 8 Must-Have Digital Asset Management Integrations
In addition, Brandfolder has a built-in content delivery network (Smart CDN) to support online publishing and ensure your published content is always up-to-date with what's approved in Brandfolder.
For example, say your marketing team partners with other agencies to disseminate promotional content online — you could publish content on other sites with CDN links, then any updates to assets in Brandfolder will automatically reflect everywhere the content is published online. You don't have to worry about asking media partners to update content or manually making the switch yourself.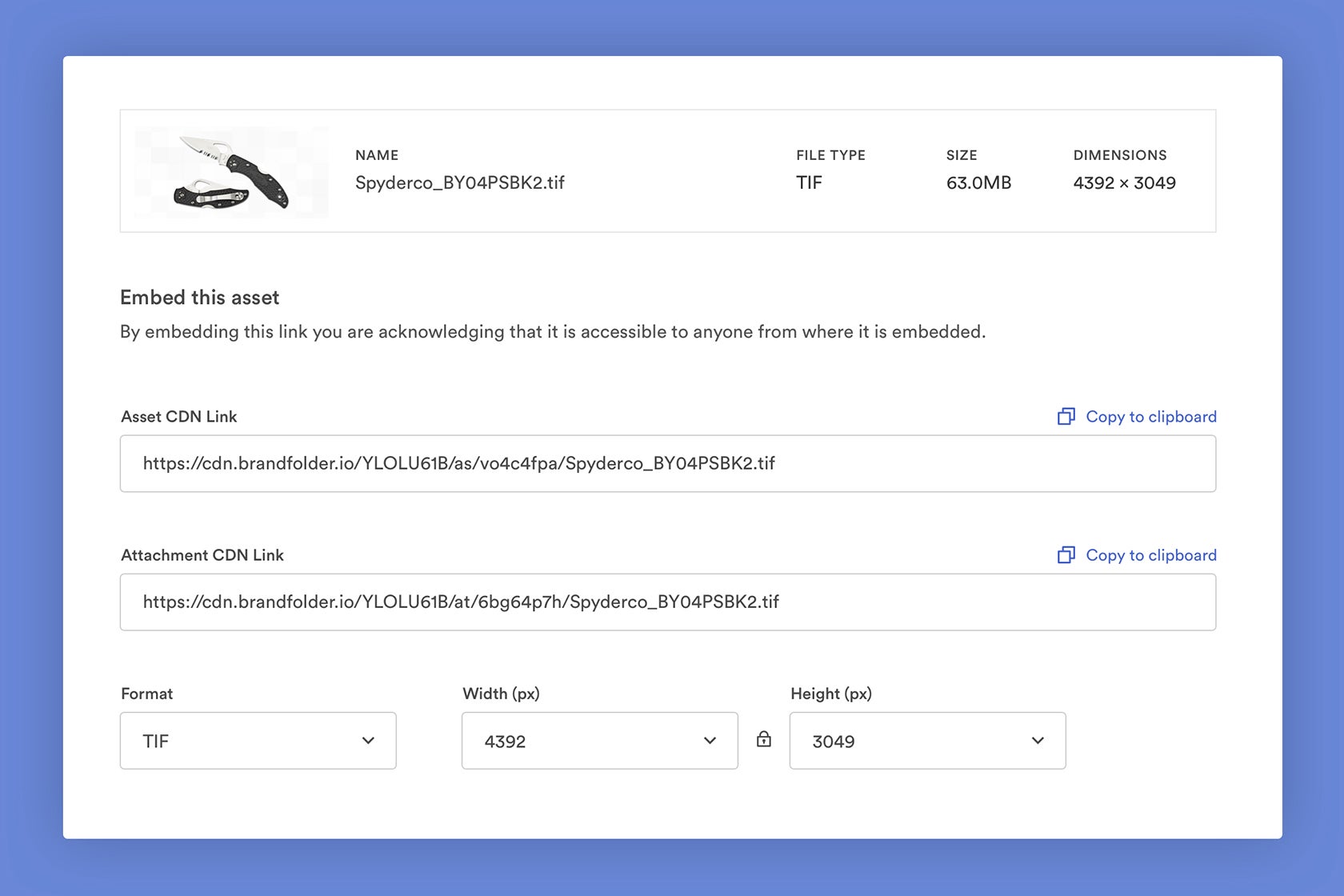 Learn more about digital asset management for publishing.
In addition to supporting online publishing, Brandfolder also partners with Gelato to provide an internal web-to-print functionality. This allows teams to create and send custom print orders from Brandfolder, and admins to oversee print projects and understand where the budget goes.
---
6. Brandfolder keeps all of your files highly secure, even as you share with partners
Brandfolder is a SOC-2 Type 2 compliant, cloud-based platform with AWS and GCS hosting options. We have global availability with data centers in the US and EU so we can support international brands. (On that note, we also have multilingual asset details and a bulk translation feature to support organizations with users around the globe.)
We back our DAM with strict protection protocols and disaster recovery procedures to keep your content private and safe from security breaches. Our IT team regularly reviews possible vulnerabilities and risk factors to implement appropriate safeguards. Plus, all of your content is encrypted to ensure outside eyes can't see.
Then, we eliminate password sharing by assigning each user unique login credentials. And we use SSO and 2FA to authenticate users against external sources.
---
7. Brandfolder is modern, intuitive and requires (virtually) no training so you can easily add users and partners
Brandfolder is extremely user-friendly — scoring 9.1 for ease of use on G2 — because our platform is organized clearly, it's easy to navigate between features and our features are intuitive. Most users can learn how to use Brandfolder on the job, without setting aside time for formal training. Plus, our team publishes free online tutorials and is available to answer questions during onboarding.
Read more: Brandfolder: Simple Digital Asset Management | Fast Set-Up
Usability is an important factor for manufacturing companies because they have a variety of end-users to onboard; so a smooth and straightforward user experience is critical for organization-wide adoption. All of your staff members and partners (even those who aren't the most tech-savvy) can understand Brandfolder's features, and you can easily add users to the platform without spending time explaining the ins and outs.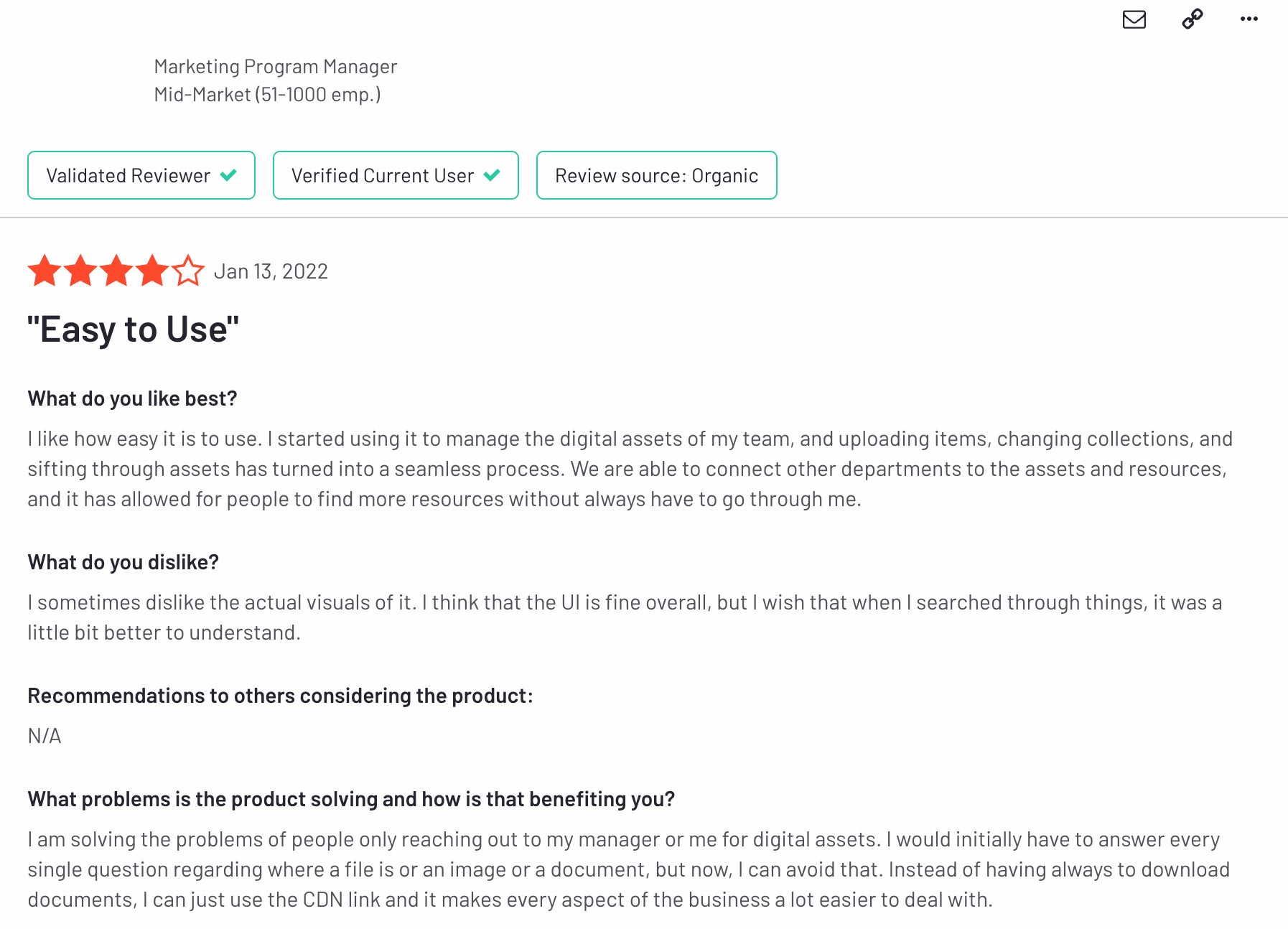 Read more reviews of Brandfolder here.
---
8. Brandfolder offers flexible packages and is highly scalable to grow with enterprise organizations
Brandfolder is one of the most popular digital asset management solutions because we cater our DAM package to each customer's needs — you choose storage space, add user seats and select extras and integrations. Then, we guide you through the entire set-up and onboarding process. Most teams can go live in less than two months.
We provide tiered support packages so you can choose how you'd like our team to manage the DAM system. We can be more hands-on as you get adjusted to the platform, then you can downgrade support plans and refer to us as needed. We're always available to answer questions or help optimize your Brandfolder system.
Plus, Brandfolder is highly scalable so we can support you as you grow. You can upgrade storage space, add or remove user seats, modify integrations and more. We act as your DAM partner to help you make the best decisions for your users' workflows.
Learn more about how our onboarding experience works: 10 Digital Asset Management Best Practices From DAM Experts
---
Get Started with Brandfolder
If you're interested in DAM software, our customer experience team can answer your questions and steer you in the right direction. Schedule a free consultation and demo of Brandfolder to learn more about our solution and if it's right for you.
Related reads: